Following a 3-2 victory against the Boston Bruins on Tuesday, December 16, Nashville Predators general manager David Poile passed former Bruins GM Harry Sinden for second place in all-time wins for a GM. A week later, Poile is currently at win number 1,173 and is only trailing current New York Rangers GM Glen Sather.
That is no small feat to accomplish. Poile has been a GM in the NHL for 31 seasons (15 seasons with the Washington Capitals before being hired in Nashville), so he must be doing something right. This season is proof of what Poile is capable of.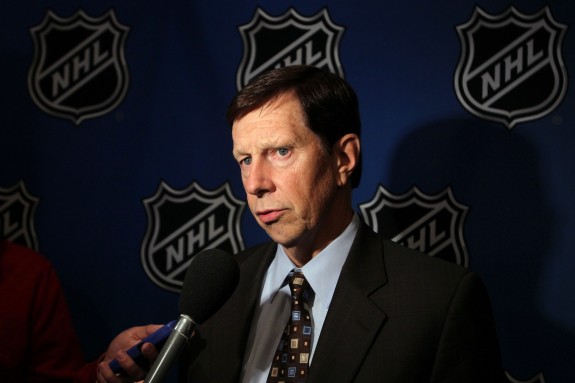 After a disappointing 38-32-12 (88 points) finish to the 2013-14 season, Poile decided to make his first coaching change as GM in Nashville. Barry Trotz was let go and Peter Laviolette was hired.
"My challenge will be to impart a system that enables our young forwards to thrive and reach their offensive potential," Laviolette said. "Being a perennial Stanley Cup contender requires buy-in, passion and commitment from every player on the roster. I can't wait to get to Nashville and get started on our journey."
While the coaching change was done this summer, the roster has been planned since the 2012-13 season.
In a year where the Predators were not playoff bound for the first time in four years, Poile elected to look towards the future. After demanding a trade, Martin Erat was shockingly sent to the Washington Capitals in exchange for Washington's 11th overall pick in 2012 Filip Forsberg, a promising Swedish prospect, at the 2013 trade deadline.
Two seasons later, Forsberg is Nashville's leading scorer with 32 points (13 goals, 19 assists) in 33 games. With that production, he is also in the lead for the Calder Trophy for rookie of the year. Meanwhile, Martin Erat struggled in Washington and was traded to the Phoenix Coyotes at the 2014 trade deadline.
Nashville essentially acquired Forsberg for nothing. The trade looks sweeter and sweeter every time you look back on it.
During the 2013 off-season, the Predators drafted Seth Jones, who immediately made the team at 18, and signed Matt Cullen, Matt Hendricks, Carter Hutton, Eric Nystrom and Viktor Stalberg on the first day of free agency to solidify the lineup.
Hendricks was not playing up to his 4-year, $7.4 million contract, making the signing look awful. However, Poile amended the mistake by trading Hendricks and his terrible contract to the Edmonton Oilers on January 15, 2014.
An injury riddled Stalberg has not found his spot in the Laviolette's lineup this season and it appears as if his time in the Music City is coming to an end soon. In 5 games this season, Stalberg has not tallied a point. He was placed on waivers to be assigned to Milwaukee on December 18, but his $3 million cap hit made him undesirable to be picked up by the other 29 teams in the League. Like Hendricks, the Stalberg signing is beginning to look like a failed experiment.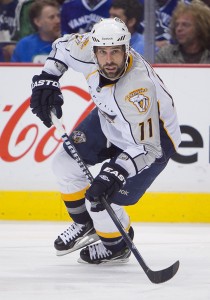 At the aforementioned 2014 trade deadline, David Legwand was sent to the Detroit Red Wings in exchange for Patrick Eaves and Calle Jarnkrok. Legwand was scheduled to be an unrestricted free agent that summer, and Poile was likely not going to re-sign him.
"I certainly didn't like the fact going back a few years the Ryan Suter situation when we didn't get anything for an unrestricted free agent," Poile said. "I think we need to try to manage our assets as best possible and the fact that David was going to be unrestricted and we have no guarantee we'll be able to sign him after the season, (trading) made a lot of sense for the organization and for the future."
Eaves was the name many knew, but Jarnkrok was the main piece in the return. Jarnkrok, drafted in the 2nd round by Detroit in 2010, spent his entire professional career in Grand Rapids, but immediately found a spot in the Predators' lineup. The 23-year-old has 9 points (4 goals, 5 assists) in 29 games.
In the final preparations for the upcoming season with Laviolette as bench boss, Poile went all out acquiring quality veteran scoring. James Neal highlighted the list of new players this off-season. Neal, acquired at the 2014 draft from Pittsburgh, is credited with 11 goals, 10 assists in 32 games this season. Also, Derek Roy, Olli Jokinen and Mike Ribeiro were signed to 1-year deals worth a combined $4.55 million — a steal. Ribeiro makes just $1.05 million and is tied with John Tavares and Henrik Zetterberg in scoring, who have a $5.5 million and $6.08 million cap hit, respectively.
With all this preparation, it is no wonder Nashville is 2nd in the Central Division with 46 points. If the Predators continue to play well, Poile could lift the Stanley Cup for the first time.
Colin Fitts is a Nashville Predators staff writer and is a credentialed media member of the Chicago Wolves. From Nashville, Tennessee, Colin majors in journalism and public relations at Columbia College Chicago. Follow him on Twitter, @FittsTHW. Email: 22fitts [at] gmail [dot] com.