The National Hockey League is a dynamic entity in that the keys to being a successful team are constantly changing. While players with physicality and size were once viewed as the primary need, the Washington Capitals saw first-hand, in yet another premature postseason exit, what they need in order to take the next step, one they have been waiting to take for years now.
It took an ultra-fast Pittsburgh Penguins lineup to teach the Capitals another lesson, and that is that speed is the ultimate factor in the modern day NHL. It was something that General Manager Brian MacLellan acknowledged following the playoff exit, and it was likely a tough pill to swallow for the team. The Capitals went in the opposite direction during the regular season, acquiring rugged and slow defenseman Mike Weber from the Buffalo Sabres. They also brought in Daniel Winnik in the Brooks Laich cap-dump move. Notably, neither of these players are known for their quickness.
While these were the biggest moves for Washington, the Penguins made several moves during the season to become lightning-quick and hard to stop. And as the Stanley Cup Champions, they are surely an act to follow.
They acquired forward Carl Hagelin from the Anaheim Ducks for forward David Perron, a swap that provided a change of scenery for two struggling wingers. Hagelin compiled four goals and eight helpers in 43 games with the Ducks, and then ten goals and 17 assists in 37 games with Pittsburgh – most of them coming while on the fearsome "HBK" line with center Nick Bonino and winger Phil Kessel. Along with that key move, the Penguins also called up a few relatively unknown young players in Bryan Rust and Conor Sheary, both of whom performed well on the biggest stage, the Stanley Cup Playoffs.
Following that mold, the Capitals won't have to look far to find speedy players that will have a chance to contribute next season. Their American Hockey League affiliate, the Hershey Bears, were led to the Calder Cup Final by several of these younger players who could battle for a spot on the Capitals next season.
Nathan Walker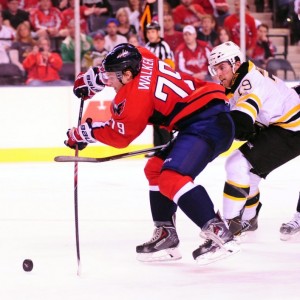 One player that doesn't get a lot of attention is 22-year-old forward Nathan Walker. Walker is an interesting player for several reasons, and one of those is that he could be the first Australian player to take part in an NHL game if he makes it that far.
At five foot, eight inches tall, he is not large in stature. His 186-pound frame, however, is solid for his size, though he certainly has room to add more muscle, and he has proven he isn't afraid to mix it up with players much bigger than himself.
Walker was drafted in the third round of the 2014 draft by the Capitals. Interestingly enough, he had played with the Hershey Bears in the previous season but was not under contract with the Capitals during that season. Therefore, the Capitals had to select him in order to ensure that he would remain with the organization. It was clear that the Capitals saw something in the Aussie to not only watch him with their minor league affiliate for an entire year, but to then take him in the third round as well.
Despite missing the majority of the 2014-15 season due to injury, Walker came back very strong this past season. In 73 regular season contests, he had 17 goals and 24 assists. Not eye-popping numbers, but for a 22-year-old player fresh off of a torn ACL, it is something to work with.
Walker also possesses a lot of speed, and even though that won't make him a full-time player next year, it could earn him several looks if he has a strong training camp and preseason – something that MacLellan has hinted at this off-season already. This is something that earned players like Sean Collins and Chandler Stephenson shots early in the 2015-16 season.
Jakub Vrana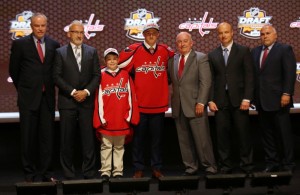 Jakub Vrana, the 20-year-old, Czech-born forward, is likely going to be a focal part of the Washington Capitals organization for quite a while. Taken 13th overall in 2014, he has quickly risen through the prospect ranks in the Capitals' system, and is emerging as a potential game-breaking talent. Despite suffering a serious wrist injury mid-season, he still managed to contribute 16 goals and 18 assists in 36 games. In 21 playoff games, he added eight goals and six assists.
Vrana is a natural goal scorer, and an extremely fast one at that. He brandishes speed, skill and strong awareness, a combination that will earn him a very hard look by the higher-ups in the Capitals organization leading up to the 2016-17 season.
With Jason Chimera likely to hit free agency in less than a month, Vrana will be a prime candidate to fill the vacant left-wing spot on the third line next season. The third line was once viewed as a three-man unit that needed to be big and defensively strong, but there's a decent chance that the Capitals' strategy with their third line will be different next season than in any we've seen in the past.
Chandler Stephenson
Chandler Stephenson is a young player that has caught the attention of the Capitals' brass over the past couple years, and he made his NHL debut this past season. He didn't see much time in the lineup, but did continue to progress well in Hershey despite dealing with injuries. He recorded 28 points in 46 regular season games, and six points in 17 playoff games.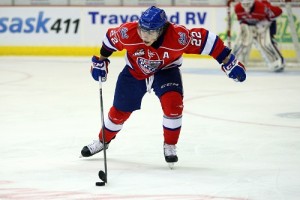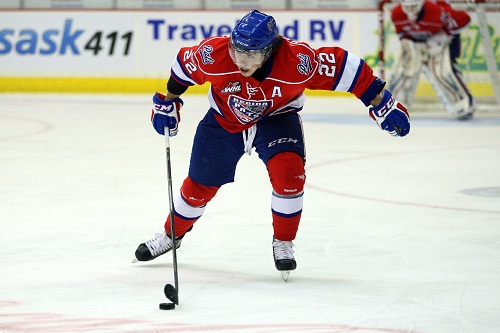 What has been so impressive about Stephenson is his two-way ability, something that is highlighted by his strong skating ability and above-average speed. As his statistics show, he can also be an offensive threat, something that will hopefully keep developing as he gains more and more experience.
The Capitals, as of now, have a hole at center on their third line. They could very well go the trade route or choose to sign someone in free agency to fill that hole, but just as we saw last year, Chandler Stephenson could get a look for that spot as well. With a strong off-season, he will likely continue to find himself in the good graces of the organization, something that will bode very well for Stephenson long-term.
The Capitals have a need for speed, and despite the cap space that they will have heading into free agency, they may already have the solutions – both in the short and long-term – right under their noses.