As the Washington Capitals prospects stumble over their hockey bags and pack for the summer, stay-at-home defenseman Jonas Siegenthaler leans casually against his stall, the one that usually belongs to Alex Ovechkin during the regular season. In the midst of the chaos that comes with the last day of development camp, he's cool and collected, his bag already packed up.
"I remember when I came here, I was the youngest guy," Siegenthaler said. "I was shy, I didn't know how everything works and now I'm the guy that's one of the oldest."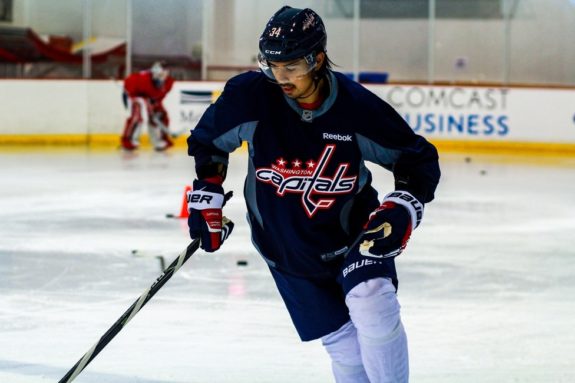 For the last four years, Siegenthaler has been working his way up since the Capitals drafted him in 2015 with the 57th overall pick. Heading into this season, he'll look to not only continue adjusting to North American hockey but move closer to cracking the NHL.
Siegenthaler Adjusting to the AHL
Following the 2015 draft and his first development camp, Siegenthaler inked a three-year, entry-level deal with Washington and spent the next two seasons back in Europe, on loan to the National League's Zurich Lions. In 68 games combined through the 2015-16 and 2016-17 campaigns, the Swiss blueliner registered four goals, 15 points and was a plus-32.
This past season marked his first playing in North America. The 21-year-old already spent some time playing with the Capitals' AHL-affiliate Hershey Bears after his seasons in Zurich came to an end. He was thought to possibly make the jump in 2016 but family issues reportedly kept him back home. However, this was the year that he put the National League behind him and moved one step closer to the NHL.
"I think it's pretty good adjustment for me, for myself," Siegenthaler said.
The Swiss blueliner left Europe and joined Hershey for his first full AHL campaign. In 65 games, Siegenthaler registered six goals, 12 points and 85 shots and was a minus-20. When it came to making that jump from NL, there were a lot of differences between the leagues that it took time to transition to that next level.
"It's a lot different than back home," Siegenthaler said. "ii think the ice rink is smaller, everything happens quicker. Even the way how Hershey and the Capitals play, you just got to adjust, you got to learn. I had one year to learn."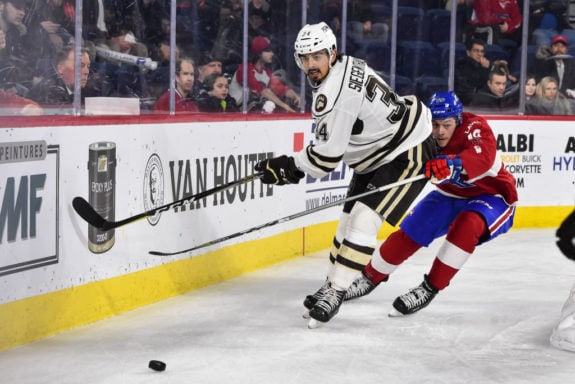 In the beginning, Siegenthaler said his adjustment was difficult. He registered just one goal and three points through the first 21 games and was a bit inconsistent in his play while also struggling defensively. But, as time went on, he started to become more comfortable and ease into the league and learn more about Hershey's system.
"It wasn't pretty easy at the beginning," Siegenthaler said. "I learned to play they want me to and I think it's a great way how to play. I really like it."
One of the strongest aspects of Siegenthaler's game is his skating, however, he needed to work on his speed heading into this past training camp. So, the 6-foot-3 defenseman lost 24 pounds heading into the season and was able to find more smoothness and quickness in his skating. He said this helped him a lot with his adjustment, and this summer, he will continue to "improve my skating [and] my quickness."
Still, Siegenthaler was able to showcase his upside and play a quicker, more reliable and sound defensive game, while also being able to protect and move the puck and add offense to his game. Heading into next season, he'll likely continue to work on not only adding more aspects to his game but immersing himself in the North American culture on and off the ice.
Siegenthaler's Development On and Off the Ice
Siegenthaler grew up in Zurich, where he learned four languages through his years in school. This helped him when it came to playing professional hockey because he is able to accommodate to who he's speaking with and mesh with players from all different cultures, which he said is common in the NHL and throughout Switzerland.
"[My first language] was Swiss German, and in school, you learn German then you learn English pretty early," Siegenthaler said. "Then you learn French… in Switzerland, they have three or four languages, so it's kind of confusing sometimes, but it's good to learn a lot of languages."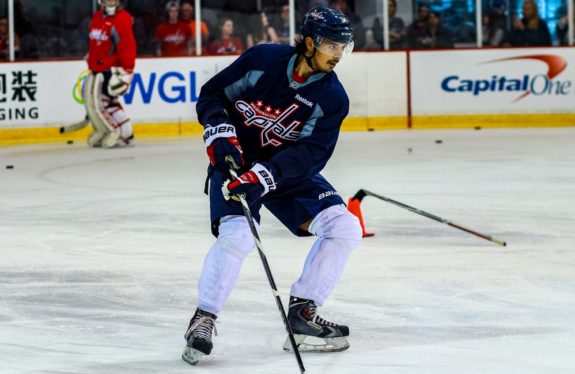 While many NHLers and pro players are products of Switzerland, Siegenthaler said that training in the offseason can be hard, and is one of the main reasons why he returns home from D.C. early prior to training camp.
"Back home, it's kind of hard to find ice rink to skate," Siegenthaler said. "That's why I come here and train and skate with team on the ice."
While he is new to the North American scene, Siegenthaler has had a lot of time with the Capitals organization and has been helping Washington's newer prospects when it comes to growing their game and transitioning to the organization.
"I know how they feel, and I try to help them out and make them feel comfortable here," Siegenthaler said. "Show on the ice how you got to practice and everything like that."
But ultimately, through bonding with his teammates, dining out a P.F. Chang's and spending more time developing his game with the coaching staff throughout the organization, Siegenthaler is ready to continue down the road to the NHL.
"I think in general and overall it was a pretty good season for me," Siegenthaler. "I'm proud to be here."