The Washington Capitals have signed free agent winger Anthony Peluso to a one-year, two-way contract. The Capitals PR team announced the deal at the start of free agency Saturday.
RELEASE: #Caps Sign Anthony Peluso https://t.co/Vt1KD8avAQ

— CapitalsPR (@CapitalsPR) July 1, 2017
The 28-year-old winger didn't play any games in the NHL last season but has played 142  games with the Winnipeg Jets from 2012-2016. Through his time in the NHL, Peluso has scored four goals and 14 points.
Peluso was a sixth-round pick in the 2007 NHL Entry Draft, and played his pre-draft year with the Erie Otters, posting five goals, eight points and 66 PIM through 68 games. After being drafted by the St. Louis Blues, Peluso spent two more seasons in the OHL before playing in the AHL. His highest-scoring season came with the Brampton Battalion in 2008-09, where he put up 11 goals and 22 points in 27 games.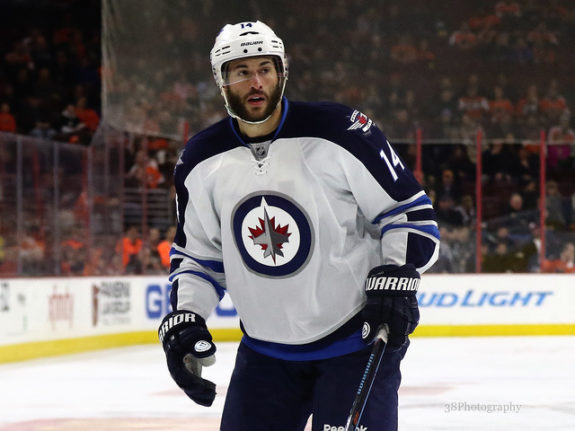 Though not a high-scoring winger, the 6-foot-3, 235-pound winger brings a lot of size and physicality to the table. An enforcer-type player, Peluso is a big player that can win battles for the puck, deliver hard hits, intimidate his opponents and protect his teammates.
Role with the Capitals
When it comes to the Capitals, Peluso is a depth signing. The Capitals lost right wing Justin Williams to free agency, and are currently crunched for cap space, as they still have to re-sign Evgeny Kuznetsov, Andre Burakovsky, Philipp Grubauer and many other names.
Because Washington does not have the money to shop for a full-time NHL winger in free agency, they will have to fill Willaims' void with pieces they already have. Tom Wilson and Brett Connolly will likely compete for the vacant spot on the second line, and will likely call upon someone like Nathan Walker, Jakub Vrana or Riley Barber to earn a full-time job in the NHL and fill out the bottom six.
With Washington pulling players from the Bears roster, they'll have to fill those holes with more wingers, which is why they signed Peluso. He's a big forward who knows his role on the ice and plays a solid two-way game. Many of Washington's forward prospects could be seeing promotions in Hershey as well as a transition from juniors to the AHL, so Peluso will likely fill out a bottom-six role with the team.
Overall, Peluso is a big, cheap depth player who can stand up for his team, knows his role on the ice and can drop the gloves. With Peluso in play, Washington can not only give more opportunities to their up-and-coming prospects but can boost the confidence of players trying to secure a full-time NHL job. And, it's possible a change of scenery could ignite a spark in Peluso, and he could see a call-up if he proves his worth.