When P.K. Subban was traded for Shea Weber in the offseason, I'll be honest — I didn't know what to think.
I was in disbelief, shock and was having a hard time wrapping my head around the magnitude of what had happened. Maybe if I actually knew Shea Weber, it would have made a lot more sense about why Marc Bergevin made such a bold move. I'm sure many Canadiens fans and media would agree with me.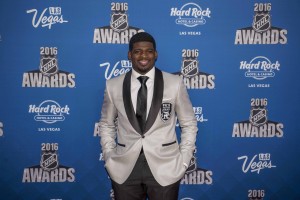 Trading away one of the most popular players in recent Canadiens history is something that was discussed leading up to the offseason. The Habs went through a tumultuous 2015-16 season which saw a record-setting fall from grace. Despite all the whispers, no one ever thought they would actually do something so drastic. Until they did.
Forgotten in the anger of the fans was the player coming back to Montreal, Weber. Basically, all Canadiens fans knew about Weber was that he played for Team Canada in international tournaments and that he had a heck of a shot. Other than that, he was unknown to the market.
Fast forward two months into the 2016-17 season, everyone in Montreal knows who Weber is now. He has 18 points which currently has him second behind Brett Burns for the league lead among defensemen and has helped bring a new identity to the Habs.
So what's different about Weber this year compared to his earlier seasons? Why is there so much talk about him this year? Let's take a closer look.
Increased Exposure
First of all, playing in Nashville, Tennessee is much different from playing in Montreal, Quebec. Hockey isn't necessarily the entertainment of choice in the Volunteer state. Their home to country music and have football as their first love when it comes to sports. Move over to Montreal and hockey is what they live and breathe.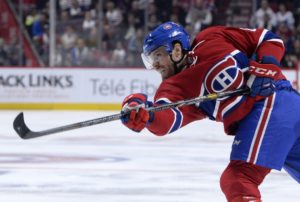 As nice as it may be to be the sports hero's of a city, increased media, scrutiny, and pressure all come with that, unfortunately. In the case of Weber, it's likely he hasn't experienced anything like this before. He's a quiet guy and much like Canadiens goalie Carey Price, he keeps to himself and lets his play do the talking.
As much as he may not like the large spotlight Montreal shines on him, it will bring some benefits. In Nashville, he never won a Norris Trophy. Now playing for the Canadiens, he has a better chance just based on where he is in a geographical sense. He's had seasons where he should have been in the Norris Trophy conversation but just didn't get the exposure he needed because of Nashville's smaller market.
Another thing that will come from being a Canadien is the general appreciation for his game. All anyone knew about him was that he had a monster shot. Canadiens fans only got the chance to watch him when he played for Team Canada or the two games per year between Nashville and Montreal. Now, more people are able to appreciate his complete game and not just how fast his shot is. Although he surely doesn't care if people outside of the Canadiens organization like his game or not, it's nice that he will get the recognition he deserves.
Presence
When anyone discusses Weber, they talk about the word presence. His presence on the ice and in the locker room are the main reasons why the Canadiens traded for him.
"You see guys put the puck in his corner, then immediately skate the other direction," Montreal captain Max Pacioretty told Kevin McGran of the Toronto Star. "That presence has really helped us out a lot. Can't say enough good things about a guy like that."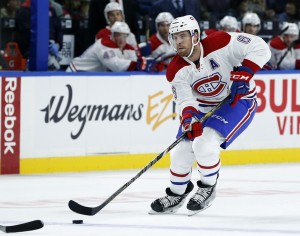 Just having Weber on the ice gives the Canadiens an advantage. His size and skill make him an intimidating force in the defensive zone. There aren't many defensemen that can instill fear into an opponent — Weber can do that.
Along with his physical presence, his offensive skill, more specifically on the power play, have helped the Canadiens. It seems as if every time they have the man advantage, you're just waiting for Radulov to slide it over to Weber for the big shot.
Having him on the ice brings another dimension to the Habs. Teams are still working to adjust to the new faces in the lineup and Weber isn't making it an easy challenge.
Canadien Star
A few months ago, Canadiens fans couldn't begin to imagine a Hab team without P.K. Subban. Now, Canadiens fans can't imagine a Hab team without Shea Weber.
Weber is excelling in the largest hockey market in the world and he's doing so with a chip on his shoulder. He's come in every day and shown the city of Montreal why he was worth the price of their beloved Subban. Many players would have folded under the pressure of the situation, he's done the opposite.
July 1, 2016, no Montreal Canadiens fan wanted him, now, they can't get enough of him. It's amazing how fast things change.