This is the eighth edition of weekly roundup. In this article we take a look at the last seven days of hockey in the NHL. The article will focus on players who have been putting up solid numbers and are likely still available in fantasy pools. We also look at the stars of the game who aren't getting on the score sheet for their team.
Putting up Points
Mike Ribeiro – Owned in 14% of Yahoo leagues
Roman Josi and Mike Ribeiro play catch before Josi snipes home a power-play goal. #NSHvsBOS pic.twitter.com/qAZoWT40O5

— Thomas Willis (@TomAWillis) December 8, 2015
Ribeiro has been putting up points like nobody's business lately. With three assists in the Preds 5-3 win last night, Ribeiro now has eight points in his last four games. That puts him at 24 points in 36 games this year. The 35-year-old still has managed to put up solid numbers year after year despite being moved around to four different teams over the last five years. Ribeiro is currently on pace for 55 points, which would be a slight decrease from the 62 he put up last year. Ribeiro, despite his age still puts up great numbers and is a much better player than his 14% ownership would suggest. Especially due to the talent surrounding him in players like James Neal, Filip Forsberg, and two of the best defencemen in the league with Roman Josi and Shea Weber.
Jason Chimera – Owned in 8% of Yahoo leagues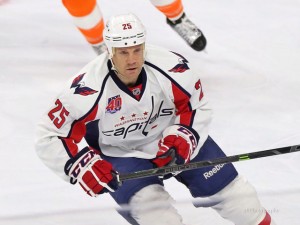 Chimera has already put up more points in 35 games this year (20), than he had last year in 77 games (19). He has five points in his last five games and is averaging just under 15:00 minutes of ice time per game. His production is not enough add in keeper leagues, but his PIM upside and scoring as of late makes him a decent sleeper pickup in weekly pools with extended stat categories. Keep an eye on Chimera, if he continues to put up similar numbers going forward, he might be worth an add.
Jannik Hansen – Owned in 13% of Yahoo leagues
Hansen has made fantasy waves earlier this season when playing with the Sedin twins and it looks like he is making a splash again. With five points in his last six games he has 22 points in 37 games. Those may not be spectacular numbers, but Hansen has flourished when on the first line with the Sedin twins and it looks like he is there for the time being. A solid option for weekly pools, Hansen is worth keeping an eye on.
Struggling to Score
Claude Giroux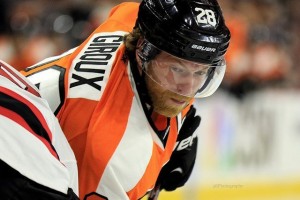 Giroux has been held off the score sheet in his last five games, a season high for the Flyer. He is also a minus four over that span. Giroux still has solid numbers on the season however, with 28 points in 35 games. He also has 39 PIM this year, which is more than his total last season, a nice bonus for fantasy owners in extended stat category leagues. Don't fret yet as Giroux is one of the best offensive players in the game and will surely find the score sheet again soon.
Ryan Johansen
Johansen has played four games since being a healthy scratch on December 17th. The star centreman has two points in those four games, but went scoreless in three contests before being scratched. Recently hired coach John Tortorella has made waves with the struggling Blue Jackets and there have been rumours that Johansen is going to be traded at some point. Despite the benching and trade rumours, Johansen still has decent numbers with 24 points in 35 games. Johansen is a very talented player worth a start in all leagues, however Columbus has continued to struggle and his production is worth watching, especially if the Blue Jackets continue in this downward spiral.
Tomas Plekanec
Plekanec started the season red hot but he has gone ice cold in December scoring only one point over his last seven games. The Habs have lost their last six games (going into last night's contest against the Lightning) and Plekanec has a minus nine rating over those six outings. The Canadiens looked like the team to beat at the beginning of the year but have been struggling ever since losing Carey Price. Plekanec still has 28 points in 38 games this year, due largely in part to his offensive surge at the beginning of the season. Keep an eye on Plekanec as you might want to consider dropping him if he doesn't pick up his production.
Tune in next week when we take a look at the who's who in fantasy hockey.
I am a recent Carleton Journalism graduate with experience working as a sports reporter for The Charlatan, Carleton's campus newspaper and as an editor for Journalists for Human Rights.