With all the offseason chaos, sometimes it's hard to keep track of which players your team acquired and which players went elsewhere. Then the season starts and you ask yourself questions like: "since when did we get  Thomas Vanek?" Well, if you're a Minnesota Wild fan you should probably be aware of the fact that Vanek is now a member of the Wild, but maybe you don't know about some of these other new guys that were picked up this offseason:
Michael Keranen:
Keranen, a native of Finland, was signed by the Wild to a one-year, two way deal earlier this July. The 6'1″ 176 pound former SM-Liiga star was the second leading scorer last year with 46 points in 46 games for Ilves-Tampere. The 24 year-old is considered "the league's best player" by the Finnish hockey site Jatkoaika. Keranen not only adds offense to the roster, but also provides a bit of flexibility, as he has previously played both center and right wing. If Keranen doesn't make Minnesota's roster in training camp, he is expected to be sent back to play for HIFK.
Joel Rechlicz: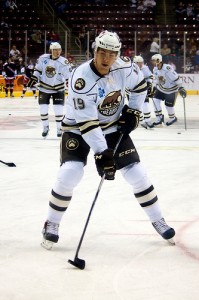 Rechlicz, a former member of the Hershey Bears, was signed by the Wild this offseason to a two-way deal worth $600,000 in the NHL or $125,000 if he plays for the Iowa Wild. The 6'4″ 220-pound right wing was signed in hopes of providing the team with some toughness, which Rechlicz is known for. The Wisconsin native played only 25 games for the Bears last season, but could see significantly more playing time for the Wild, as they really don't have anyone else to fill the role of enforcer after losing Clayton Stoner and Cody McCormick.
Jordan Schroeder:
The former Golden Gopher and native of Prior Lake, Minnesota, Jordan Schroeder's signing pleased many Wild fans. The ex-Canuck was signed to a two-year, two-way deal this July. The Minnesotan played in only 25 games last season after suffering an ankle injury. However, Schroeder's previous seasons in the AHL show that he definitely has potential to make a difference as part of Minnesota's roster. In his three seasons playing for the Manitoba Moose – Vancouver's AHL affiliate – the 23 year-old scored 81 points in 148 games. At 5'8″, Schroeder may not be the largest player on the ice, but he's demonstrated he's a strong skater and has good hockey sense. If he continues to play as he did in the AHL, Schroeder looks to have a promising career ahead of him in Minnesota.
Brett Sutter:
Brett Sutter, son of Los Angeles King's coach Darryl Sutter, was signed by the Minnesota Wild to a two-year, $1.2 million contract on the first day of free agency. The 27-year-old has spent most of his hockey career in the minors as part of the Charlotte Checkers, but has previously seen NHL time with the Carolina Hurricanes as well as the Calgary Flames. This makes him the eighth member of the Sutter family to play in the NHL. Sutter recorded two goals and six assists in his time spent with the Flames and Carolina.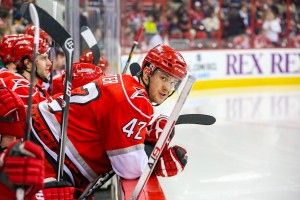 It's probably safe to say this signing isn't going to make a giant difference in the team this year. I could be wrong and Sutter might breakout if he's given some decent ice time, but he's projected to start the season in Iowa, so it's just a wait-and-see situation at this point.
Stu Bickel:
After losing Clayton Stoner to the Anaheim Ducks, the Wild was in need of a large defenseman to fill the open position. Enter Stu Bickel. At 6'4″, 210 lbs, Bickel will definitely add some size to the Wild's roster, as well as a little bit of experience. The former Golden Gopher played in 24 games for the Hartford Wolf Pack of the AHL during the 2013-14 season and 85 games for the New York Rangers from 2011-2013 – 18 of those being playoff games.
Aside from statistics, Bickel, a native of Chanhassen, Minnesota, becomes the second Minnesotan signed this offseason by the Wild and the fourth native on the roster. Although I don't really think Minnesotans are necessarily better at hockey than players from other states, it's always fun to see a guy play for his hometown.
Christian Folin:
So this one is actually quite an interesting story: Christian Folin most likely should've been done playing hockey four years ago, when he was dropped off at a gas station with only two suitcases and a hockey bag.
After traveling to America to play hockey at Bemidji State, the Swede was told his SAT scores weren't good enough and he was sent to Fargo of the United States Hockey League. After trying to adjust to life in the United States while also being moved all around, Folin was thrown another curveball when Bemidji State informed him that they didn't have a place for him for the upcoming season and that he would need to find a new school. The then-19-year-old was traded four days later to the Austin Bruins of the North American Hockey League and then dropped off at a gas station on Interstate 94, where the Bruins' bus picked him up.
That would be enough for most people to call it quits, but Folin stuck with it and was eventually pursued by UMass-Lowell, where he played two seasons. From 2012-2014, the River Hawk scored twelve goals and 29 assists. After proving he had skill during the 2013 season, almost every NHL team was after him. The Wild was obviously the eventual finalist.
Folin played one game for the team last year, but will most likely see more playing time in the NHL this year. Earlier this summer during development camp Chuck Fletcher commented that Folin is "kind of what we need," according to Pioneer Press reporter Chad Graff. He is also the most likely to start the season with the Wild, instead of in Iowa.
Hopefully all the hype about the 6'4″ defenseman is true and he adds something valuable to the team this season.
Thomas Vanek:
Every hockey fan knows that on the first day of free agency the Minnesota Wild made a big move and locked Thomas Vanek into a three-year, $19.5 million contract. Vanek, who currently lives in Stillwater, Minnesota, chose less money in order to stay close to home. The former Gopher said that having his family in Minnesota and missing them during the season played a large part in his decision to sign here. He also made it clear that he has no regrets about choosing the Wild. "It's beyond my wildest dreams," the former Gopher said in an interview with NHL.com's Dan Myers after the deal had been announced.
Vanek, who had a less-than-stellar playoff performance with the Montreal Canadiens this spring, will look to prove that he still has the scoring touch. Last season Minnesota averaged just under 2.5 goals per game. Since 2005, Vanek has been ranked eighth in the league with 277 goals – a number that could definitely give the Wild a big boost. If he can get his scoring touch back, Minnesota could benefit greatly from this new addition.
The Wait for October
So there you have it – the newest additions to your Minnesota Wild. Now all that's left to do is wait for October 9 when we finally get to see these guys in action.