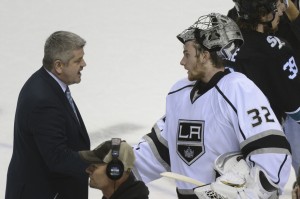 After losing to the Los Angeles Kings last spring in their epic collapse, San Jose Sharks GM Doug Wilson called his club a "tomorrow team" during the offseason. However, this season the Sharks continue to play struggling veterans over a number of younger players. When you consider what they would look like if they genuinely went to a tomorrow team lineup, it makes one wonder what their goal is this season. Is the goal to miss the playoffs for a teeny tiny chance at Connor McDavid? The current lineups they keep rolling out are basically the same thing game after game. The fourth line gets the most tweaks but usually only to get worse rather than better. With an eight game home losing streak, isn't it time to try a more dramatic change? In recent games, the lineup has looked more or less the same. Often looking like the following:
Stadium Series Lineup:
Patrick Marleau—Joe Thornton—Melker Karlsson
Joe Pavelski—Logan Couture—Tommy Wingels
Matt Nieto—James Sheppard—Tomas Hertl
John Scott—Andrew Desjardins—Tyler Kennedy
Marc-Edouard Vlasic—Brent Burns
Brenden Dillon—Justin Braun
Matt Irwin—Scott Hannan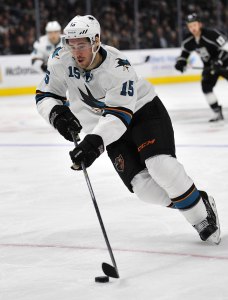 There are a number of things wrong with this lineup. First and foremost is that Karlsson hasn't done much of anything in the top six in recent weeks. He is a young player that is part of a tomorrow team, but when you haven't scored a goal in 10 games and have just two assists over that span? That hot scoring stretch he had was awhile ago, time to bump him back down to the bottom six. Furthermore, while Sheppard is a nice role player, he is not a third line center capable of carrying a third line. He has just one point in his last 15 games and has only briefly been bumped to either the wing or the fourth line during that stretch. Furthermore, players like McGinn, Scott, and Kennedy, who clearly aren't a part of the Sharks future, take away minutes from players that actually have growth potential. While I'm a fan of Kennedy's game, neither of these three players have had or are going to have a significant impact in teal.
On the blue-line the Sharks continue to scratch 19-year-old first round pick Mirco Mueller as he rots in the press box. Furthermore, they recently sent down defenseman Matt Tennyson who was arguably one of their better defensemen at the time. Yes, he has a two-way contract that nobody else has on the blue-line, but Scott Hannan is very likely in the final year of his career. Waiving him and keeping Tennyson would have made the Sharks better now and into the future.
What exactly Wilson and head coach Todd McLellan want out of this team is incredibly perplexing. What was the purpose of those "tomorrow team" comments if that is not how the team is going to be put together? None of it makes much sense when you consider that the following lineup, one that would actually be a legitimate tomorrow team, might actually win more games than the lineup above.
An Actual Tomorrow Team Lineup:
Daniil Tarasov—Joe Thornton—Joe Pavelski
Patrick Marleau—Logan Couture—Tommy Wingels
Barclay Goodrow—Chris Tierney—Melker Karlsson
Matt Nieto—Andrew Desjardins—Tomas Hertl
Marc-Edouard Vlasic—Brent Burns
Mirco Mueller—Justin Braun
Brenden Dillon—Matt Tennyson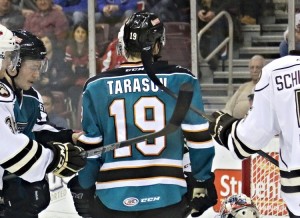 Unlike Karlsson, who was an unheralded free agent acquisition from Sweden this year, fellow rookie Daniil Tarasov comes with some offensive hype. He is known to be a fast, creative Russian winger. He has only played in two games this season in the NHL on a fourth line but he could fit very well on a possession dominant line. Take advantage of Tarasov's offensive creativity by playing him with two puck possession studs. Plus Tarasov's speed helps counter the two studs who aren't as fleet of foot. The second line remains the same and can be utilized as the primary shut down line so that Tarasov in the top-six doesn't have to be as over-matched as he otherwise would on a scoring line.
With this set up a third line centered by Tierney would be no worse than what they have rolled out most of this year with Sheppard. For awhile Sheppard centered Goodrow and Karlsson and the trio was quite effective. Now all you are doing is reuniting the rookie wingers with a rookie center. All three of them can grow together for the future. And finally the fourth line in this lineup is miles better than the typical fourth line San Jose has been rolling out. The skill from Nieto and Hertl will dominate the vast majority of opposing fourth lines. Desjardins brings the faceoff skills and grit necessary for balancing the line but he is also talented enough to help out in a strong cycle game. It would also be a line good enough to play third line minutes if the rookie trio is struggling in their matchup.
Defensively, the Sharks saw that Dillon and Tennyson played well together before the latter was sent down. These two as a third pair are certainly a slight upgrade from Irwin and Hannan. For the short term a Mueller and Braun second pair may be a tad weaker than Dillon and Braun but not by a whole heck of a lot. The Sharks have had problems defensively for awhile now, but this younger blue-line wouldn't be much worse, if at all. The bonus though is you get experience for the young guys instead of sitting in the press box.
Younger Lineup Actually Better?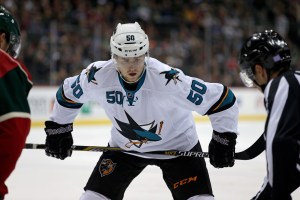 Overall there is a good chance this younger lineup is actually better than this veteran mix they are currently going with. The top six is nearly identical, although Tarasov could give it more of an offensive punch than Karlsson. The third line with Tierney won't be any worse than the Sheppard led third line. Yet a fourth line with Nieto and Hertl is by far superior to the fourth line of the veteran group with McGinn and Kennedy.
Forwards wise, there is a pretty good argument for the younger group giving the Sharks a better chance to win. Defensively speaking Mueller has had his hiccups but Mueller and Tennyson in the lineup over Irwin and Hannan? Hard to argue they would be any worse at all. Net, net, there is a strong case to be made that the younger lineup is a better one. Therefore, this veteran reliance is extremely puzzling. The younger lineup makes them both better now and into the future. It makes one wonder if the management is purposefully putting a bad product on the ice to try and get players like Thornton and Marleau to waive their no movement clauses. It was widely speculated by respected media sources this offseason that Wilson wanted to move Thornton. Why else would Thornton have made the statement about not leaving San Jose as long as the fans wanted him?