The one-year, $1 million deal that brought veteran D-man Dennis Seidenberg to the Islanders on Sept. 28 wasn't without its controversy, as hardcore fans wondered just how injured Johnny Boychuk is and if Ryan Pulock's spot as the sixth defenseman is in danger.
But have no fear Islanders fans, Seidenberg isn't here to rattle any visors. Instead, more of a depth signing and solid voice in the locker room, Seidenberg gives the Islanders added insurance on the blue line. With a Stanley Cup ring on his finger as well, he's another winner on the bench that can help elevate the Islanders' young core to the next level.
Unlike the signing of Marek Zidlicky last year, Seidenberg won't be asked to produce nearly as much. But if used in the proper way, he can help the Islanders in a variety of ways.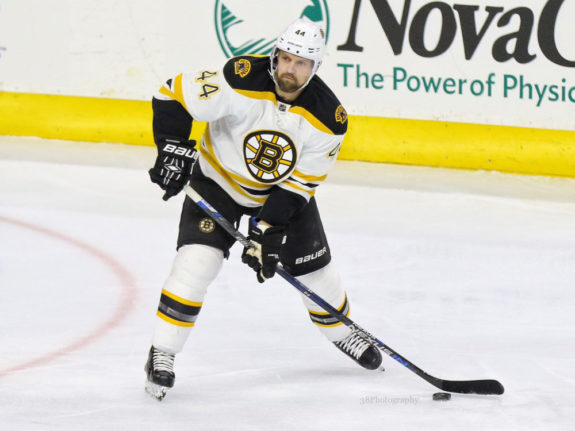 Versatility
Although 35, Seidenberg can still skate and play both sides on defense. Not a real offensive weapon anymore and never a proven finisher, Seidenberg has three-30-point seasons under his belt, with 61 of his 224 career points coming on the power play. While he shouldn't and won't be used with the man-advantage much this year, the fact that he's an option is, again, good for depth. Even though this Summer's buyout with the Bruins may have hurt his confidence and a knee injury in 2013 may still have an effect on him, he can still log minutes and fill a variety of roles on the ice. While guys like Nick Leddy on the Isles have no problem playing 28 minutes a game all season if they have to, with Seidenberg on the roster, there's just no need to. If anything, the real dividends of the Seidenberg deal, if he is a factor, will be seen in the playoffs, when the rest of the Isles defense has fresher legs than they did last year.
Rugged
In 61 games last season, Seidenberg had 127 hits and 120 blocked shots. The year prior, he had 212 hits. While everyone in Islanders country is still sour about the loss of Matt Martin, who has led the NHL in hits for what feels like forever, the addition of Seidenberg, along with the offseason acquisitions of Jason Chimera and Andrew Ladd, give the Islanders some, if not all, of the edge back that they lost when Martin signed with the Toronto Maple Leafs. Although he's not a hit machine, he gives the Isles another guy that's not going to let anyone push him around.
Expectations
In a perfect world, Seidenberg doesn't get much playing time with the Isles this season as the team's top-five defensemen (Travis Hamonic, Thomas Hickey, Calvin DeHaan, Leddy and Boychuk) are healthy and productive for an entire season, while Pulock establishes himself as a threat on the power play and plays sound in his own zone. But that would be too easy. To get a Stanley Cup winner for a cost-effective salary is no easy task. While Seidenberg's contract gives the Islanders 24 players under one-way contracts, forcing the team to do some roster shuffling, it's a signing that may prove effective if the defense gets hit with the injury bug.