Peter Chiarelli isn't afraid to make a trade, that much we know. His goal is to improve his team for now and the future. For an organization steeped in recent failure, Chiarelli has no problem shaking things up and changing the culture if necessary. He already moved Taylor Hall. He signed a guy known more for toughness and character than skill in Milan Lucic, to a lucrative free agent deal. He seems ready to hand the keys of leadership over to a 19-year-old budding superstar in Connor McDavid. But what about Nail Yakupov, the much-maligned, underachieving former first overall pick? Seriously, what do the Oilers plan to do with him?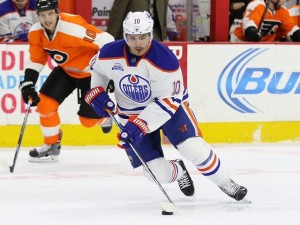 The Oilers Tried to Trade Yakupov
During the pre-season, Yakupov was scratched due to "injury", and when he did play, he didn't see a lot of minutes. According to Jim Matheson of the Edmonton Journal, "[Yakupov will] make the team but could be in the press box to start the year, not the best way to interest anybody in trade, as we all know." Not the best way at all, though the PTO signing of Kris Versteeg seemed to signal that the Oilers wanted another option on right wing. Fans may question this asset management by the team, but TSN's Darren Dreger suggested that the Oilers have already shopped Yakupov aplenty, with no real takers:
"Pete Chiarelli tried to move Nail Yakupov leading up to the trade deadline," recounted Dreger. "And I'm sure that he kicked a few tires at the draft in trying to move him again. There just isn't – and hasn't been to date, anyway – a market for him. Now, the Oilers would tell you that it's not like they're asking for an exorbitant or unrealistic return. It's a draft pick. And it's not a first, second – and at one point they were asking for a third, but it's probably not even that anymore". [Today's Slapshot]
So a fourth round pick then? Talk about a drop in stock. Then again, the only thing going for Yakupov is his untapped potential and lofty draft status. Unless he changes his game, he's an offensive winger at best, one who should be in the top-six but hasn't earned his way there. His style of play doesn't fit with what teams want on their third line, so where does that leave him? I tend to believe that there is a GM out there who will take a flyer on Yakupov, hoping that a change of scenery will do the trick. And if all he costs is a low draft pick, I'd say it's worth the risk.
Yakupov requested a trade earlier this year, and it seemed as though the Oilers were intent on honouring that. But they didn't want to just give him away either. The problem is, if they can't move him, and don't really want to play him, what are they going to do with him? It seems as though Ralph Krueger and Todd Nelson were the only coaches who were able to get through to Yakupov, and he already doesn't see eye to eye with McLellan:
"TSN's Ryan Rishaug's belief the Oilers will part ways with Yakupov when the right opportunity presents itself. Other local media insiders [claimed] Oilers GM Peter Chiarelli attempted to move Yakupov this summer, noting the young winger is on the outs with coach Todd McLellan." [The Hockey News]
Will Yakupov Ever Succeed in the NHL?
Being a first overall pick guarantees you nothing, but the trouble with Yakupov's situation is the way he was handled and developed. We all know that Oilers management has been, in recent years, well, suspect, but when you draft a kid first overall you want to make sure you get the most out of him. Maybe Yak came into the league with too much hype. Some players tear it up in Junior Hockey but simply aren't able to replicate that against men. He also came into Edmonton at a terrible time, with a rotating carousel of coaches and centermen.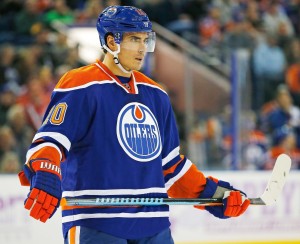 Yakupov might be the kind of player who needed a little more coddling as a rookie. Maybe he was too confident and didn't have the goods to back it up. Maybe he let his frustration get the best of him. Maybe once his confidence was shaken, no one in the organization helped to get it back. There are so many possibilities as to why Yakupov is in this situation. Should the Oilers just cut bait and let him move on? I'd say yes, because what's the point of keeping him if he doesn't fit into their long-term plans?
The question is, can Yakupov find success in a new environment? In 252 career games played, he has 50 goals and 61 assists for 111 points. (He's also a minus -88 during that span but I know a lot of people don't care for that stat). What are the closest comparisons to other forwards in his draft year (with more than 200 games played)?
Alex Galchenyuk (275 GP: 72g, 88a, 160p)
Zemgus Girgensons (202 GP: 30g, 40a, 70p)
Tom Wilson (231 GP: 14g, 36a, 50p)
Tomas Hertl (200 GP: 49g, 53a, 102p)
Considering Yakupov's limited playing time, and injuries, he's not that far off the mark in terms of his peers. And remember this: third-overall-pick Alex Galchenyuk was projected by some to go first overall until an injury derailed his season. Imagine if Yak was the third overall pick with the same numbers? There might be a slightly different perception of him. In any case, Yakupov can't change his draft position. All he can do is work as hard as possible, listen to the coaching staff and make the most of his opportunities when he gets them.
I hope he is able to move on to somewhere different and get his career back on track. You can be sure there's a team willing to give out second chances: "There's always a general manager out there who feels like his team or his coaching staff is going to be able to finally pull out of that player what the last team wasn't able to, or the team before wasn't able to. So I don't know that there's a market for Nail Yakupov. I know that there really wasn't one, as I said, at the trade deadline or on the draft floor. But that can change pretty quickly." – Darren Dreger.
Marcy, a former hockey player, is a hockey correspondent on CTV News and TSN radio. She began her career as a Sports Journalist in 2009 and has been part of The Hockey Writers since 2010, where she is currently a senior writer and editor.