If the Nashville Predators needed anything to enhance their roster, it would be on offense. So, claiming defenseman Petter Granberg off waivers from the Toronto Maple Leafs Sunday came as quite the surprise.
Granberg, 23, missed all of training camp and has yet to play a game this season due to a torn Achilles tendon. The 2010 fourth round (116th overall) selection played seven NHL games last season averaging 11:26 of time on ice per game with a plus-1 rating, 16 hits and seven blocked shots.
Most of Granberg's time last season was spent with the American Hockey League's Toronto Marlies, however. In 55 games, the 6-foot-3, 200-pounder scored one goal and 14 assists.
The native of Gallivare, Sweden won gold medals with Filip Forsberg at the 2012 World Junior Championship and Calle Jarnkrok at the 2013 World Championship.
Granberg is currently on a one-year, two-way contract worth $600,000 at the NHL level and $100,000 at the AHL level.
Why Acquire Another Defenseman?
Granberg joins the Predators on injured reserve, so a roster move is not necessary at this time. However, Nashville currently has eight defensemen on the roster with Victor Bartley and Anthony Bitetto — both talented enough to play on a nightly basis — sitting in the press box as healthy scratches. Bartley and Bitetto have played in one game each, and there appears to be no intention of reassigning either of them to the AHL's Milwaukee Admirals for playing time. Once Granberg is healthy enough to come off IR, general manager David Poile will have to make a decision.
What is that decision? A trade.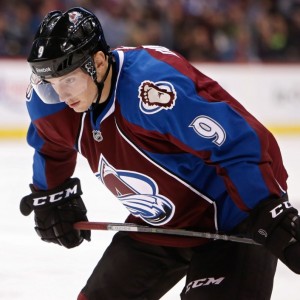 The Predators need a legitimate first-line center or a highly talented scorer to contribute to their offense. In the first two games of a five-game road trip, the Preds were shutout by a mediocre Columbus Blue Jackets and struggling Minnesota Wild. After witnessing those games, maybe that has pushed Poile to begin the trading process for a prized scorer. Nashville's stock-piling of depth defensemen is only a sign of just that.
A name that would fill Nashville's needs is Matt Duchene, who is reportedly being shopped around. The Colorado Avalanche centerman has 18 points (ten goals, eight assists) in 20 games this season and has a 55.5-percent faceoff winning percentage, which is higher than Mike Fisher and Mike Ribeiro's.
If the Predators continue their offensive woes for the three remaining games on the road-trip, expect a trade to come sooner rather than later.
Colin Fitts is a Nashville Predators staff writer for The Hockey Writers. You can follow Colin on Twitter, @FittsTHW, and e-mail him at 22fitts@gmail.com.
Colin Fitts is a Nashville Predators staff writer and is a credentialed media member of the Chicago Wolves. From Nashville, Tennessee, Colin majors in journalism and public relations at Columbia College Chicago. Follow him on Twitter, @FittsTHW. Email: 22fitts [at] gmail [dot] com.