The Vancouver Province reported NHL expansion to Las Vegas and Seattle as a "done deal" early last week and the hockey world has been a buzz about the notion ever since. Reporters can argue which locations would be best for expansion until they are red in the face; but one fact remains true – the NHL will expand, and soon. One does not need a business degree or insight about current NHL caliber arenas in Seattle or Quebec City to know this, only common sense. As it stands, the conferences are lopsided with 16 teams in the East and 14 in the West. This creates an inherent disadvantage for teams in the East as only 8 teams make the playoffs from each conference; giving teams in the West a 7% higher probability to make it to the dance. This cannot last; as soon as the NHL & NHLPA agreed to the new CBA in January 2013, they agreed to a 2 team expansion.
Speculation on exactly when or where this expansion will occur remains an exercise in futility. In any case, the league will likely do what it's always done: award franchises to ownership groups who fork over the most money. Expansion fees could reach $1.4 billion, and with that kind of up front cash who cares if the franchise will be sustainable, right?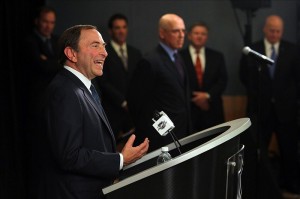 What does interest me about expansion is what the potential roster(s) would look like. So I had the idea of doing a mock expansion draft. With a 2 team expansion the most probable, the draft will follow the same format of the 2000 expansion draft when Minnesota & Columbus entered the league. Here are the ground rules:
26 of the 28 teams existing in the league at the time of the draft were each allowed to protect either one goaltender, five defensemen, and nine forwards or two goaltenders, three defensemen, and seven forwards. The Atlanta Thrashers and Nashville Predators had their entire rosters protected, as they were the two newest franchises in the league, only being in existence for one and two years respectively.

For teams protecting only one goaltender, there was no experience requirement for those left unprotected. For teams protecting two goaltenders, each goaltender left unprotected must have appeared in either 10 NHL games in the 1999–2000 season or 25 games in the 1998–99 season and 1999–2000 seasons combined. A goaltender had to be in net for at least 31 minutes in each game for the game to be counted against these totals.

At least one defenceman left unprotected by each team had to have appeared in at least 40 games in the 1999–2000 season or 70 games in the 1998–99 season and 1999–2000 seasons combined. At least two forwards left unprotected by each team had to have met the same requirements.

52 players were chosen in the draft, two from each participating franchise. Only one goaltender or one defenseman could be selected from each franchise. Both the Blue Jackets and the Wild were to use their first 24 selections on three goaltenders, eight defensemen, and thirteen forwards. The final two picks for each team could be any position.
Players on entry level contracts (ELCs) are also exempt from being chosen.
Unprotected Players
Based on the criteria above, here's my best guess at which players would be left unprotected from each team (did I get your team's unprotected right?):
Option 1 – 9F, 5D, 1G
Option 2 – 7F 3D 2G

The Team
Wherever the expansion team lands, it will be competing in the Western Conference which does not bode well for its playoff chances. It's also likely they will not have to be salary cap compliant (floor or ceiling) during their inaugural season. Nevertheless, with the barrel of misfits above I have attempted to assemble a team that could be competitive at the NHL level, while sprinkling in some young talent with room to grow. I also avoided players like Whitney, Alfredsson and Timonen who will likely be retired when expansion occurs. Here is a rough idea at what a team in Seattle or Las Vegas will look like once they enter the league:
Up Front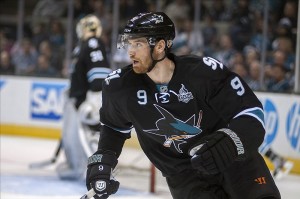 Havlat      –    Cullen      –     Clarkson
Clifford     –     Andersson    –      Bourque
Versteeg     –       Kelly       –        Heatley
Klinkhammer   –  Condra   –    Upshall
Conacher, Frattin, Belesky
As expected, the forward group is mainly comprised of bottom 6 players and those whose best playing days are behind them. The center depth is horrendous but the team can hold their own on the wings. The team would be hoping for bounce back years from Havlat and Clarkson with a "scoring by committee" mentality. At the very least, they should fare well on the penalty kill as this is where many of these players earn their pay checks.
The Back End
Orpik – Klein
Mitchell – Quincey
Cole – Gudas
Del Zotto, McNabb
There were quite a few quality NHL defensemen to choose from, so it all comes down to preference. Many of the players are known as defensive specialists, which is why Quincey and Del Zotto were chosen as puck movers. The Brayden McNabb selection was for future gains, but all in all this is a nice mix of youth and experience and actually looks better than many current NHL defense corps.
Between the Pipes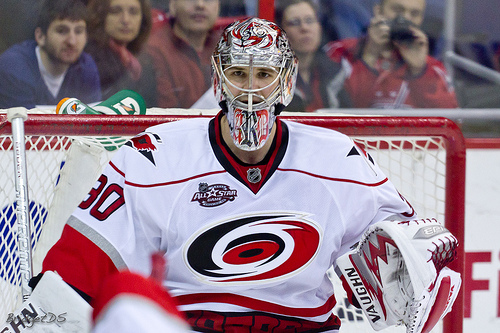 Ward
Reimer
Markstrom
No question, this is where an expansion team will win their games. With the goaltending market more saturated than it's ever been, there are plenty of NHL starters up for grabs for an expansion team. It's unclear whether or not Cam Ward would be available, but if not there's the likes of Antii Niemi or Craig Anderson to replace him. A strategy for an expansion team should be to load up with 3 starting goaltenders and use them as trade bait to improve their team elsewhere.
So, what does your NHL expansion team look like?