With the 2014-15 NHL season just weeks away, it's time for season previews. This first installment previews what the Sharks blue-line will look like to start the season. There are many different options but based off four years experience covering the Sharks, my gut tells me they will open with the following pairs.
Top Pair: Marc-Edouard Vlasic & Brent Burns
The Sharks defense will no doubt be better this season than it was a year ago with Brent Burns returning. And pairing the former No. 1 Minnesota Wild defenseman with steady Eddie Marc-Edouard Vlasic makes a lot of sense on the surface.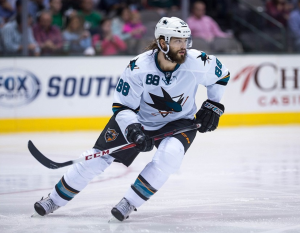 Vlasic and Burns are San Jose's two most dominant players on the blue-line. After all Duncan Keith often plays with Brent Seabrook in Chicago and Drew Doughty plays with Jake Muzzin in Los Angeles. However, if the Sharks choose to go this route, their second and third pairs will leave a bit to be desired. If paired together, Burns and Vlasic ought to play a heavy amount of minutes (25 minute range or more) because the next two pairs will be a work in progress.
2nd Pair: Matt Irwin & Justin Braun
While yours truly is a big fan of Matt Irwin's potential, it doesn't make a whole lot of sense to me to pair him with Braun. Again, on the surface it makes sense in that Irwin is an offensive minded left-handed shot and Braun is a right-handed shooting defensive stud. Furthermore they have lots of experience playing together when they were in Worcester of the AHL.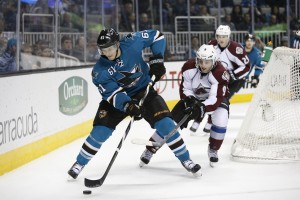 However, Braun is incredibly valuable playing tough minutes against elite competition, and Irwin still has some growing pains to go through with his defensive play. Playing Braun in more offensive minutes because his partner isn't completely reliable seems silly, as does playing Irwin in a shut down role.
3rd Pair: Mirco Mueller & Jason Demers
Given the fact San Jose did not choose to bring in a left-handed free agent defenseman, it indicates supreme confidence in rookie Mirco Mueller. At this point, Mueller not making the club out of training camp would be the surprise, not the other way around. Scouting reports suggest Mueller to be in the mold of Vlasic in terms of being a strong skater with a solid defensive acumen.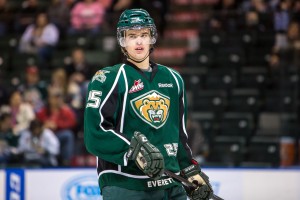 Therefore, playing him with an offensive-minded right-side defender in Demers makes logical sense. A defensive defenseman with an offensive defenseman is how teams like to match their pairs. However, rookies are prone to mistakes and you want to have a veteran who can make up for them. This pair has potential to be great but it scares me with possible turnovers waiting to happen. Demers has been known to be sloppy at times in his own zone and Mueller has only gotten his feet wet in the AHL.
A Better Deployment?
These are the pairs I'm expecting to see for Game 1 in Los Angeles. Vlasic and Burns can certainly handle 25 minutes of shut-down duties. Perhaps that will allow the other two pairs to have easier matchups. The Sharks will obviously be hoping that playing against lesser skilled forwards would give both Irwin and Mueller early season confidence as they are the two biggest question marks.
However, if it were up to me, the pairs would look significantly different. I want the rookie Mueller playing with the most reliable right-handed defenseman on the club. That of course would be Braun. Mueller playing with Braun as a second tier shut down pair would be tremendous. It would be hard for opposing second and third liners to score against these strong skating dzone stalwarts (Braun will do much better job covering up any rookie mistakes than Demers). My top shut-down pair would then be the same from last season, Vlasic and Demers. Vlasic can cover for any defensive mistakes and would allow "Big Daddy" to shine offensively.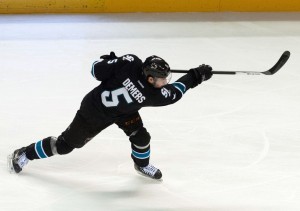 And finally, with those two pairs getting all the tough defensive matchups, it would free up a third pair of Burns and Irwin to feast in offensively sheltered minutes. The best way to get Irwin's confidence up is to let him do what he does best and that is play with the puck. Anyone who plays with Burns is bound to spend a lot of time in the offensive zone which is exactly where I want Irwin to be. Having these pairs would give the Sharks a stud player on each pair (Vlasic, Braun, and Burns) and that is what I'm a fan of: depth. Especially when you consider that possession wise, the Sharks won't have much of a drop off (if any) from Vlasic-Burns to Vlasic-Demers at the top pair, and it would make the other two pairs a whole lot better.