For some bizarre reason, the San Jose Sharks seem to want to blame their established stars for their failures. During last season's locker room clean out day, Doug Wilson told the media "with all due respect to the Matt Irwins and James Sheppards, they can't be your only goal scorers the last three games." All those rumors about trading Joe Thornton and Patrick Marleau weren't cooked up out of nowhere. Blaming the top guys is extremely puzzling because they are money in the bank for elite production every season and every playoff.
Thornton is right up there with the likes of Jonathan Toews and Azne Kopitar. He carries the Sharks offense at even strength. Not having a Stanley Cup ring doesn't make him any less of a player. What the Blackhawks and Kings teams have had that Thornton's Sharks haven't is incredible depth.
While the Sharks are still clearly behind Chicago and LA when it comes to said depth, they aren't too far off. The following five players can certainly help bridge the gap. They each have question marks heading into the season but each one has been a key contributor in the recent past. Whether or not the Sharks break through and win that elusive Stanley Cup, it will be these kinds of players that make the difference. The top guys will be their usual dominant selves but they need help.
Matt Nieto
San Jose's second round pick in 2011, the former Boston University product had an up and down rookie season. He was streaky to say the least. In his first seven games of his career he scored five points. Over his next 20 NHL games he scored just one point and was temporarily sent down to Worcester of the AHL. In his next 10 game stretch he scored seven points before going pointless in the following seven. After the Olympic break Nieto got hot again with 11 points in 15 games before closing the regular season pointless in his final seven. During the playoffs he was a force on the right side of Patrick Marleau and Logan Couture, scoring four points in the series against the Kings. OK, whew, that was a mouth full. In simpler terms Nieto scored 6 points in his first half (27 games) and was much improved in his second half (18 points in 39 games).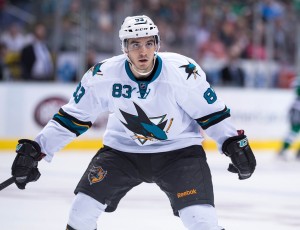 Nieto found a home on that line with Marleau and Couture in the second half last year and is a virtual lock to start there this season. The question is whether or not he can sustain a level of play that allows him to remain there for the majority of the season. Last year the right wing spot on this line was a bit of a revolving door. Tyler Kennedy, Martin Havlat, and Tommy Wingels all saw time there. Nieto locking down that spot would be very beneficial. This is often San Jose's shut down line and while Marleau and Couture can make anyone look good, a third strong member would make it one of the best lines in hockey. Nieto brings elite speed and good hands that fit in well with the blazing Marleau and underrated skating Couture. It is easy to see why they have had some initial chemistry.
 Jason Demers
Coming off a career year, defenseman Jason Demers is still a question mark. He sparkled offensively as a rookie in 2009-10 and made great strides in his defensive play during a terrific sophomore season. However, he was absolutely dreadful in 2011-12 and 2013. Both years he was frequently a healthy scratch in both the regular season and playoffs. Last season though Demers had a great bounce back campaign, scoring 34 points and landing himself on the shut-down pair alongside Marc-Edouard Vlasic.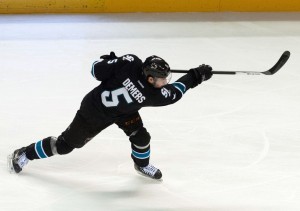 But can he repeat that performance? Probably, but given his track record, it certainly isn't a lock to get the same production out of No. 5. That said, even if he isn't paired with the mistake covering Vlasic, Demers could still continue to his strong play. Demers was having a really nice season mostly alongside a stay at home No. 6-type defenseman in Scott Hannan before getting promoted to the top pair. Overall, confidence should be high in Demers but he still has yet to prove he can do it in back-to-back seasons.
Tyler Kennedy
Last week I mentioned that Tyler Kennedy deserves a mulligan. After playing his entire career in the east with one team, Kennedy made a big move to San Jose. In terms of travel schedules, the Penguins and Sharks are on the opposite sides of the spectrum. This isn't to make excuses for Kennedy, but it is not easy going to a new team for the first time and have the addition of significantly heavier travel. Now that he has had a year under his belt to get familiar with his surroundings, there is a good chance of a bounce back season. Kennedy gets unfairly criticized by Sharks fans for his struggles last year. They seem to ignore the fact he scored double digit goals in every full season of his career before coming to San Jose. Despite a poor first season in the Bay Area, he still managed 17 points, whereas Adam Burish's best offensive year saw him score 19 points and Mike Brown's career year is a whopping eight points.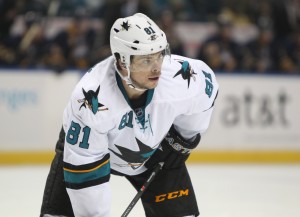 If Kennedy plays with one of San Jose's top three centers, his career track record would suggest 10-15 goals would be highly probable. And even if he doesn't, a fourth line of James Sheppard, Andrew Desjardins and Kennedy would probably be a solid fourth line, much better than any fourth line with Burish or Brown on it. Whichever line Kennedy finds himself on, I expect a significant bounce back with it being a contract year for the 28-year-old.
Matt Irwin
Another player whom I wrote about earlier this offseason is Matt Irwin. The undrafted 26-year-old defenseman had a strong rookie season in 2013 but last year he suffered the proverbial sophomore slump. Despite playing in all 11 of San Jose's playoff games as a rookie on the second pairing, Irwin only got into the playoffs last season due to the Marc-Edouard Vlasic injury. Boyle is gone now, and arguably dragged Irwin down last season, so it will be interesting to watch how Irwin fits in this year.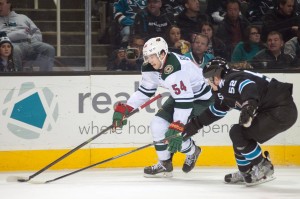 The Brentwood Bay, British Columbia native has a booming left handed shot and solid offensive skills but has lots of room for improvement at both ends. Who he is paired with will have a big effect on how his season goes. While I expect the Sharks to open him up with Justin Braun to start the season, he might be a better fit with Brent Burns in sheltered offensive minutes. Either way, the Sharks will need Irwin to get back to where he was as a rookie if they want to have a blue-line capable of competing with the likes of Chicago and Los Angeles.
Antti Niemi
And finally, the last and most important key sink or swim candidate is the goaltender. Niemi has had his fair share of critics (me being one of them) but the fact of the matter is the guy has been an elite level goaltender in two of his four seasons with San Jose. In 2010-11 Niemi posted a .920 save percentage and in 2013 he posted a .924 earning himself a Vezina nomination.The other two years he wasn't at the same level, but he wasn't bad. Save percentages of .915 and .913 are still good percentages.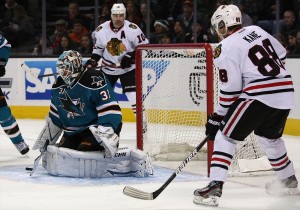 The problem is for the exception of his Vezina year, he hasn't been consistent in the playoffs. This past playoff against the Kings he was below .900, and that can't happen if this Sharks team wants to get to the promise land. However, if you read my bold predictions column, I'm supremely confident in a career year from Niemi. He has always performed at a high level when people start to doubt him and like Kennedy, he is need of a new contract after this season.
While these particular Sharks have noteworthy question marks, it wouldn't surprise me at all if each and every one of them have strong seasons this year. Unfortunately, unless the Sharks add talent at the trade deadline, it probably won't be enough.
Andrew has been credentialed to cover the Sharks since 2010 and the 49ers since 2012. He graduated with his BA in Broadcast Electronic Communication Arts in 2013 from San Francisco State University.