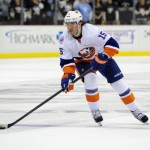 There is a big difference in what the New York Islanders "should" do this off-season and what they probably "will" do.  However, as fans on the outside looking in, we can only hope for the best.  With several veterans coming off the books this summer, the Islanders front office will be looking to fill some holes on the roster.  And for a team that finished with the 4th worst record in the NHL, there are certainly plenty of "holes" in all phases of the game.  Let's take a look at some issues that need to be addressed and possible solutions for the 2012-13 season… and maybe this time next year we will be talking playoff hockey!
Sign a Top 6 Forward
Of course this easier said than done, but I'm not saying they need to sign Zach Parise or Rick Nash either.  This summer, Jay Pandolfo, P.A. Parenteau and Michael Haley are Unrestricted Free Agents.  For some reason the team does not think highley of Haley even though he is a fan favorite.  I can certainly see him exploring other options.  Jay Pandolfo is well past his prime and did not provide much on the 4th line this season.  P.A. Parenteau is the wild card.  If he re-signs, than it takes a little pressure off the team to sign a scoring forward.  If he does not, then it is imperative to get some scoring help for John Tavares and Matt Moulson.  With those 3 players potentially gone, that leaves Tavares, Moulson, Grabner, Okposo, Niederreiter, Reasoner, Bailey, Cizikas and Nielsen signed.  Matt Martin is a Restricted Free Agent and one would expect him to be re-signed.  That leaves 2 roster spots open, possibly three if Niederreiter is sent to Bridgeport for some seasoning in the AHL (which he should).  They have a nice pool of talent in the system to plug-in a 3rd or 4th line player for next season.  But again, what do the Islanders need to help the scoring on a team that finished 26th in the league in goals scored?
Would the Islanders take a chance on an enigmatic winger like Alexander Semin?  That is probably unlikely considering the lack of a Russian presence on the roster (excluding Nabokov).  He seems like the type of guy that would be more comfortable with a countryman or two on his line.  A more realistic choice might be a player like Brad Boyes who is only 30 years old and had a down year with the Sabres, so they may be able to get him on the cheap.  The talent pool of UFA forwards is a bit thin this year.  Other intriguing options might be Shane Doan (couldn't picture him leaving the Coyotes now), Jarret Stoll or Jiri Hudler.  The latter two are only in their late 20's and won't be breaking Charles Wang's bank with a huge contract either.  Regardless of who it is, the Isles need someone to step in on one of the top 2 lines next year, especially if Parenteau is gone.
Sign Two Solid NHL Defenseman
This is certainly the area that could use the most work.  The Islanders only had 3 solid NHL caliber defenseman this season with Mark Streit, Travis Hamonic and Andrew MacDonald.  And all of those three will return next season.  Mark Eaton, Steve Staios, Milan Jurcina and Dylan Reese are all UFA's.  With the exception of Dylan Reese, who would be a solid 6 or 7 d-man, the rest of the bunch should not be seen anywhere near Long Island next year.  Also, youngster Matt Donovan is signed and should also occupy a spot with the big league club after a solid showing late last season.  So again, that leaves two holes to fill.
Hole #1 needs to be a defenseman with toughness.  With the exception of Travis Hamonic, no Islanders defenseman provided any size or toughness to the team.  You might be able to survive the regular season like that, but once playoff time rolls around this is an essential part of any team's game.  Here are some UFA's that might fit the bill:
– Mike Mottau (just kidding)
– Bryan Allen – He is 6-5 226lbs and plays a solid defensive game.  Not afraid to throw the body around and block shots.
– Barret Jackman – Not as big, but an old-school gritty player.  Only 31 years old also.
– Cory Sarich – Another big guy, 6-4 207lbs.  33 years old and strong defensively with 100+ hits almost every year.
– Matt Carkner – Monster of a man and only 31.  Not a complete player, but at least he will strike some fear in opposing players.
There are plenty of d-men that are free agents this year and I could go on.  This is just a small sample of the type of players that would like nice in the blue and orange.
Hole # 2 would need to be a strong skating, puck moving defenseman.  Mark Streit is the only true power play quarterback on the team.  Hamonic and MacDonald can handle their own, but they favor a more well-rounded game.  Skating in today's NHL is so important and something last year's crop of defenseman certainly lacked.  Here are some options for a strong 2-way skating defenseman:
– Dennis Wideman – He's only 29 and was an All-Star this year.  His right-hand shot would compliment Streit well.
– Carlo Colaiacovo – Not super offensive, but again is only 29 and plays a solid 2-way game.
– Matt Gilroy – Might be a liability defensively at times, but he can skate and produce offensively.  Plus he's from Long Island (even if he was a Rangers fan growing up).
So those are just some options when it comes to forwards and defenseman in free agency.  Notice I did not suggest the Islanders sign Ryan Suter or Zach Parise.  As much as I would love if they did, I don't consider that a reality at this point in time.  The Islanders have plenty of cap space, so signing a 3 above average NHL players in their prime (no 36+ year olds!) is very realistic.
The next Islanders off-season article will discuss what they should do in terms of drafting, developing prospects and the dreaded goaltender situation.
Joe is a graduate of Hofstra University and die-hard Islanders fan covering the New York Islanders for The Hockey Writers. Playing hockey for many years and watching the sport all his life, Joe is devoted to the game of hockey.