For all his finesse, Entourage super-agent Ari Gold wouldn't last a week in pro hockey.
It's not that he couldn't do the job. Rather, no one would work with him. Hockey's culture of humility derives in part from its absolutism as a team sport. The game takes priority over the personality, a maxim forged by a century of players who understand that true hockey glory can't be found in the names etched into singular buttons on the Art Ross Trophy, or on the Vezina, but among the full breadth of names, etched in bunches, on the Stanley Cup.
The game can only support a small contingent of larger-than-life personalities before it starts to suffocate them.  "The one thing you don't want to do is disrespect the game," said Wayne Gretzky.
Not that hockey is immune. Former NHLPA head Alan Eagleson's fall from power was a long fall because he had too much power, too much ego and too much greed–none of them qualities we readily associate with hockey. We as fans should be thankful we don't have a Leigh Steinberg in hockey, a flashy and self-absorbed super-agent whose sees himself as bigger than the game.
Furthermore, unlike agents like Steinberg, who seemed to find clients off a list of Heisman hopefuls, hockey player agent Scott Norton, founder and president of Norton Sports Management, has had a hand in the development of many of his clients going back to well before they turned pro. And while every agency stresses a 'family' atmosphere, Norton actually appears to deliver it. An NHL Player's Association-certified agent since certification began in the mid-1990s, Norton runs a modest, boutique agency with the understanding of someone who has played the game (Tier I AAA hockey in Illinois) and someone who was raised in the rarefied air of professional sports (his family has stakes in the Chicago Bulls and the Chicago White Sox).
This isn't to say Norton hides in shadow either. Last year he began "Make My Day Mondays", a grassroots Twitter/social media initiative that encouraged himself and others to carry out random acts of kindness and tweet (#MMDM) about it. He also spoke out against Todd Reynolds of Uptown Sports Management when that agent tweeted his opposition to same-sex marriage; and last September he offered reward money to identify the individual who threw a banana on the ice while Wayne Simmonds was taking a shootout attempt at an exhibition game in London, Ontario between the Flyers and the Red Wings.
Right now is an especially gratifying time for Norton, as one of his long-time clients is becoming an NHL superstar before the eyes of the hockey world.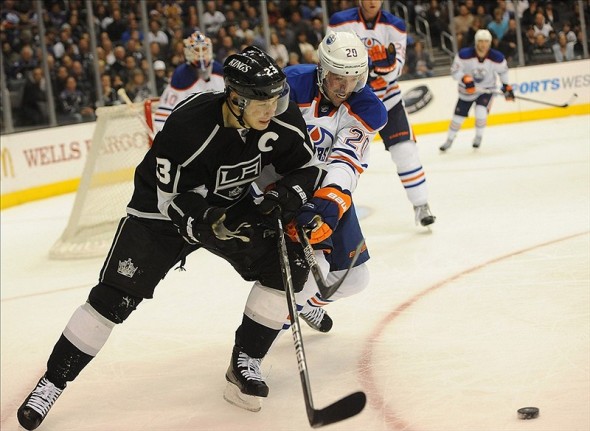 Leading his team with authority through two thoroughly decisive rounds, Los Angeles Kings Captain Dustin Brown is playing the best hockey of his career at the absolute right time. He is emerging as a complete player who lays out clean, open-ice hits and finishes every check while displaying immaculate hockey sense and the touch of a pure scorer. In the nine games needed to dispense with the Jennings Trophy winners from 2011 (Luongo/Schneider) and 2012 (Elliott/Halak), Brown has 11 points (6g, 5a), including a pair of shorties and a pair of game-winning goals, and his +9 rating currently leads all players in the post-season.
Prior to game 4 between the Kings and the Blues, I spoke with Norton about the player agent, the fall-out from Jerry McGuire, and about the revelation that is Dustin Brown.
Ross Bonander: Thanks for taking the time to chat. I have to admit, I don't really know the first thing about player agents. Is the business of player representation as competitive as the athletes and the sports they play? Is there a comparison, and how do you set yourself apart?

Scott Norton: It's ultra-competitive. It's cutthroat. But in a different way; it doesn't make for a very good comparison. I don't like to talk in generalities, but I pride myself on being a student of the game, and I think I can talk hockey whether it's with a client or a GM during negotiations. I don't think that's true of all hockey player agents.
RB: You are one of the few hockey player agents who maintains such a visible social media presence, and you're known to encourage your players to do the same. Is that simply about publicity, about acquainting them with their fan base?

SN: Hockey's sort of the red-headed stepchild of the major sports.  The game has been marketed poorly. And this pertains to the players as well, how little visibility there is, whether in endorsements, social media. It's gotten a little better but for a few years, if you were a neophyte hockey fan, you'd think Crosby and Ovechkin were the only two players in the NHL.
RB: As an ad hoc player representative, Bobby Orr has been—or used to be–rather vocal about the importance of being 'family advisers' to players as young as 13, claiming he knew from personal experience how important it was to have such guidance. He caught a lot of flack for it. Do kids that young benefit from an 'adviser' who may or may not go on to become their agent?
SN: When I first got into the business, you could find guys at the NHL draft who didn't have agents. I give a lot of credit to–or put a lot of blame on–Hollywood, because of things like Jerry Maguire and Entourage, they put a much bigger spotlight on the agent business than there ever was.
Many years ago the agent was the guy in the black coat hiding behind the door who you wanted to stay away from. I can't tell you how often it happens nowadays where I'm at the rink watching a kid skate and his teammate will come up to me and instead of saying, 'Will you represent me?' he's asking, 'How do I become an agent?'
At any rate, for better or worse one thing has led to another, and representing 19 year olds became representing 17 year olds. Then someone says, 'Hey, let's beat 'em to the punch' and they're going after 15 year olds. And now, if you're not talking to them when they're 13 or 14 odds are you're not going to represent the top talent.
But that doesn't tell the whole story. The way I do business is, I try to advise them as much as I can, as much as is necessary. If you have a 14 year-old getting drafted as a bantam into, say, the WHL, who has to decide, in a relatively short time, if he wants to go to major Junior, Junior A, NCAA, etc., an adviser is undeniably useful, someone who knows them and who knows the system.
RB: Regarding Dustin Brown–the Kings have had much bigger stars playing for them—Dionne, Gretzky, Robitaille, Blake. Yet after seven years in Los Angeles, Brown is only now having something of a national coming-out party in these playoffs.
SN: LA is a fickle town. To be a celebrity in Los Angeles doesn't have the same meaning as it might in a city that isn't home to the entertainment industry. Some players, like Dustin, prefer that; they like not being recognized when they go out to dinner. He's very much a family man—he has three boys under the age of four—and he's married to his high school … actually she is his before-high-school sweetheart.
RB: How did you become acquainted with him?
SN: I first saw him play as a Bantam with the Syracuse Stars. He was on the top line with Rob Schremp and Timmy Sestito. They were about 15 or so at the time, and all of them would eventually reach the NHL.
Dustin Brown's Statistics
RB: Including his year in the AHL with Manchester under Bruce Boudreau, in eight full seasons of pro hockey, Dustin Brown has missed just 11 games. What's he doing that most of the rest of the league isn't—and how is he doing it by playing such a physical game?
SN: Knock on wood, he hasn't had any serious injuries. He does work very hard, he takes the game and his job very seriously. Again, knock on wood. And … genetically he's sort of built like a bowling ball. He has a very low center of gravity. That helps.
RB: Can you talk about what you and Brown discussed at the trade deadline, when his name was being mentioned as possible trade bait following the acquisition of Jeff Carter?
SN: I won't divulge specifics, but most players don't want to hear their name discussed in trade talk, especially guys with roots in their community. Dustin's been in LA a long time, he's got a family to consider. So I don't think he was thrilled about it at all. That said, the Carter trade occurred on February 23 and a couple days later Dustin had a hat trick against, I don't remember who they played, but in a manner befitting him, Dustin let his game do the talking.
[Note: In a 4-0 win at home against Chicago on 25 February 2012, Brown had 4 points (3g, 1a) including 2 PPG and 1 SHG]
RB: Brown struggled at the start of the season, but has thrived under coach Darryl Sutter. What factor or factors are driving that?
SN: I think it's a couple of things. One, I think he plays better on the left wing than the right wing. Terry [Murray] kind of had him moving all around but Dustin has more confidence on the off-wing and he's much more dangerous.  And the other thing is the Carter trade has given LA a serious second line, forcing the opposition to have to decide whether to try and shut down Kopitar, Brown and Williams on one line or Richards, Carter and Penner on another. It's something the Kings have really never had.
RB: Do contract negotiations become easier when you have a client on a hot streak versus one who's maybe had an off-year?
SN: As I tell my players, teams use whatever they can to bring the salary down. If you don't have a lot of penalty minutes they're gonna say you're soft. If you do have a lot of penalty minutes they're gonna say you were careless and you let the team down. They look at numbers one way, we look at them another way. It's difficult, but it's business. That's all it is.
RB: The CBA expires this summer. Which way do you see the wind blowing for the NHL next year?
SN: I haven't heard anything as of yet. Of course both sides understand what's at risk. That said, the players gave away a lot the last time. I doubt they will be ready to concede as much this time.
Norton's client list hovers around three dozen, with players in professional leagues across the world, and includes Ryan Garbutt, Zach Redmond, Corey Elkins, Tom Sestito, Bill Sweatt, Matt Climie, and Andy Miele, to name just a few.  
You can follow Scott Norton on Twitter.  Some additional Reading: