"Hard work beats talent when talent doesn't work hard."  –Herb Brooks (attributed)
Twenty-six year-old Dallas Stars forward Ryan Garbutt is an unconventional prospect, if even he can be called a prospect. His path to the NHL took him through one Junior league, one college league, and four minor pro leagues. He has a habit of joining a team as an unknown on the fourth line and working his way up to the top six with an extraordinary work ethic combined with an underappreciated skill set. He has shown again and again that, as much as he's able to accomplish with bottom six minutes, he can be a team leader with top six minutes.
Speaking to the press this week, Dallas Stars GM Joe Nieuwendyk said, "Who would have thought, a year ago, that Ryan Garbutt would be a player we'd be talking about in our lineup?"
Fair enough, since his arrival in Dallas in mid-February came with plenty of local silence, as most in Dallas had never heard of him. The silence didn't last long. It's a familiar motif in the career of Ryan Garbutt.
Garbutt's Long and Winding Road to the NHL
As a teenager, Garbutt spent three years playing for the Vincent Massey Trojans of the Winnipeg High School Hockey League (WHSHL). In his third and final year he led the team in scoring and was named team MVP.
WHSHL → MJHL
Out of high school, Garbutt joined the Winnipeg South Blues of the Manitoba Junior Hockey League (MJHL). In his second season he was named the league MVP after leading the league in goals (47) and power play goals (20) and placing second in points (81) in 63 games. Somehow, Garbutt managed these point totals despite spending about ten percent of the season in the penalty box (303 PIM).
MJHL → ECAC
Undrafted, Garbutt attended Brown University in Rhode Island. His collegiate hockey career was unremarkable, posting 29-29-58 in 116 games and graduating with a degree in sociology. Twice he was named to the ECAC Hockey All-Academic Team.
ECAC → CHL
In the fall of 2009 Garbutt was cut from try-out camp with the AHL's Manitoba Moose. They recommended he try out with the Corpus Christi IceRays of the Central Hockey League. There, Garbutt landed his first pro hockey contract and a spot on their fourth line. By season's end he was on the top line; his 22-28-50 good for sixth and his +24 good for first on the team. He was runner-up as CHL Rookie of the Year and was named to the CHL All-Rookie team. His 204 PIM meanwhile—one more minute than he earned in four years at Brown—was good enough for eighth overall.
"I'll never have another Garbutt." -Coach Brent Hughes.
CHL → ECHL
In the fall of 2010, as the IceRays bolted for the North American Hockey League, Garbutt's connections got him a spot at the Atlanta Thrashers' prospect development camp. After a tryout with the AHL's Chicago Wolves, he was reassigned to their ECHL affiliate, the Gwinnett Gladiators. Ten games in, Garbutt had 17 points (10, 7).
"I knew he wasn't going to be here very long." -Coach Jeff Pyle.
ECHL → AHL
Pyle was right. Garbutt made his AHL debut on 10 November 2011. The Wolves already boasted several talented forwards, including Jason Krog, Nigel Dawes, Jared Ross and Spencer Machacek. Garbutt took up the role of third and fourth line grinder but still scored 19-18-37 in 65 games and led the team with a +27. By way of comparison, Krog was a -18.
"He adds a different dimension as far as work ethic." -Coach Don Lever.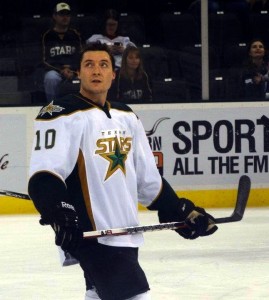 When he became available on July 1, 2011, the Dallas Stars inked him to a one-year two-way contract. Reassigned at camp to Dallas' AHL affiliate, the Texas Stars, Garbutt would be reunited with Coach Pyle when he was hired two weeks later.
In 50 games, he produced 16-17-33 to go with 96 PIM. His hat trick on 8 February 2012 against the Milwaukee Admirals was the first regular season home hat trick by a Texas Star in franchise history. Joe Nieuwendyk also happened to be in attendence.
AHL → NHL
Around the same time, Stars forward Jamie Benn went down with a cut to his leg. Many expected Dallas to call up rookie goal scoring sensation Matt Fraser; instead on 17 February they recalled Ryan Garbutt, baffling the fans in Dallas. Garbutt made his NHL debut the following night in Pheonix.
His impact was immediate. An aggressive forecheck, hockey smarts, powerful skating, and pure tenacity caught the attention of not only Coach Gulutzan and Joe Nieuwendyk, but also that of the fans, who ordinarily would hardly notice a fourth line call-up.
In his third NHL game, on Montreal ice and with his father in the stands, Garbutt notched his first career NHL goal. The goal showcases his power as a skater, and his basic hockey sense in knowing to go to the net.
http://youtu.be/VQXDfiCm1dY
Garbutt added an assist and another goal before the Stars' season ended.
What Now?
His agent, Scott Norton, calls him a "classic example of a late bloomer who has improved consistently and gotten better at each level he has played." While there are no sure things at the NHL level, few come with as much consistent, hard-won evidence as Garbutt. Currently an RFA on a one-year, two-way deal, I expect Garbutt will be offered a multi-year one-way NHL contract this summer, and I would go so far as to say he will finish the season as a top six forward. Betting against him generally proves to be a bad idea.
He is highly coachable and he adapts to make the most of whatever minutes he's given. Seeing plenty of time on the PK with the Texas Stars, he had as many short-handed assists (4, second only to Hershey's Keith Aucoin) as he did power play goals, and on a team with no players with a plus-rating and many in double digits, Garbutt's -2 rating tied him for tops on the team.
At the beginning of this season, with Brad Richards gone and no owner in place, rookie Dallas Stars coach Glen Gulutzan said he simply wanted the Stars to be hard to play against. #PeskyStars started trending on Twitter.
Ryan Garbutt is hard to play against; more than that, he's unpleasant to play against. Ask anyone who has. He brings as much energy to his last shift as he brought to his first. He has a scoring touch – most notably a deadly wrist shot – that has yet to be appreciated at the NHL level. He doesn't play nice; he'll drop the gloves when necessary, he doesn't phone ahead before going into the corners, and he plays the kind of physical and aggressive game that speaks to Gordie Howe's belief that "If you play a little rough, you get respect. And with respect you get just a little bit more space out there."
Returning to the quotation attributed to Coach Brooks, Ryan Garbutt has a work ethic to outwork anyone. He just happens to have the talent too.
References:
Lile, Josh. "Ryan Garbutt and the Value of Inexperience." Defending Big D @ SBNation
Rajan, Greg. "Former IceRays player Garbutt a step away from NHL." Corpus Christi Caller-Times, 20 November 2010
Ryan Garbutt at the Internet Hockey Database
Brown University player profile: Ryan Garbutt