Even though the Lightning have been eliminated from post-season play, it doesn't mean all of their players have retreated to the golf course for the summer. A select few, including head coach Guy Boucher, will be packing their bags and representing their countries at the IIHF World Championship in Sweden and Finland next month.
The world championships (not to be confused with the world juniors or the under-18 world championships) takes place from May 4th to the 20th and feature 16 teams fighting for national pride. In 2011, Finland took the top spot with the Sweden claiming silver and the Czech Republic beating Russia for the bronze.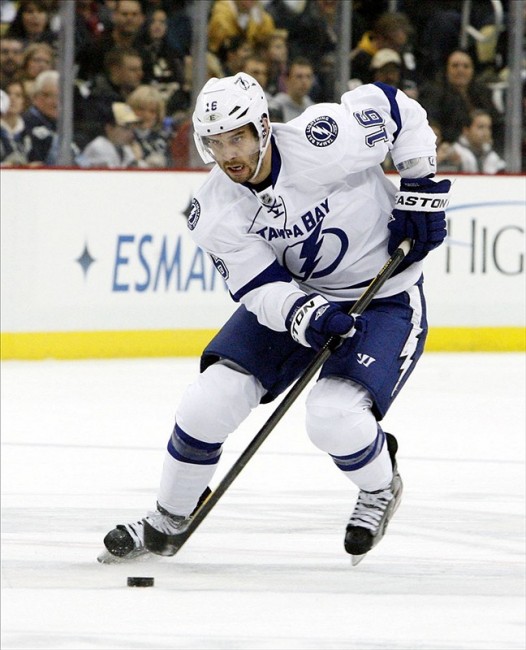 Both amateur and pro players are eligible to represent their teams as long as they meet three criteria:
1. Are at least 18-years-old
2. Be a citizen of the country they represent
3. Live in a country that is under IIHF jurisdiction
Since it usually takes place during the NHL playoffs some of the best players from the NHL don't participate. Even if their team has been eliminated, adding two weeks of play, practice and travel can be a hassle coming at the end of a long season. Players that were banged up during the season (like Steven Stamkos and his bursa sac) are better served taking the time to heal.
With a couple of teams releasing their intial rosters, Lightning players that are known to be participating are Teddy Purcell (Canada), Nate Thompson (USA) and J.T. Brown (USA). Coach Boucher will be serving as an assistant on head coach Brent Sutter's staff. While more teams are eliminated from the playoffs and players become available the rosters will be updated.
None of the countries have announced their final rosters so there is a chance that Victor Hedman could be named to Sweden's roster while one of the Lightning's trip of Russian prospects (Vladislav Namestnikov, Nikita Kucherov and Nikita Nesterov) could find them representing their nation.
Could any of the nominations be considered a surprise? Seeing Nate Thompson's name instead of a more established American player such as Ryan Malone is a bit of a shock. However, Thompson is solid in the faceoff circle, a strong defensive player and aggressive penalty killer. The U.S. team has a history of bringing young potential talent to these tournaments, a description that fits the bill for Brown. As of this week, the U.S. National team has only named 17 players so it is possible that Malone, who looked as if he was regaining his form as the season closed, could still be named to the roster.
As for the Canadian roster, Purcell earned his spot by having a breakout season scoring 24 goals and 41 assists. As mentioned earlier, Stamkos will be sitting out the tournament for the first time since 2008 in order to allow his injured shoulder to heal. Not having the NHL's leading goal scorer will be a big blow Canada, but a glance quick glance at their roster shows that they have still have plenty of young, offensive firepower.
It could be GM Kevin Lowe's decision to go young that kept Martin St. Louis and Vincent Lecavalier off of the roster so far this year. Both players have represented their country in the past (St. Louis in 2007-08 and 2008-09 and Lecavalier in 2000-01) but might be better served with the extra time away from the ice to gear up for next season.
The World Championships is usually a fairly competitive tournament since some of the powerhouses of hockey are missing their best players due to the NHL playoffs. That draws some of the countries with less depth closer to the pack then in other international contests such as the Olympics. It also gives fans a chance to see some of the best talent playing in international professional leagues that don't get a lot of coverage in North America.
For young players like J.T. Brown, it can introduce them to a playoff atmosphere and get them used to playing in games that have some significance behind them (the World Championships help determine seeding for the upcoming Olympics in Russia). Jay Bouwmeester, who will be representing Canada for the fourth time, told the Calgary Herald, "As a young guy, it's a real good experience. If it goes as planned and you're in the semifinals, the finals…guys wants to win. Anytime you can go through those experiences, it helps."
While it would be better to still be watching the Lightning battle for the Stanley Cup, watching their chosen few play hockey for national pride isn't a bad alternative.