In 2011-2012, no NHL team missed the postseason by a narrower margin than the Buffalo Sabres.
Read that again.
It's a remarkable statement, given the cruel and unusual punishment Sabre fans were forced to endure from October to February. Just one additional win during that period would have punched the Sabres' playoff ticket for the fourth consecutive season. Instead, the team ended their campaign on the outside looking in, finishing 9th in the NHL's Eastern Conference.
In many ways, 2011-2012 was a tale of two seasons for the Sabres. The first began on October 7th. The second, on February 17th.  And while the former would ultimately cost the team a chance at the Stanley Cup, the latter suggests that the future may actually be bright in the Queen City.
On February 16th, with a record of 24-27-6, Buffalo sat 13th  in the Eastern Conference. The team had lost three straight, 9 of their previous 14, and were 10 points out of the Conference's final playoff spot. The outlook wasn't just bleak; it was abysmal.
But then, almost miraculously, something happened. The team started playing hockey. And not just good hockey. Elite hockey.
In their final 25 games, the Sabres went on a remarkable 15-5-5 run, which included wins over the cream of the NHL crop: Pittsburgh, Boston, Vancouver, New York, Ottawa, San Jose and Washington.
But what about Ryan Miller?
Critics argue that his value plummeted in 2011-2012 as he struggled to find consistency and fell out of favor with management. But careful analysis of his late-season numbers suggest a much different conclusion.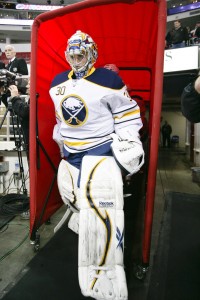 After February 16th, Miller went 15-4-4 with a 2.12 GAA and a .923 save percentage. More importantly, he went 7-2-2 against playoff teams, posting a 1.95 GAA and a .933 save percentage.  Simply put, the success of the Sabres organization still very much depends on the play of Ryan Miller. And if his numbers after February 16th are any indication, he is more than capable of carrying this team through next season and beyond.
 But what about team management?
 GM Darcy Regier raised eyebrows in 2011 when he inked Christian Ehrhoff (10 years/$40M) and Ville Leino (6 years/$27M) to high risk, long-term deals. But even Regier's biggest critics should applaud his moves at the 2012 trade deadline.
 On February 27th, Regier acquired center Cody Hodgson from Vancouver in exchange for gritty forward Zack Kassian. At the time of the deal, Hodgson had 16 goals and 33 points in 63 games with the Canucks. Kassian, meanwhile, had split time between Buffalo andRochester, and produced just 3 goals and 7 points in 27 NHL contests.
While 22-year-old Hodgson would struggle upon arrival in Buffalo, he swiftly regained form, notching 3 goals and 8 points in his final 10 games, and finishing the season 5th in NHL rookie scoring. Over in Vancouver, Kassian managed just one goal and two assists in 17 regular season games.
In addition to acquiring Hodgson, Regier sent pending-UFA Paul Gaustad and a 4th round pick to the desperate Nashville Predators in exchange for a 1st round selection in this year's draft.  At the time of the deal, Gaustad had just 7 goals and 10 assists in 56 contests with the Sabres. In Nashville, he could only muster 4 assists.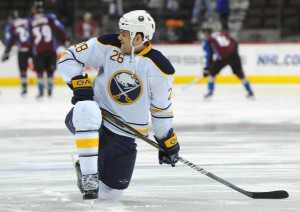 In other words, Regier wasn't fleeced.
Ultimately, Sabre fans should not consider the 2011-2012 season a success. It wasn't. The team had the support of a committed new owner, were aggressive in the off-season, spent to the salary cap, and had the pieces in place to win. Yet, for some odd reason, they decided to wait until mid-February to start playing hockey. That's fatal in a league as competitive as the NHL.
But there is a blue and gold lining to all of this. In Cody Hodgson and Nashville's 1st round pick, the Sabres gained youth, skill and organizational depth. In Ryan Miller's late-season push, the Sabres can take solace in the fact that they continue to possess one of the league's elite goaltenders. And in their post-February 16th run , the Sabres and their fans can be confident that the team is capable of competing (and succeeding) against the league's best.
Will it be a long and strenuous offseason in Buffalo? Absolutely.
But for once, the wait might actually be worth it.
jay@cavemag.com