Since the Calgary Flames closed out their regular season and headed into a playoff-free spring for the third consecutive year, the fan base and local sports media did not have to wait long before the first significant move of the off-season to occur. On Thursday, April 12th, Flames General Manager Jay Feaster announced that head coach Brent Sutter as well as assistant coach Dave Lowry would not be resigned, effectively ending their relationship with the team. While the move does not come as a surprise given the on-ice performance of the team under the coaching staff, this move does indicate that there may be a disconnect between the management and former coaching staff given that Sutter stated in his end of season press conference that he would like certain changes to be made. Working under the likely assumption that those changes are of the rebuilding-the-team variety, Feaster may be choosing to retain his core and continue tinkering with his roster this summer- perhaps even going a similar route this year by trying to land a big-money player such as Zach Parise much like he attempted to woo Brad Richards last summer.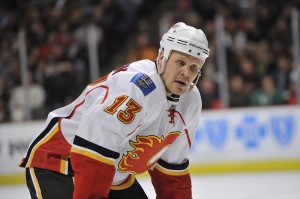 Before getting into a discussion over who the Flames should pursue in this summers' free agent market, attention must be paid to the players already within the organizational fold. The Flames have six unrestricted free agents and four restricted free agents come July 1st, and most of these players are considered to be full-time roster players. The Flames currently sit 5th overall in league payroll, at $64, 290,000. This number will drop significantly with the contract expirations of UFAs Olli Jokinen, Lee Stempniak, David Moss, Tom Kostopoulos, Cory Sarich, and Scott Hannan as these players account for a combined salary of $11,716,667. Of these players, the most likely returnees are the affordable Lee Stempniak and Olli Jokinen if the numbers are kosher with Flames management. Ideally, despite Jokinen's grossly exaggerated open-market value, the Flames should keep both of these forwards only for a combined cap hit of $4 million or less.
Should that occur, that leaves approximately $7 million dollars in cap space for Feaster to contend with Calgary's restricted free agents. The most significant of which are Mikael Backlund, Blake Comeau, Blair Jones, and Akim Aliu. Backlund is an interesting case, as the Flames faithful have begun to openly lose patience with the first-round pick (24th overall) from 2007 as until the emergence of Sven Bartschi he was seen as the brightest prospect within the organization. Instead of emerging as a talented top-6 center, Backlund has struggled at the NHL level with the most consistent aspect of his game becoming his seemingly all-too-frequent injury issues. This past season was Backlund's most disappointing, as he managed only 11 points in 41 games. Comeau is also heading into RFA status with indignation as he also had a let-down year after being claimed off waivers from the Islanders. He managed just 5 goals and 15 points in 58 games this season after turning on the red light 22 times last year with the lowly Islanders, meaning his contract renewal figure (should there be one) will be difficult to ascertain.
The most interesting case is Akim Aliu, who appeared in the final 2 games of the regular season but netted 2 goals against Anaheim in the finale while managing to be the biggest pest on the ice. Flames fans are already in love with the young AHL-journeyman, although it should be noted that Aliu fell as low as the ECHL last year, suiting up in 10 games for the Colorado Eagles last year. Despite this, Aliu will likely receive a long look this summer and in training camp as his intense level of play is a frequent absent element in a Flames game. The most likely to be resigned at a reasonable level is Jones, who also quickly became a fan favourite due to his excellent defensive game and serviceable performance as a bottom-6 center.
Regardless of their decisions, the Flames will undoubtedly find themselves with significantly more cap space to tinker with this upcoming summer. Due to the fact that their recent trend of losing will likely prevent them from landing a player of Parise's caliber, there is enough in-house player personnel decision making that will influence the direction of the team just as significantly as the signing of the biggest free agent name. With the coaching staff gone and the high amount of contracts expiring, Jay Feaster is primed to put his stamp on the team for the first time. The decisions he makes this summer will be the true indication of the direction that he intends to take the franchise in for the remainder of his tenure.