On July first, the New York Rangers signed forward Viktor Stalberg to a one-year contract worth $1.1 million. The 29-year-old came cheap, but he could end up paying big dividends for New York.  The forward has struggled to find his game since signing a four-year deal worth $12 million with the Nashville Predators back in 2013. He posted only 28 points in 95 games, and ended up being bought out by the club just two-years into the deal. Even though the winger has been inconsistent, there's reason to believe that he can turn it around with the Rangers, because he has some tremendous tools as a player.
Speed and Size
The best part of Stalberg's game is his good foot speed; some fans were concerned about the loss of speed when the team dealt Carl Hagelin at the draft. The good news for these fans is that Stalberg is an exceptional skater and the switch from Hagelin to Stalberg shouldn't be too much of a drop-off. The bonus for the Rangers is that Stalberg has an imposing frame at 6'3″ 209 pounds. His ability to move his legs, and win board battles, maks him a factor all over the ice. He should be an ideal fit for Rangers' Head Coach Alain Vigneault, who demands that his club play a quick transition game. What should excite the fans the most about this player is his ability to create separation once he gets the puck.
The video below shows exactly how explosive he is, and just how much he can hurt you if you give him an inch. Notice how he blows past two Columbus players and then uses his frame to shield the puck and deposit a goal.
It's no secret that the Rangers like to play a quick game, and the Swedish forward should be able to adjust quickly. Stalberg can be used in several situations thanks to his superb skating. You can deploy him on the fourth line for a boost, or even bring him up to the first line to help create some havoc.
Physicality
An underrated part of Stalberg's game is his ability to finish checks and open up space. In this past post-season, the winger threw 31 hits in just six games played. The clip I selected below, shows just how powerful he is on his skates and just how much room he can open up when he gets in the corners. The video is from 2011 when he was a member of the Chicago Blackhawks:
As you can see, early in the video he lays three heavy hits on Vancouver Canucks plaeyrs and eventually drops the gloves with a frustrated Kevin Bieksa. It's rare that you find players that are big enough to bowl people over, while still being fast enough to turn defenders around. Adding a player like this to the Rangers bottom six allows them to keep their speed intact while also adding a bit of beef. Stalberg isn't a fighter, but he also isn't afraid to stand up for himself if things get chippy.
What it Means
The Stalberg signing works because he makes the Rangers deeper. He is similar to Hagelin and costs a fraction of the price. When he was signed by Nashville two years ago, there was the expectation for him to be an offensive catalyst for the team.  It didn't work out, because frankly, that was never his game.
He's at his best when he is playing a simple style and opening up space for other guys. With Chicago, Stalberg was a complementary addition to players like Jonathan Toews and Patrick Kane, while giving their bottom six some jump. I expect to see him play a similar role supporting guys like Rick Nash and Derek Stepan next season.
This year, the veteran Swedish winger will get a chance to prove that he has some game left. He is in a good situation, because all he has to do is contribute on a team that is already loaded with talent, so he has a good chance of increasing his value next off-season. For the Rangers, they get a guy who has every reason to work his butt off; and who also happens to be loaded with physical gifts. If it doesn't work out, at least it's a one-year deal.
Point of Comparison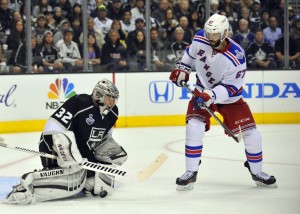 This transaction reminds me of the Beniot Pouliot signing from a few years back. The Rangers grabbed the skilled winger at a low price of $1.3 million on a one-year deal. The winger rewarded the Rangers with 36  points through 80 regular-season games, and 10 points in 25 post-season contests. The solid campaign landed the winger $20 million on a five-year deal with the Edmonton Oilers the following season.
Coach Vigneault has a good track record for getting players like this to reach their potential, so Stalberg may benefit from a year under Vigneault's regime. There is no guarantee that Stalberg will have the same kind of season Pouliot once did, but it is certainly a low risk, high reward type of transaction by the Rangers.
In his career the winger's biggest obstacle has been his battle with consistency. Stalberg still struggles to bring his "A game" on a nightly basis. If he can't find a way to tap into his talent more often, he may not get another opportunity in the NHL.