Fantasy hockey players — especially those in keeper leagues — need to pay close attention to the off-season.
The annual free-agent frenzy on July 1 is definitely a date you should have circled on your calendar. This year's crop of available talent wasn't as impressive as years past — and general managers weren't as willing to break their banks — but several big-name players have switched teams since the Chicago Blackhawks hoisted the Stanley Cup for the third time in six years on June 15. Mostly through blockbuster trades before, during and after the NHL draft on June 26-27.
Where those players ended up obviously affects their fantasy value in keeper leagues as well as their draft stock in rotisserie pools for next season. For better or worse.
If you've been in summer holiday mode (or living under a rock) for the past few weeks, here's a quick refresher to get back in the game. You need to catch up and this should help . . .
Trending Up
High Impact
Should Phil Kessel be on a line with Crosby or with Malkin? http://t.co/jXUZOOIuRb pic.twitter.com/LhwYSd3oHG

— NHL (@NHL) July 8, 2015
Phil Kessel (F Pittsburgh) — He's going to be flanking Sidney Crosby, or worst-case scenario Evgeni Malkin. No offence to his buddy Tyler Bozak, but Kessel is going to get a lot more scoring chances playing with an elite talent like that. And being a world-class sniper, Kessel could be in the running for the Rocket Richard Trophy if he clicks with either of those guys.
Ryan O'Reilly (F Buffalo) — He has a big pay cheque to earn, but he'll be given every opportunity to do just that with the Sabres. First-line minutes and top power-play time along side a potential franchise player in Jack Eichel, O'Reilly really couldn't ask for a better opportunity. Can he make the most of it? Time will tell.
T.J. Oshie (F Washington) — There is no guarantee that he'll get to play with Alex Ovechkin and Nicklas Backstrom, but Oshie will probably get the first crack ahead of free-agent signing Justin Williams. If chemistry develops, Oshie should shatter his career high of 21 goals.
https://twitter.com/alex_prewitt/status/616734170585399296
Milan Lucic (F Los Angeles) — He'll be penciled into the top line with Anze Kopitar and Marian Gaborik, a step up from playing with David Krejci in Boston. Being a contract year, Lucic should bounce back and put up big numbers.
Connor McDavid (F Edmonton) — He recently scored five goals in an intrasquad scrimmage, which his team won 8-6, but the first overall pick in this year's draft is likely to take the league by storm when the real bullets start flying in the fall. Even as a rookie, McDavid could be a point-per-game player and he'll have plenty of talent to work with as an Oiler.
Mike Green (D Detroit) — He's going to be back on a top power-play unit and get plenty of chances in offensive situations. There was a time when Green could challenge Erik Karlsson for the scoring lead among defencemen, and while that's a stretch in the present, it wouldn't be surprising to see Green in the top 10.
Andrej Sekera (D Edmonton) — As of today, he's the No. 1 defenceman on Edmonton's roster. Sekera is probably a No. 3 or 4 on a contending team, but with the upstart Oilers, he'll log big minutes in all situations, which should result in an uptick for his statistics.
James Wisniewski (D Carolina) — A healthy scratch throughout Anaheim's playoff run, he'll have a significantly bigger role with the Hurricanes. Wisniewski might even play top pairing with Justin Faulk, which would obviously help his stats. Don't forget Wisniewski finished tied for eighth in defence scoring just two seasons ago, so he's got potential for 40-plus points in Carolina.
Cam Talbot (G Edmonton) — This is his chance to be a starting goalie in the NHL, albeit on a weaker team than the New York Rangers. Edmonton's defence is a work in progress, so it'll be a test for Talbot, who was sensational during Henrik Lundqvist's injury absence this past season. If he passes, Talbot will be a household name by Christmas. If he fails, the Oilers likely miss the playoffs for the 10th season in a row.
Cam Talbot is the only goalie to start at least 50 games in the past 3 years and never get pulled, for any reason.

— Hockey Abstract (@HockeyAbstract) June 27, 2015
Robin Lehner (G Buffalo) — Ditto here, as he's getting an opportunity to backstop a Sabres team that should be on the rise. Assuming Lehner is fully recovered from his concussion and lives up to his once lofty potential, he could be a big deal before long.
Martin Jones (G San Jose) — More of the same, with Jones also acquired, in a roundabout way, to be the Sharks' top goalie. Nobody knows what to expect from San Jose next season, but a lot of its success (or lack thereof) will hinge on Jones's play between the pipes.
Lower Impact
Joel Ward (F San Jose) — Another new Shark, he's going to be skating with superior offensive players in comparison to Washington where he was primarily used in a checking role with Eric Fehr and Jason Chimera. Now Ward will likely be lining up along side Joe Thornton or Patrick Marleau, so expect him to net a few extra points as a result.
Justin Williams (F Washington) — Going the other way, from California to D.C., Williams will be a top-six forward for the Capitals. If he doesn't play with Ovechkin and Backstrom, he'll likely serve as the veteran along side Evgeni Kuznetsov and Marcus Johansson, which is still a pretty prime gig. The Capitals are going to be a fun team to watch next season.
Michael Frolik (F Calgary) — So are the Flames, with Frolik also factoring into their top-nine somewhere. Possibly along side rookie Sam Bennett or further down with Mikael Backlund. Either way, it's a nice fit for a player who should be able to help his new team.
P-A Parenteau (F Toronto) — He was a bit of a surprise signing, considering the Leafs are entering a full rebuild, but Parenteau's goal will be to impress enough to get flipped to a contender at the trade deadline. He'll be mighty motivated after getting bought out by his home team, the Montreal Canadiens.
Carl Soderberg (F Colorado) — The Avs targeted him as their replacement for O'Reilly on the depth chart, so Soderberg is going to play a bigger role than he did in Boston. Colorado also has more offensive weapons to put on his wings, so Soderberg's point total should reflect that next season.
Carl Hagelin (F Anaheim) — If he ends up playing with Andrew Cogliano, which appears likely, they will win the unofficial award as the league's fastest line. Hagelin has speed to burn and that should fit nicely with Anaheim's style of play.
Kyle Palmieri (F New Jersey) — He never found that fit with the Ducks but should also benefit from this change of scenery. The Devils are desperate for some goal-scorers and that is what Palmieri has done best throughout his career. Not necessarily at the NHL level, but he'll get his chances to produce with New Jersey.
Zack Kassian (F Montreal) — He was a cast off in Vancouver, largely because of his inconsistency, but Kassian is a big body that Montreal has been missing up front. He's always had a decent set of hands and offensive upside as a former first-rounder, so perhaps Kassian's third team will be the charm.
Cody Hodgson (F Nashville) — Could the same be said for Hodgson, who was traded straight up for Kassian a few years back when Hodgson wanted out of Vancouver? They are both maybes at this point, but either or both could become impact players if they get their act together. Hodgson was bought out by Buffalo, so he could have a chip on his shoulder entering this season, and the Predators have done well with reclamation projects in the past.
Sam Gagner (F Philadelphia) — He's another underachieving forward that just dodged the buyout bullet this off-season. Gagner realizes the importance of the season ahead, and he wants to prove the Flyers right for taking a chance on him. Where he fits into the depth chart will ultimately determine his fantasy value, but it is buyer beware for the time being.
Mikhail Grigorenko (F Colorado) — If anybody can coax Grigorenko's potential out, it is probably his former junior coach Patrick Roy, who obviously made sure Grigorenko was part of the package coming back for O'Reilly. Much like the last few guys, Grigorenko is very much a boom or bust going forward.
Erik Condra (F Tampa Bay) — He was an usher in the wedding party for Lightning coach Jon Cooper, so they clearly go way back. Not that Cooper will be playing any favouritism here, but Condra should have a regular role in Tampa Bay. More than likely, he'll slot into Brenden Morrow's spot.
Mark Letestu (F Edmonton) — He's a northern Alberta boy, excited to be coming home and putting on an Oilers jersey. Letestu will be playing with plenty of pride and he's got more offensive upside than most give him credit for. That said, he was signed to play more of a depth checking role.
Kyle Brodziak (F St. Louis) — He should be a good fit for Ken Hitchcock's system and will be called upon to play a shutdown role. Don't pick him for his points, but if your league has a category for faceoff wins, Brodziak and Letestu could be sneaky good picks.
Nikita Zadorov (D Colorado) — He's the real key to the O'Reilly return and could become the best player in that trade over the next few seasons. The Avs needed a boost on defence and Zadorov is very capable. There had been some off-ice issues in Buffalo, but Zadorov should put that behind him as he matures.
Matt Bartkowski (D Vancouver) — The Canucks have been strangely quiet in free agency and although they might still sign somebody like Cody Franson, Bartkowski should get lots of ice-time with Vancouver. Much more than he got with Boston this past season, that's for sure.
Griffin Reinhart (D Edmonton) — He's back in familiar territory, back in the city where he played junior and led his team to a Memorial Cup championship. Reinhart might start with Edmonton's farm team, but the Oilers' defence is in the midst of an overhaul and he'll eventually be a big part of the future there.
Trending Down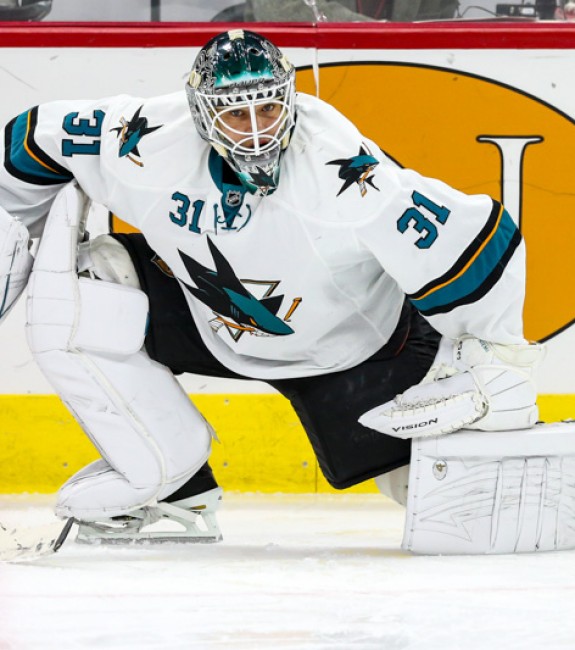 Antti Niemi (G Dallas) — He's probably going to start out as the backup to Kari Lehtonen in what could turn into a platoon system. The Stars are spending upwards of $10 million on goaltending, so one of those two must step up next season. It might be Niemi, but it might not as well. Treat him like a 1B for the time being.
Matt Beleskey (F Boston) — He's getting paid fairly, but the Bruins are bound to be disappointed if they're expecting Beleskey to fill Lucic's shoes. Reality is, he's an inferior player offensively and certainly physically. Beleskey wouldn't be in a lot of teams' top-six forwards, which is pretty telling in regards to Boston's depth up front. Maybe he'll prove me wrong, but I'll keep my money on Lucic.
Troy Brouwer (F St. Louis) — He's probably going to play more of a checking role with the Blues, who are loaded with scoring wingers and prospects who also fit that mould. That doesn't bode well for Brouwer's fantasy value, but he's still going to be an integral part of that St. Louis team next season.
Blake Comeau (F Colorado) — He'll be back to being a third-liner with the Avalanche, which means he won't score as many goals as he did with the Penguins. Comeau will be solid in the role that's being asked of him, but it probably won't do much for your fantasy team.
Antoine Vermette (F Arizona) — He's going back to a place he's called home for the last four years, aside from that brief spring vacation to help Chicago win the Cup. A bit surprising that Vermette didn't want another shot at success with a fellow contender if the Blackhawks couldn't afford to bring him back. The Coyotes are starting from scratch, but Vermette will at least bring championship experience to the fold.
Steve Downie (F Arizona) — He started last season on Crosby's wing and now he's going to be somewhere in the bottom half of the Coyotes' depth chart. My how the mighty have fallen. Downie will have many new foes to mix it up with in the Pacific Division — noteworthy if your league has a penalty minutes category — but expect his offence to dry up in the desert.
Martin St. Louis (F retired) — He called it quits on a potential Hall-of-Fame career. So don't pick St. Louis for next season, and don't trade for him either. In one of my keeper leagues, somebody acquired St. Louis on June 18 for Dwight King, defence prospect Dillon Fournier and three third-round picks. It was a risk-reward deal, but ouch, don't be that guy!
John Moore (D New Jersey) — It was somewhat surprising that he didn't get a qualifying offer from the lowly Coyotes, but Moore did get a three-year contract from the Devils, who are already deep in talented young defencemen. That may or may not be a good landing spot for him, but at least he's still in the big league.
Jhonas Enroth (G Los Angeles) — He signed fairly early into free agency and in a place where he's the obvious backup behind Jonathan Quick. That didn't make much sense for Enroth, unless he really likes the Hollywood lifestyle.
Anders Lindback (G Arizona) — He's going to be Mike Smith's backup, but Lindback will be trying to become the next Devan Dubnyk by supplanting Smith before getting traded away, then continuing to shine and ultimately striking it rich. There is a very slim chance of that happening two years in a row.
Lateral Moves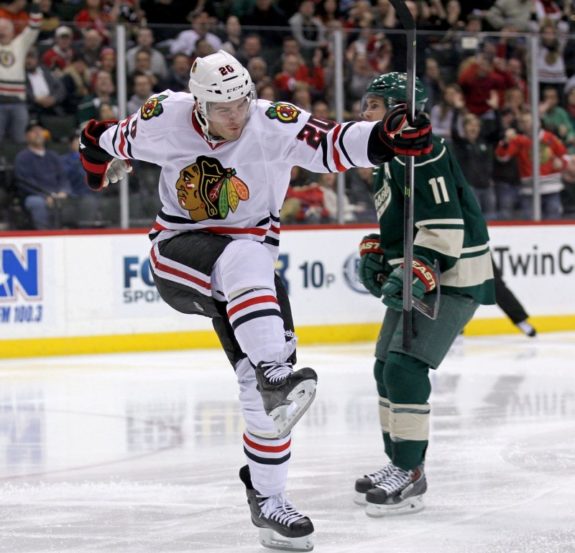 Brandon Saad (F Columbus) — Some see Saad as trending up, and he certainly is based on his own potential, but he won't have any better line mates with the Blue Jackets. Saad spent most of this past season, and the playoffs, on a line with either or both of Jonathan Toews and Patrick Kane. He'll likely line up along side Ryan Johansen in Columbus, which isn't much of a talent drop-off, but don't expect Saad to be among the league leaders just yet. He'll probably be in that 50- to 60-point range again.
Dougie Hamilton (D Calgary) — This was a huge steal for the Flames, but Hamilton might see his minutes reduced a bit because of Calgary's depth on defence. If Mark Giordano and T.J. Brodie continue to play together on the top pairing, Hamilton will slot in with Dennis Wideman or Kris Russell as the 3-4 tandem, and Hamilton may or may not be on the first power-play unit.
Brad Richards (F Detroit) — Similar to Saad, Richards is going to another good situation, but it can't get any better than they had it in Chicago. Richards played extensively with Kane and the Red Wings don't have that kind of talent on their second line. That said, Detroit has plenty of promising young forwards and Richards should be able to help Pavel Datsyuk and Henrik Zetterberg show them the ropes.
Paul Martin (D San Jose) — He's spent much of his career partnering with Kris Letang and will now get to pair with Brent Burns. Martin should be able to make that transition and continue to provide reliable defensive play. Nothing flashy and not a ton of fantasy upside here, but Martin looks like a good fit (on paper) for San Jose.
Artem Anisimov (F Chicago) — He signed a long-term deal with the Blackhawks almost immediately after the trade, so Anisimov is obviously happy with his new home. And the Hawks are adding a couple of fellow Russians for next season with Viktor Tikhonov returning to North America and top prospect Artemi Panarin making his maiden voyage. That could be a productive line if they play together.
Kevin Bieksa (D Anaheim) — He'll be asked to play a similar role with the Ducks as he has with the Canucks for the last decade. Bieksa will be reunited with his old buddy Ryan Kesler, so that familiarity should help make the adjustment a smooth one. Bieksa will essentially replace Francois Beauchemin on the depth chart but might not be able to match his offensive impact.
Jimmy Hayes (F Boston) — He was in and out of Florida's lineup, but has great size and a knack for scoring goals, so Hayes should secure a spot with the new-look Bruins.
Reilly Smith (F Florida) — Likewise for the guy going the other way in that trade, as Smith took a step back this past season after breaking out along side Patrice Bergeron and Brad Marchand in 2013-14. Smith isn't anything special, but he'll be serviceable for the Panthers.
Emerson Etem (F N.Y. Rangers) — He was traded for Hagelin but will have an equally tough time landing a regular role with the Rangers. Etem couldn't crack Anaheim's top-six over the last couple seasons, and he'll likely be on the outside looking in when the season starts for New York as well.
Zac Rinaldo (F Boston) — I guess he's technically the Lucic replacement from a physical or deterrent standpoint. Rinaldo wasn't worth a third-rounder, but he'll bring some toughness to Boston. And he'll be looking to prove himself to his new teammates, so if you need a PIMs guy early in the season, Rinaldo should be a decent pickup.
Brandon Prust (F Vancouver) — He took the trade out of Montreal pretty hard, but Prust should be a big hit in Vancouver and help fight some of Derek Dorsett's battles. Prust's penalty minutes total might go up, but his offence will remain limited with the Canucks.
Martin Marincin (D Toronto) — He's getting a fresh start with the Maple Leafs and still has good upside based on his size and skating ability. But Marincin remains a work in progress and probably won't have much fantasy impact next season.
Anton Khudobin (G Anaheim) — He was acquired to be Frederik Andersen's backup, but don't be surprised if Khudobin gets a decent number of starts. Upwards of 30. He's certainly a nice insurance policy for the Ducks, much better than Jason LaBarbera or Ilya Bryzgalov.
Larry Fisher is a sports reporter for The Daily Courier in Kelowna, British Columbia, Canada. Follow him on Twitter: @LarryFisher_KDC.