The Defense is Saved
Defense has consistently been an issue for the San Jose Sharks. Season after season, general manager Doug Wilson has struggled to lock up suffocating skaters outside of Marc-Edouard Vlasic and former-Shark Dan Boyle, leaving the second and third pairs starved of talent. However, the recent signing of defensive stud Paul Martin could give San Jose one of the best blue lines in the league.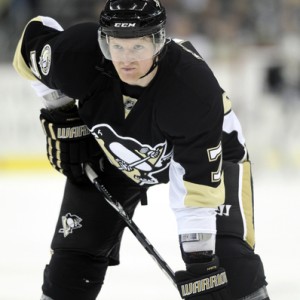 Martin registered 109 points, a plus-45 rating, and a respectable 53.5% corsi in 297 games with the Pittsburgh Penguins. To make these statistics even more notable, he achieved them playing alongside a defensively inept Brooks Orpik.
His performance with the New Jersey Devils at the start of his career was equally impressive.
The newly-acquired defenseman is expected play with Brent Burns on the second pair, effectively bumping Brenden Dillon to the third group and possibly putting Mirco Mueller in the AHL for some time. This can only bring good things.
Tough Year for Mueller, Dillon
Mueller and Dillon struggled on San Jose's blue line last season. Although they are projected to be top defensemen when they reach their peak, they combined for just 13 points and a minus-19 rating in a total of 99 games played.
Both players were new to the organization last season and were forced to play with the offensively minded Burns for extended stretches of time, which may explain their poor performances.
However, Martin moving Dillon to the third pair and Mueller to the AHL should assist both developing players. Having Dillon perform against easier competition should boost his statistics and overall comfort with San Jose's system of play, while Mueller skating with the Barracuda will allow him to play consistently and acclimate to the pace of the game. This is exactly what both players desperately need to get back on track – more playing time and lighter opposition.
An Interesting Situation
While adding Martin and improving the Sharks' defense is a great move by the team, it leaves them in an interesting position.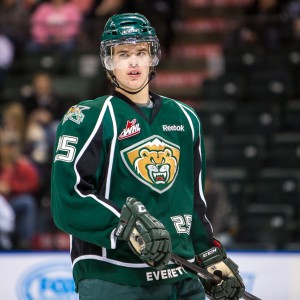 San Jose's left side of the blue line is locked up until the year 2018, with Vlasic, Martin, and Dillon all under contract for at least three more years. This is a solid group of players and could push the Sharks to their first Stanley Cup victory. However, where does it leave the 20-year-old Mueller when it comes to a future roster spot?
The Swiss defenseman is expected to become the next Vlasic and is someone San Jose would love to have in the years to come. But with the Sharks having a stacked set of skaters on the left, he may be the odd man out for a few seasons – possibly until a trade is made or until someone walks in free agency. Since the organization is known for exclusively grouping right-handed and left-handed shots together on the blue line, things will need to change for Mueller to break into the top six.
This is a great problem to have, but there is little point to keeping a potential star defenseman if you're not going to use him. The Mueller predicament could soon alter the team's pairing policy or set Teal Town up for a trade.
The Two Possibilities
There are two plausible ways that San Jose can handle this scenario.
The first option is to have both Dillon and Mueller play together on the third pair, with one of them skating on their off-side. This is something the team rarely does, but it is still a possibility nonetheless.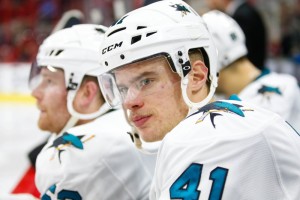 The Sharks did experiment with this combination for a short time last season but saw limited results. In 200 minutes together, the pair had a disappointing 45% corsi and failed to muster any sort of chemistry. Though both players are expected to have bounce back years, putting them together could pose a risk for San Jose.
The other remedy is to deal either Mueller or Dillon before the start of the 2016-2017 season. Having Mueller in the minors for one year would be great for him, but leaving him there any longer would be a waste. This gives Wilson one year to decide which defenseman he would rather keep. But since Mueller is projected to peak higher than Dillon, it will likely be the latter who is traded.
The skater who stays will likely anchor the third pair along with the right-handed Matt Tennyson. Either one of them playing with the 25-year-old American would be an incredible group and would solidify the Sharks' defensive depth for the next couple of years. This team is stacked.
A Great Position
For once in a very long time, San Jose has too many good defensemen. Not only does this help the current roster, but it also gives their general manager the option to use one of his blueliners to fetch other assets the team may need.
One thing is for sure, the future in San Jose is filled with high hopes and high potential.