Much of the talk surrounding the Canucks is about how little they have done to improve their roster this offseason. While many of the teams in the Pacific division have made improvements, the Canucks for the most part have made small acquisitions for draft picks and role players, while trading away fan favourites Kevin Bieksa and Eddie Lack.
The Canucks roster may not look drastically different next season, but their farm team down in Utica will get quite the makeover. After finishing as the second-best team in both the regular season and the playoffs, the Utica Comets are going to look different next season. Some of the Comets will graduate to full-time Canucks next season, while other veterans have already found new homes.
What made Utica so successful last season was their mix of veteran leadership and solid young players. Led by head coach Travis Green, the Comets were able to improve from 79 points in 2013-14 to 103 last season. The goaltending of Jacob Markstrom was also a huge factor in their success.
They have already lost their captain, both goaltenders, and their best goal scorer. Here is a look at the Comets who won't be back next season.
O'Reilly, Sanguinetti Sign With Buffalo
Arguably the biggest loss up front for the Comets was the loss of their captain Cal O'Reilly.
O'Reilly signs with BUF. Two year deal at $700K per. One way deal. That's CAL O'Reilly, Ryan's older brother. Guess we know who's next.

— Bob McKenzie (@TSNBobMcKenzie) July 1, 2015
He was the heart and soul for the Comets, and their leader throughout their playoff run this spring. He led the team with 19 points in 23 games in the playoffs, and led the team with 61 points in the regular season. He will likely fill a similar role in guiding the Sabres' younger players, although it would be neat to see him crack the Sabres lineup with his younger brother. The Canucks have likely found a replacement for O'Reilly with the signing of Blair Jones to a one-year contract
Jones is a native of Central Butte, SK. Listed at 6'3″ and 215 lbs. Likely to replace Cal O'Reilly as the 1C for the #Comets. #Canucks — Canucks Misconduct (@nucksmisconduct) July 3, 2015
While all the talk on defence is about Frankie Corrado and Adam Clendening, the Comets most productive defenceman last year far and away was Bobby Sanguinetti. He had 40 points during the regular season along with another 14 points in the playoffs.
Excited to be joining the @BuffaloSabres organization for next season!! Looking forward to big things

— Bobby Sanguinetti (@Sangs2224) July 3, 2015
The veteran leadership of these two AHL all-stars will be missed on the Comets roster next season.
DeFazio Signs With Bruins
Brandon DeFazio signs with the Boston Bruins. He played two games for the #Canucks last season. — NEWS 1130 Sports (@NEWS1130Sports) July 6, 2015
DeFazio played a couple of games for the Canucks last season due to injury, but mainly was another solid veteran option down in Utica. He was second on the team to O'Reilly in points during the regular season, but saw his role diminish a bit in the playoffs due to the additions of Sven Baertschi, Jake Virtanen, and Cory Conacher.
Conacher, Eriksson Soar to Europe
Speaking of Conacher, the diminutive forward who was infamously traded for Ben Bishop (I tip my hat to you, Steve Yzerman), has signed a contract to play SC Bern of the Swiss League next season. He was acquired in a swap for AHLer Dustin Jeffery at the trade deadline this season and leaves yet another hole in the Comets top six.
Backup goalie Joacim Eriksson was brought in by Mike Gillis before the 2013-14 season. He only made it into one game in a Canucks uniform, where he was shellacked for six goals during a 9-3 loss to Anaheim. Without Eriksson and the graduation of Markstrom, there is a huge hole in the Comets crease.
Cory Conacher (SC Bern – NLA), Peter Andersson (Örebro HK – SHL) and Joacim Eriksson (Dinamo Riga – KHL) have all signed contracts overseas.

— Brendan Burke (@brendanmburke) July 1, 2015
Comets Heading to Vancouver
The Comets roster will be derailed even further because some players will graduate to the main team next season. Jacob Markstrom has already signed a two-year, one-way contract worth $3.1 million. With Eddie Lack playing on the other side of the continent, Markstrom will get another shot to prove that he can stick in the NHL, likely his last chance to succeed at this level. Benning and the Canucks brass have tons of faith in Markstrom, but it remains to be seen if he will fulfill those expectations.
The next Comet most likely to crack the Canucks lineup next year is Sven Baertschi. Benning believed in Baertschi enough to trade him for a beloved second-round draft pick even though he fell out of favour in the Calgary Flames organization. He was one of Utica's top scorers during their playoff run and formed great chemistry with Alex Friesen and highly-touted prospect Jake Virtanen. Barring a poor training camp, he should get a shot to play in Vancouver's top six next year.
Coach Travis Green on Sven Baertschi about if he's ready to be on the Vancouver Canucks, "I think he's ready. A… http://t.co/wxd9Xkwnqs

— Comets 5thLine (@Comets5thLine) July 7, 2015
Frankie Corrado and Adam Clendening are also likely to play for the Canucks next season, though they sit behind six other defencemen on one-way contracts. Canucks management could decided to let them play in the AHL again next season, but that situation will likely play itself out in training camp.
Brendan Gaunce, Hunter Shinkaruk, Nicklas Jensen, and Alex Grenier are four other Comets who have a shot at becoming Canucks next season. Gaunce showed that he can play a 200 foot game during his first season in Utica, and could be a good fit in Vancouver's bottom six. Grenier rocketed back up to prominence in the organization after his stellar season. Standing at 6'5″ and 200 pounds, he could also be an option for Vancouver in a depth role.
Shinkaruk and Jensen are likely to start their seasons back down in Utica, but those are just two more Canuck prospects who could earn a spot with a good camp, although their chances seem slim. Shinkaruk had a slow start in Utica after recovering from hip surgery but really came on in the second half. He could use another healthy season in the AHL to round out his game.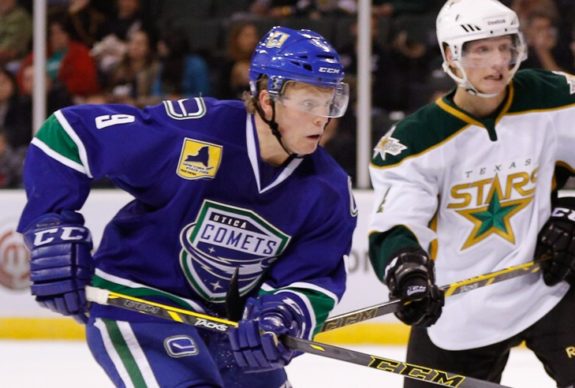 Jensen isn't in Benning's good books, and will have to carve out his role to earn a spot on the Canucks. When asked about Jensen during an interview back in May, Benning was pretty honest when it came to his opinion of Jensen.
"He's in danger of falling in between (roles)", Benning said. "He's not the natural goal-scorer to play in the top six, and he has to round out his game better to play in the bottom six. The details in his game have to improve."
Five Comet veterans have already found new homes this offseason, and another couple are likely to become Canucks next season. There are some Canuck prospects who will fill the gaps in Utica next year, but Benning might need to add a couple more veterans to the Comets if they are going to repeat the same success as last season.
KPU Journalism Graduate. Trevor has been writing for The Hockey Writers since October 2014. He has contributed articles related to the Ottawa Senators, Vancouver Canucks, and other issues/stories regarding the game of hockey. Trevor currently lives in White Rock, B.C.