With the news that Kimmo Timmonen's season — and in essence, his NHL career — was in jeopardy with blood clots in his leg and lungs, the Philadelphia Flyers were left with a bind on defense.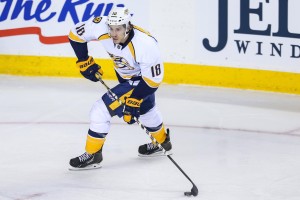 Options were limited in free agency. Many of the offensive defenseman who had the capabilities to put up the type of numbers that Timmonen provides were scarce, but one forgotten blueliner — and former Ranger — was available for the cash-strapped Flyers.
Ron Hextall acted quickly, swooping in to nab Michael Del Zotto hours after the horrible news that Timmonen might not suit up this season. The Flyers general manager was able to bring in Del Zotto at a discounted rate — one year, $1.3 million. These numbers are pretty staggering, considering where many viewed the 24-year-old defenseman just a few short seasons ago, but it just shows how out of favor Del Zotto had fallen within the NHL.
What are the Flyers plans for Del Zotto? CSN's Tim Pannacio thinks that head coach Craig Berube will slot Del Zotto with Luke Schenn, moving Andrew MacDonald, Schenn's former defensive partner, on the top pairing with Brayden Cobourn.
Look for Berube to pair Del Zotto with Luke Schenn. MacDonald works with Coburn now

— Tim Panaccio (@tpanotchRET) August 6, 2014
This is a move that should benefit the Flyers, not only Del Zotto, but Schenn as well. Schenn's struggles were well documented early on last season. However, after the Flyers acquired Macdonald from the New York Islanders, everything seemed to click for the 24-year-old. Schenn was one of the Flyers' strongest defenseman down the stretch and during the Stanley Cup playoffs, and it would be an added benefit if he was able to replicate that success from last campaign.
Now on to Del Zotto. People have been down on Del Zotto recently, especially the New York Post's Larry Brooks, who believes the moment of truth has come for Del Zotto. The blueliner's growth over the past season stunted, earning a few healthy scratches along the way in New York, then struggling to fit in after being sent to the Nashville Predators. He even wasn't given a qualifying offer from the Preds, eliminating his restricted free-agent status to make him unrestricted.
However, there are still plenty of things to like about his game.
Talked to Berube on Del Zotto: "Lots of skill, speed. A good skater. Gets up in the play offensively. Worked the PP in NY. Lotta skill"

— Tim Panaccio (@tpanotchRET) August 6, 2014
Del Zotto is just a few years removed from a 41-point campaign back in 2011-12. Then a 21-year-old completing his second full season in the League, Del Zotto tallied 10 goals, 31 assists and 14 points on the power play. The future looked bright for Del Zotto, but things changed, and the young rearguard regressed, most alarmingly in his own zone. But I think there is a solution to Del Zotto's woes in the defensive zone — pair him with a stay-at-home defenseman.
During his time in New York, especially during the potent years offensively, Del Zotto played with bigger, more defensive-minded players like Dan Girardi and Anton Stralman. Last season, Del Zotto's most frequent partners were John Moore and Ryan Ellis, two defensemen who are hardly known for their physical presence or their defensive tenacity on the ice. Partnering with someone who has a more defensive mindset would allow Del Zotto the freedom to do what he does best — use his speed and passing abilities to join the rush and add an offensive element to the Flyers' blue line.
If Panaccio is correct, and the Flyers do decide to pair Del Zotto with Schenn, there isn't any reason to believe that Del Zotto could  show flashes of that potential he put on display just a few short seasons ago, which would make this low-risk, high-reward signing for the Flyers a steal.