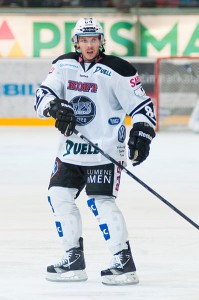 In a new series of features we will be looking back into the Hamilton Bulldogs past to check in on where former players have ended up. The Bulldogs have many players that have gone on to make careers in the National Hockey League, however some have not been so lucky.
We will start with the Hamilton Bulldogs all time leading scorer, Corey Locke. He was drafted by the Montreal Canadiens in the fourth round of the 2003 NHL Entry Draft, 113th overall.
After having a greatly successful three years in the Ontario Hockey League, where he scored 132 goals and 180 assists in 186 games. The 5'9″ center would play for the Hamilton Bulldogs from 2004-05 to 2007-08.
During his four American Hockey League seasons with the Bulldogs he would go on to record 85 goals and 229 points in 313 games. His best year was 2007-08 when he accumulated 30 goals and 42 assists in 78 games.
Locke was also a member of the 2006-07 Hamilton Bulldogs Calder Cup winning team. he scored 10 goals and 12 assists en route to the championship win.
While he was successful at the AHL level his size and defensive play would keep him from making the jump to the NHL. In fact he only played one game for the Montreal Canadiens in 2007-08 with no points.
By the 2008-09 season Corey Locke was traded by Montreal to the Minnesota Wild for defenseman Shawn Belle in what would be a swap of minor league players for both teams.
He did not make the NHL roster however he had another great AHL season with 25 goals and 54 assists in 77 regular season games. He also went all the way to the AHL's West Conference Finals as a big contributor with 12 goals and 11 assists in 20 games.
However he still did not make a big enough impression to see any NHL ice time with the Minnesota Wild. He was allowed to walk as a free agent at the end of the season and signed a one year deal with the New York Rangers in time for the 2009-10 season.
With New York he saw only three games at the NHL level, again still searching for his first NHL point. He would spend the majority of the season in the AHL with the Hartford Wolfpack. There he was once again a dominant AHL scorer with 31 goals and 54 assists in 76 games.
Then at age 26 the Rangers deemed they would let him leave as a UFA to make room for their younger prospects. Although his three strong AHL campaigns of 70 points of more led the Ottawa Senators to offer him a two year contract.
The 2010-11 season saw the majority spent at the AHL level, once again showing his scoring prowess with 21 goals and 65 assists in 69 games. He did however have his longest stint in the NHL at five games and also recorded his first NHL point, an assist.
During the 2011 AHL playoffs Corey Locke contributed three goals and 12 assists to the Binghamton Senators Calder Cup championship run. He now had two Calder Cup wins under his belt. He was also selected as the AHL's regular season Most Valuable Player.
The 2011-12 season saw the Ottawa Senators leave him in the AHL for the entire year. It was a difficult season as due to injury Corey Locke was only able to play in 38 games. However he once again was a great point contributor with 10 goals and 31 assists in those games.
When the Senators did not offer Locke a new contract he went to TPS Turku of the SM-liiga in Finland. However his scoring prowess did not translate well to this league and he put up only five goals and 12 assists in 37 games.
In January of 2013 Corey Locke moved to Germany to play for the Berlin Polar Bears of the Deutsche Eishockey Liga. His scoring touch still was not quite the same with only one goal and six assists in 16 games. He then contributed two goals and six assists in 13 playoff games.
At the end of the year Corey Locke once again found himself a free agent. He signed a one year AHL contract with the Chicago Wolves in July of this year. Now at 29 years old, the Wolves are counting on him to provide scoring and veteran leadership to their younger players.
Overall he has been a very successful American Hockey League scorer with 182 goals and 346 assists in 672 regular season games. He also has 25 goals and 35 assists in 62 playoff games at the AHL level.
Hockey's Future had this to say of his talents "Great on-ice vision, playmaking abilities and offensive instincts. Locke can find the open man and hit him with crisp tape to tape passes. Is solid positionally in the offensive zone, sees the ice well, and can slow the play down."
He was projected by Hockey's Future to have the potential of a second line center if everything came together for him.
A well known Montreal Canadiens Scout, Trevor Timmons, had this to say of Corey Locke's potential " I live just outside of Ottawa so I've seen him play a lot and what I liked about him was that he has a lot of character to go with a lot of talent," Timmins said. "He's slowly learning that he can be a top player in the AHL in his second year. He's got a chance. I'm not saying that he'll be a regular NHLer, but he has a chance."
However former Hamilton Bulldogs Head Coach Don Lever has this to say of him in 2005 during an interview with Hockey's Future "I'm getting the power play production out of Locke, but it's the five-on-five that needs to get better. The reason why he was so successful in junior was his work ethic and now he has to bring that to this level. He gets to resting on certain shifts and he needs to work the same way he worked when he was in junior. He's got good vision and is a nice player."
Clearly his size and commitment to defense was and is the largest issue holding him back from having an NHL career. Martin St. Louis is the inspiration for all smaller players, but Core Locke has not been able to replicate his success to date.
Back in 2012 the all-time winningest Canadian Junior Hockey coach Brian Kilrea had this to say of Corey Locke to Doug Harrison of CBC Sports "In the National Hockey League, unless you're on the first line, they expect everyone to go out and finish their check. Corey's the offensive talent. He didn't really have to go out and finish his checks [in junior]. He had to worry about avoiding someone finishing their check. It got to be where [NHL] teams [were] looking for the stereotype player. They're always looking for someone that goes up and down the ice and finishes their check hard."
Is there still potential to become an NHL scorer in Corey Locke? It appears Brian Kilrea thinks so. However at age 29 Locke seems destined to become an AHL veteran brought in by teams to provide scoring. He may one day get another shot in the NHL, but I don't see him becoming a full time NHLer at this point.
The former Hamilton Bulldogs center has found his niche in the professional hockey world and continues to make a good living playing hockey.
Covering the Florida Panthers for The Hockey Writers. Women's Hockey news and statistics for Outlook Hockey.