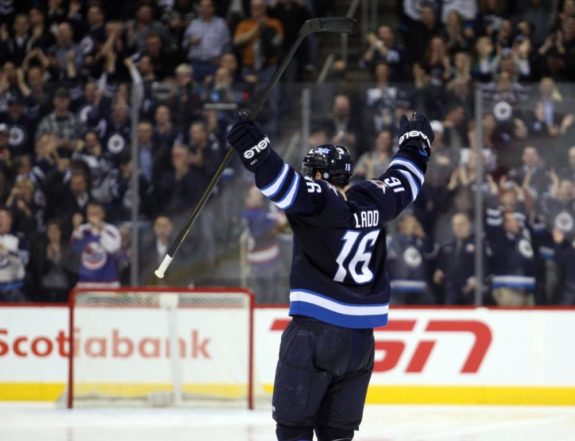 Heading into their third season in Manitoba, expectations are higher than ever for the second edition of the Winnipeg Jets. The franchise spent a record amount in resigning and adding talent after a shortened 2013 season. As the season rapidly approaching with rookie camp starting up, it's almost time to see how well the Jets' investments will pay off in 2013-2014.
The Jets have had a solid offseason drafting Josh Morrissey eighth overall at the 2013 NHL Entry Draft and adding veterans Michael Frolik, Devin Setoguchi and Matt Halischuk to add to an experienced core that had to be resigned. Captain Andrew Ladd told NHL.com's Steve Mears at player's media day in Newark, New Jersey having a stable offseason for the first time in three seasons should be a benefit to the team and hopefully help a squad that's looking to make the next jump to the postseason. Ladd added he's is looking forward to building on his team-scoring lead from last season.
"Yeah I feel good,"Ladd said answering a question about his confidence level heading into this season. "I was really happy with what I was able to do last season. Hopefully, I can build on that. We want to get off to a good start this year in a new division. Hopefully I can be a catalyst and get us going."
He adds that the new division may help in some regards, but overall will be a new challenge for the Jets.
"It's going to be nice to have a couple of shorter trips especially within the division," Ladd said, but in saying that, we're in a tough division and we realize that we're going to be in tough every night and hopefully that brings the best out of us."
Prospects To Get Started in British Columbia
For the third time in as many years, the Winnipeg Jets prospects will compete in a "Young Stars Classic" hosted by the Vancouver Canucks. Joining the junior Jets and Canucks in Penticon, British Columbia will be prospective players of San Jose, Calgary, and Edmonton. 
The Junior Jets' drop the puck against the Sharks at 6:00 pm CDT/ 4:00pm local time. Following San Jose, Winnipeg takes on Edmonton Saturday evening at 9:30 CDT and Vancouver Monday afternoon at 2:00pm CDT. Live streams of the first two contests will be available via the Jets website.
Three players in particular to watch for Winnipeg are previous first round picks Josh Morrissey (8th overall in 2013), Jacob Trouba(9th overall in 2012), and Mark Schiefele (7th overall in 2011). Schiefele and Trouba are listed on the Jets current roster on the team's website.
The NHL regular season schedule was released on Friday. Check out our partners at TiqIQ for the best deals on Winnipeg Jets tickets for all 2013-14 games.