The 2013-14 NHL season is just about a month away. Training camps are opening soon, and the excitement of the new year is in full swing. The Edmonton Oilers are experiencing somewhat of a changing of the guard, as their young studs begin to take leadership of the team. There are still a few veterans sprinkled in, but the Oilers are clearly in a youth movement.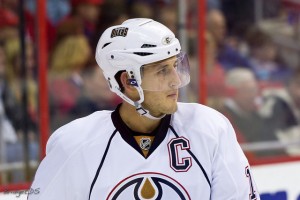 When Edmonton traded captain Shawn Horcoff this past offseason, the responsibility of wearing the "C" was put up for grabs. The Oilers claim not to be a in a rush to name a new Captain, but eventually it will happen. Will it be Taylor Hall, Jordan Eberle, or perhaps Sam Gagner, who is strongly rumored to be the guy? That's yet to be determined. Until then, here's a look back all the Oilers captains, from the time they became an NHL franchise until now.
1979-80: Ron Chipperfield
The first captain in Edmonton Oilers history, Chipperfield didn't last long in the NHL. He played with the Oilers for three seasons, though two of those came while the team was part of the WHA. Edmonton traded Chipperfield to Quebec in 1980, and he was out of the league entirely by 1981.
1980-81: Blair MacDonald
The second player in history to be named Oilers team captain didn't last much longer than the first. MacDonald scored a career high 46 goals in the 1979-80 season, but fell down the depth chart when guys like Mark Messier, Jari Kurri and Glen Anderson entered the scene. MacDonald played well with Wayne Gretzky, but was traded to Vancouver in 1981.
1980-83: Lee Fogolin
Fogolin captained the Oilers to their first Stanley Cup final in 1983 where they ultimately lost to the New York Islanders. He was a solid defenseman, but similar those before him, he was constantly in the shadow of the star players in Edmonton.
1983-88: Wayne Gretzky
Gretzky was an obvious successor to be captain, as the young superstar took the league by storm in the early eighties. He captained the team to four Stanley Cup championships, and established himself as the best hockey player in the league at the time.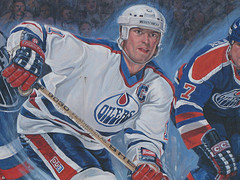 1988-91: Mark Messier
After Gretzky was traded, Messier took over as captain and promptly led the Oilers to yet another Stanley Cup championship. Once Wayne was out of the picture, the attention landed mainly on Messier, and his legend began to grow. He has long been considered one of the best captains in NHL history, and hands out a leadership award every year in the NHL.
1991-92: Kevin Lowe
Kevin Lowe took over as captain when Messier was traded, but didn't last long as he himself was traded to the Rangers in 1992. He won a Stanley Cup with New York in 1994, a team that featured many former Oilers players. Lowe returned to the Oilers in 1996 and finished his playing career there. He remains in management to this day.
1992-94: Craig MacTavish
MacTavish would become the third Oilers captain in a row to move onto the Rangers and be part of their Stanley Cup championship. He is most famous for being the last player to play without a helmet. He spent many years coaching the Oilers and is currently their general manager.
1994-95: Shayne Corson
Corson was named team captain by coach George Burnett, but he was striped of the captaincy that same season. Corson would move on to the St. Louis Blues later that year.
1995-99: Kelly Buchberger
Known more for his leadership skills than playing skills, Buchberger left the Oilers in 1999 when he was selected by the Atlanta Thrashers in the expansion draft. He was most recently an assistant coach for Edmonton.
1999-2001: Doug Weight
Weight solidified his reputation as a strong centerman during his years in Edmonton, scoring a career high 104 points in the 1995-96 season. He would wind up playing for the Carolina Hurricanes, winning the Stanley Cup with them, beating the Oilers in 2006.
2001-2007: Jason Smith
Another captain selected for his grit and character, Smith was the Oilers longest serving captain since Wayne Gretzky. He led the Oilers all the way to Stanley Cup final in 2006 in a losing cause. He was traded to Philadelphia in 2007 where he promptly become their Captain.
2007-10: Ethan Moreau
Continuing with the theme of character captains, Moreau was considered one of the best checking centers the Oilers ever had. He was viewed as a strong asset until he was felled by injuries later in his career. He played in Edmonton for 11 seasons.
2010-13: Shawn Horcoff
Horcoff scored a career high 73 points in 2005-06 but would never again reach that plateau. He signed a massive six year contract worth $33 million dollars in 2008, and it didn't take long for him to become one of the most overpaid players in the league. His contract was finally wiped off the books when was traded to Dallas, and thus, the role of Captain in Edmonton remains vacant. For now.
Marcy, a former hockey player, is a hockey correspondent on CTV News and TSN radio. She began her career as a Sports Journalist in 2009 and has been part of The Hockey Writers since 2010, where she is currently a senior writer and editor.