The 2012-13 NHL Lockout was awful. For fans, for owners, for players. It wasn't fun waking up to read news of more and more games cancelled with no end of the bad news in sight. Once we got started, we were treated to a whale of a start and an even better finish from the Blackhawks, more "Shana-bans" and a whole lot of hockey slammed into a 99 day period. 48 games in 99 days will do a lot to an NHL athlete's body, so today we examine what I am calling "The Lockout Effect." How will playing so many games so fast in 2012-13 impact the 2013-14 season?
We'll start with a look at a "normal" season. Your typical season has 82 games in the regular season stretching from the beginning of October until the start of April. We'll go back to 2010-11 to find that the regular season was spread out over 185 days, or a game every 2.25 days. Shrinking it down to the 2013 lockout shortened season, NHL teams played a game every 2.06 days. A quarter of a day may not make a whole lot of difference, but imagine having only a 1 and a half day weekend instead of 2 days. 5 days during a normal season is like 4 days in a lockout shortened season because there isn't enough space between games. That recovery time is much needed when you're repeatedly getting slammed into the boards or into other players every night.
The 2011 NBA Lockout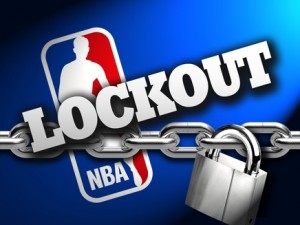 For comparison's sake, in 2011, the NBA went into a lockout that lasted 161 days (nearly 6 full months). The regular season was shortened from 82 games in 185 days – a game every 2.25 days – down to 66 games that were played in 124 days – a game every 1.87 days. The Lockout Effect was notable during the season, as players were not playing to their full potential, primarily because of fatigue. At one point, the San Antonio Spurs rested their star player Tim Duncan for a game in March that was the Spurs' 3rd game in as many days. Gregg Popovich submitted a simple explanation for his questionable benching of the Spurs' best player: "Old."
Fatigue in the NBA later would lead to other star players getting injured. NBA commissioner David Stern had started with the belief that the injuries sustained in the 2012-13 season were not related to the 2011 lockout. "I don't think it's related at all. Zero," Stern said. Since then, however, Stern has gone on record to say that The Lockout Effect needs to be researched further.
In his interview with Jim Rome on CBS Sports Network, Stern added "I think there's some part of it that may be related to that. Some part of it is luck. Some part of it is lack of preparedness by our players before the season began. It's a combination of things." In other words, exactly what the NHL is going to be dealing with this coming season. A combination of not being ready for last season to start (and not being in 100% top shape), a schedule jammed into 99 days, plus the physical nature of the game, and we're looking at a potentially injury-filled season coming up.
The injuries started piling up in the NBA near the end of the shortened season and into the playoffs in 2011-12. The New York Knicks lost to eventual champion Miami after they lost their star point guard Baron Davis and another player (Iman Shumpert) to knee injuries. Miami had also lost one of their top 3 players (Chris Bosh) for a majority of the playoffs to an abdominal strain. Two of the best Chicago Bulls, Derrick Rose and Joakim Noah, were lost to injuries, and Rose, injured late in the strike shortened season, was sidelined for all of the 2012-13 season as well.
On the other hand…
Of course we have a few factors here that will certainly impact the upcoming NHL season. First of all, I'll go out on a limb here and say that the athletes in the NHL won't simply sit out a game with a jammed finger or other minor injuries. Nor will they allow their coach to bench them for being "old." Looking at the Stanley Cup Finals alone, at least 5 players were on the ice despite significant injuries sustained earlier in the playoffs:
Bryan Bickell had a grade 2 knee sprain sustained in Western Conference Finals Game 5 against Los Angeles.
Marian Hossa was kept out of game 3 of the Finals with a back injury but was back for games 4-6.
Michal Handzus had a broken wrist AND a torn MCL, but was still playing through the series, and even scored on a 2 on 1 break in game 4.
Nathan Horton was injured in Game 1 of the Finals. On July 17th he had shoulder surgery for that separated shoulder.
Patrice Bergeron left game 5 of the Finals early and was admitted to a hospital. After the rumor of a ruptured spleen was debunked, it was determined that he had a broken rib and torn cartilage to go along with a separated shoulder from the first round matchup with Toronto.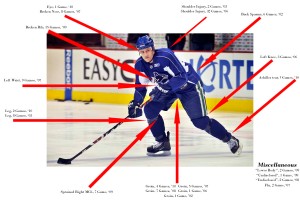 Aside from the seemingly mile-high pain tolerance for most players, there will be an extended break in which the NHL is allowing its players to join the 2014 Winter Olympic Games in Sochi, Russia. This falls towards the end of February, with many players playing for their homelands and should diminish the lockout effect (this year, the season will be spread over 195 days including this 18 day break). While these rosters aren't set, you can bet that the superstars will be leaving their NHL clubs to join in on the fun for the nearly 3 week hiatus. The majority of the players won't be going to Sochi, so they will have time to rest and prepare for the final month and a half of the season. For those that stay in the states (or go to watch the Olympics or even just go home to rest), it will be a time to recover before the home stretch of the season, and thus diminishing the Lockout Effect.
Now, I'm not into predicting the future, so I won't say that we're definitely, without-a-doubt going to see a rash of injuries once the puck drops on October 1. But these guys throw their bodies around in a very physical game and are already prone to injury. Is The Lockout Effect real? Only time will tell. We all have our favorite players who have dealt with injuries and kept playing (Jonathan Toews) or may be headed for some time on the Injured Reserve list (Dustin Brown and Claude Giroux). Can they stay off the list and avoid The Lockout Effect? I'll revisit the notion later in the season, and we'll see how our favorite athletes hold up.
Doulas Cutler is a Lead Writer for The Hockey Writers covering the Chicago Blackhawks. Follow him on Twitter at @DougCutlerTHW. In addition, he also writes on The Blog of Brotherhood, dedicated to Miami RedHawks Hockey (www.blogofbrotherhood.com and @MiamiHockeyBlog). LET'S GO HAWKS!