Marek Hrivik didn't make the New York Rangers out of training camp, but after a string of injuries, he was called up from the Hartford Wolf Pack and has played well on the teams' fourth line.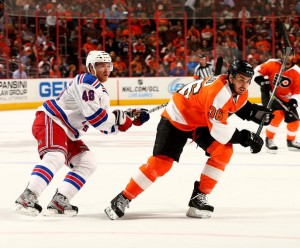 Hrivik has adjusted his game and has provided exactly what the Rangers need out of him. When he got to New York, the team already had the forwards to move up the line-up into the top six, and they needed Hrivik to play more of a checking style, despite posting 17 points in 20 games at the AHL level.
Now, with the forwards mentioned earlier getting healthy, the team will have to make a decision on what they do with the 25-year-old. Despite a good showing, he may end up a victim of circumstance.
A Mixed Bag
Hrivik has brought a particular bull-headed yet versatile style to the Rangers that they've otherwise lacked near the bottom of their depth chart. He's a big body that plays a straight forward physical brand of hockey, who can also flash some skill. He's also one of the only players on the team that brings this diverse mix of elements.
Hrivik only has two points in 16 games in New York, but that hasn't been indicative of his play. On December 29 against the Arizona Coyotes, he made a beautiful pass to start a play that would end with a goal. He gains the blue line, finds some space and makes a gorgeous pass across the offensive zone to Brandon Pirri that ends up going right to Matt Puempel for a power-play goal.

Plays like this aren't unusual for Hrivik, they just haven't gone in for him and that may hurt him in the near future.
Weighing the Options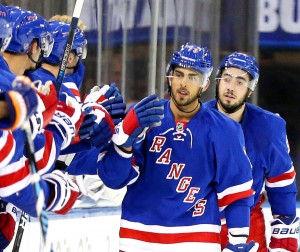 To keep his spot Hrivik will have to find some points and in a hurry. There's lots of internal competition from players like Pirri and Puempel, and they have stats on their side. Pirri is essentially a power-play specialist who isn't much of a grinder, but his 14 points make him jump off the page.
Matt Puempel was claimed off waivers, but has been coming around recently. His hat-trick against Arizona will only help his case.  This makes Hrivik, the native of Cadca, Slovakia the only option of those three players who doesn't really have the stats to back him up.
All Hrivik can lean on, is the fact that he's one of the only options who could take on an actual grinding role without looking like a square peg in a round hole.
[irp]
How It Shakes Out
Rick Nash will probably return first and I think he slides right into Nicklas Jensen's current spot. Then you'd have to think that Pavel Buchnevich would take Michael Grabner's spot in the top nine and push him to the fourth line. In theory, this would push Hrivik to the bench.
Lastly, when Mika Zibanejad comes back, Hayes will likely go to the third line and push Pirri off the starting roster with Hrivik. That gives the Rangers 12 starting forwards and Puempel isn't even healthy yet.
It simply doesn't look like Hrivik will stay with the Rangers, which is a shame since he's played so hard for the team. Of course, that could change with another injury or trade, but at the moment it's hard to see New York going with Hrivik over players like Pirri and Puempel. If Hrivik does end up on waivers, I suspect he'll get claimed, and if not then the Rangers are lucky.
I graduated from Brooklyn College with a B.S. in Broadcast Journalism. Shortly after, I began writing for the Full Tilt Hockey Network, where I still contribute, covering a broad range of topics across the NHL.
I have been contributing to The Hockey Writers since February of this year focusing on the New York Rangers. My articles tend to focus on analysis of players, and possible directions that the organization could go.