"It's not good enough. We had them on the ropes. We should have beat them. We kind of pissed away a point we could have had and they all add up at the end of the year. One point might not seem like a big deal but it is in this league."
Those were the words spoken by Jack Eichel after the Buffalo Sabres let not one, not two, but three leads slip away before hometown boy Patrick Kane delivered the back-breaking blow in overtime as the Chicago Blackhawks stormed back in a 4-3 triumph on Jan. 5 in the Windy City.
It was a rare outburst for Eichel — all of 20-years old with just 98 National Hockey League games under his belt. But when the Sabres' super sophomore speaks up, people listen.
WKBW's Matt Bove' caught "The Eichel Eruption" which has since gone viral:
I think it's safe to say that Jack Eichel is angry about how the #Sabres game last night ended @WKBW pic.twitter.com/jx0zA3lgsH

— Matthew Bové (@Matt_Bove) January 6, 2017
Would it have been so newsworthy if it had been Sabres' captain Brian Gionta unleashing the tirade? Or heir apparent Ryan O'Reilly? Certainly not. It would have been lost in what has otherwise been a lost season before it started for Buffalo in 2016-17, but when the franchise savior, their first round pick and the nation's top college player in 2015 vents his frustration and it boils over, it is of note. Especially given how relatively young and in experienced the North Chelmsford, Massachusetts, native is. But what can be agreed upon is the stand the Hobey Baker Award winner took, unaccepting of the finished product on the ice.
Sabres' coach Dan Bylsma echoed Eichel's sentiments.
"If you're not upset, you shouldn't be here," Bylsma said. "That's an approach we all need to take and we all need to own."
Eichel 101
After the Eichel eruption exploded on social media, many Sabres fans were calling for the phenom to be donned with its captain "C." While that honor may be a little premature, there is no denying the underlying leadership qualities that burn inside him.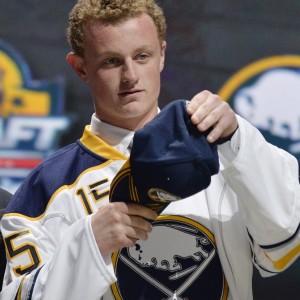 When the team does not win, Eichel clearly takes it personally, just as all 24 rostered players do in their own way. But the fact remains the Sabres are 50-51-20 in the Eichel era. Just as winning is contagious, losing is a path that leads to destruction. It is unacceptable, breeds dissent in the locker room and creates bad habits. The Sabres are stuck somewhere in between.
In fairness, the mediocrity can be attributed to the myriad of injuries the team has endured, certainly more than their fair share with the hockey gods staking claim to O'Reilly, Tyler Ennis, Johan Larsson, Zach Bogosian, Dmitry Kulikov and even Eichel himself.
[irp]
After utilizing 35 players all of last season, injuries have forced the Sabres to employ 33 different players less than halfway through the 2016-17 campaign. It's hard to create continuity when the team is constantly shuffling their lineup and juggling line combinations. With the exception of the Los Angeles Kings, which lost all-star goaltender Jonathan Quick, and the Tampa Bay Lightning, which are without superstar Steven Stamkos, no team has been hit harder by the injury bug.
Related: Buffalo Sabres 2016 Year in Review
In truth, Bylsma, and Eichel, who is seemingly paired up with a different set of wingers each game as the team looks for a spark, deserve a lot of credit.
Eichel Cause and Effect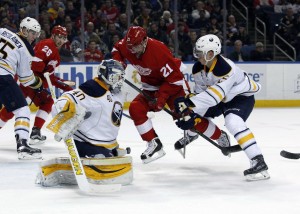 Adjusting to life on the fly, the flexibility to adapt to what cards you are dealt should pay dividends for Eichel and the Sabres down the line.
Down 3-1 after two periods of play to the Winnipeg Jets Saturday afternoon, less than 48 hours after "The Eichel Eruption," something clicked. Marcus Foligno and Zemgus Girgensons scored 26 seconds apart to tie the score before Brian Gionta delivered the go-ahead goal 4:16 later as the Sabres rallied in what was perhaps their best period of the season in a 4-3, come-from-behind victory.
"We need to get more desperate. Guys need to understand where we are in the season, where we are in the standings," Gionta said. "We need to start making a move now."
Whether it was Patrick Kane's game-winner on national television, Gionta's subsequent accountability and Eichel's voice of displeasure or the hit levied on Patrik Laine by Jake McCabe in the final frame, perhaps this is the team's turning point of the season.
McCabe LEVELS Laine and all hell breaks loose! ?? pic.twitter.com/y4SIBvgRB2

— Hockey Central (@HockeyCentraI) January 7, 2017
And with six come-from-behind wins since Dec 1, as The Buffalo News' John Vogl pointed out, perhaps the Sabres have also carved out an identity.
[irp]
"We've got to do a better job from the start of games, start of periods of making sure we're ready," Gionta said. "We've got to come out a little more desperate, a little more looking to play our game right off the bat, not waiting for things to happen."
Now there's a hockey player.

Jake McCabe's postgame comments >> https://t.co/s2rFhdgb55 pic.twitter.com/h68TyFKsKf

— Buffalo Sabres (@BuffaloSabres) January 7, 2017
With four comeback wins when trailing after two periods of play, the Sabres are behind only the Pittsburgh Penguins (seven) and New Jersey Devils, Montreal Canadiens and Vancouver Canucks (five apiece) in that category.
"You can't continue to rely on comebacks, can't continue to think you're going to do that night in, night out, coming from behind like that," Gionta added. "It's on us to be better at the start, and that's something we need to improve on."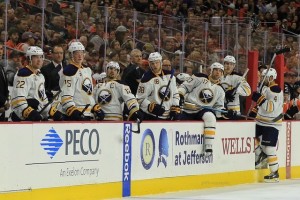 Buffalo is 15-15-9 with 39 points through 39 games at this point of the season. Currently in seventh place in the Eastern Conference and eight points behind the Philadelphia Flyers (47 points) for the final wild card spot with two games in hand, the team faces an uphill battle. With the Washington Capitals occupying the other wild card position (55 points), the Sabres certainly have their work cut out for themselves but if they can continue to get sound goaltending from Robin Lehner and Anders Nilsson in between the pipes, stranger things have happened.
It starts with a must-win against a Flyers team they are chasing in the standings on home ice at KeyBank Center on Tuesday.
New Jersey Devils One Jersey Grass Roots Writer; 13 years writer/reporter for The Star-Ledger and NJ.com; 1st-year with The Hockey Writers; Previously covered the Boston Bruins, Boston Red Sox and New England Patriots for The Casco Bay Weekly; Portland Pirates (AHL) 2002-'03; Director of Media Relations The Eastern League (AA) 2000-'02; Great Skate 1997-2000; Buffalo Sabres 1994-'97; Buffalo boy, Maine grad; International hockey player and coach; #Buffalove #OneBuffalo