The Los Angeles Kings will host the Dallas Stars on Monday night for the final meeting of the 2016-17 season between the two Western Conference teams.
This will be the first meeting between the two teams in Los Angeles after playing the first two games in Dallas. The two teams have split the season series up to this point with both Los Angeles and Dallas grabbing an overtime victory in the first two meetings.
The Kings come into Monday's game on the heels of an overtime victory over the Minnesota Wild. Jeff Carter scored his team-leading 22nd goal of the season in a three-point night and Tanner Pearson scored a goal with under a minute and a half remaining in overtime for Los Angeles.
While Los Angeles is carrying momentum from a game where they scored in extra time to win, Dallas is trying to shake off their most recent game where they gave up a late goal to Patrik Berglund and the St. Louis Blue in a 4-3 losing effort. It was the third consecutive loss for the Stars.
Both teams will be missing a major piece of their offense on Monday night. Stars captain Jamie Benn had posted 34 points in 38 games before he went down with a foot injury earlier this month. Benn did travel with Dallas but isn't expected to be back in the lineup until later this week.
For the Kings, they will again be without Tyler Toffoli, who, unlike Benn, doesn't have as clear a timetable for his return.
"Tyler Toffoli hasn't yet progressed from the working-out stage to the taking-the-ice stage, and there was no real update on when that transition could take place," said LA Kings Insider, Jon Rosen. "Last Monday, Darryl Sutter had said that the team would "hopefully" get Tyler Toffoli back on skates at some point during the week, though Toffoli hasn't yet been seen on the ice, and Sutter indicated that next step hasn't yet been taken."
The Stars have lost eight of their last 10 road games and have gone 5-3-2 over the last 10 games overall, while the Kings have won three of their last four but have a bleak 4-4-2 record in their last 10 games.
---
Dallas Stars at Los Angeles Kings
Staples Center – 7:30 p.m. PST
Broadcast channels – FS-W, FS-SW
2016-17 Season Series:
Oct. 20 – Kings 4 – Stars 3 (OT)
Dec. 23 – Stars 3 – Kings 2 (OT)
Los Angeles Kings – 19-16-4 – 42 Points
Home Record:12-5-1
Hot Players: Jeff Carter and Tanner Pearson
Key Injuries: Tyler Toffoli and Jonathan Quick
Projected Lines:
Forwards
Gaborik – Kopitar – Lewis
Pearson – Carter – Brown
Clifford – Dowd – Setoguchi
King – Shore – Nolan
Defense
Forbort – Doughty
Muzzin – Martinez
McNabb – Greene
Starting Goaltender
Budaj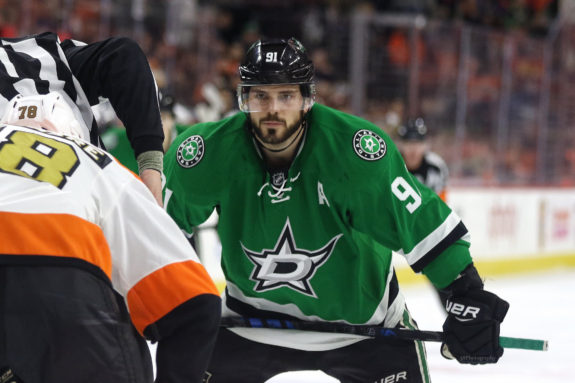 Dallas Stars– 16-16-8 – 40 Points
Away Record: 5-10-4
Hot Players: Tyler Seguin and Jason Spezza
Key Injuries: Jamie Benn
Projected Lines:
Forwards
Sharp – Seguin – Spezza
McKenzie – Faksa – Ritchie
Hudler – Eakin – Eaves
Roussel – Shore – Cracknell
Defense
Lindell – Klingberg
Hamhuis – Johns
Oduya – Benn
Starting Goaltender
Lehtonen
---
Game Notes
[miptheme_dropcap style="normal" color="#222222″ background=""]1)[/miptheme_dropcap] Both meetings between the Kings and Stars this season has needed extra time to decide a winner and both teams have won one game each. Los Angeles has gone 8-1 in overtime this season, their only loss coming to Dallas earlier this season. Overall, they have been a team that has thrived in the three-on-three extra period.
Since the implementation of 3-on-3, the #LAKings are now 20-4 in games decided in OT. 8-1 this year.

— Jon Rosen (@lakingsinsider) January 8, 2017
[miptheme_dropcap style="normal" color="#222222″ background=""]2)[/miptheme_dropcap] Carter has been the most consistent player on Los Angeles' roster through this point of the season. His 22 goals are second to only Sidney Crosby's 26. Outside of Carter, only Tanner Pearson has more than eight goals with 11 of his own for the Kings.
[miptheme_dropcap style="normal" color="#222222″ background=""]3)[/miptheme_dropcap] The Stars' offensive production has seen a dramatic drop off this season compared to last.  At the conclusion of the 2015-16 season, Dallas scored 265 goals and averaged 3.23 goals per game, both best in the NHL. Now, at almost the half-way point of the 2016-17 season with 40 games played, they have only scored 103 goals and average 2.58 goals a game.
[miptheme_dropcap style="normal" color="#222222″ background=""]4)[/miptheme_dropcap] Both teams have struggled when on the power play this season. Dallas has converted on 17.2 percent of their chances while Los Angeles has a 16.5 success rate. But the Kings may have a chance at some success when they have the man advantage against the Stars because Dallas sports the second-worst penalty kill in the NHL having killed 75.2 percent of their penalties.
[miptheme_dropcap style="normal" color="#222222″ background=""]5)[/miptheme_dropcap] Dallas has the edge in the all-time record between the two clubs, holding a 87-102-41 record when playing the Kings.