With the Feb. 28 trade deadline fast approaching, the Detroit Red Wings still haven't positioned themselves as a buyer or seller on the market. Their 17-18-5 record puts them at the bottom of the Atlantic Division, but only five points out of a playoff spot.
Conceivably, the Red Wings could opt to buy and make a push for a 26th consecutive playoff appearance this spring. But on the other hand, Ken Holland could sell some pieces, end the streak and position the Red Wings to succeed next year and beyond.
One thing to keep in mind is this summer's free-agent class. Now that Brent Burns is off the market, the 2017 free-agent class is looking pretty weak. Sam Gagner, Kevin Shattenkirk and Nick Bonino represent the top under-30 pending free agents—hardly anything to write home about. If Detroit is going to build for the future, it won't be through free agency this summer.
In this week's edition of The Grind Line, The Hockey Writers' Red Wings coverage team evaluates the trade market and discusses one trade they would make if they were in Holland's shoes.
Tony Wolak
Red Wings trade D Brendan Smith and LW Gustav Nyquist to Edmonton for RW Jordan Eberle and a conditional 2018 draft pick.
It's easy to see that the Red Wings have a few glaring issues with their roster. In Saturday night's game against San Jose, Jeff Blashill's forward lineup only including two right-handed shots: Thomas Vanek and Luke Glendening. Adding Jordan Eberle to the lineup in place of Gustav Nyquist would replace one of the many left-handed shots with a talented right-handed shot capable of scoring 25 goals a season.
Edmonton is looking for players to play alongside Connor McDavid and defensemen to bolster their blue line. Nyquist and Brendan Smith solve both of those needs. Up front, Nyquist has found success in the past playing second fiddle to a talented player (Henrik Zetterberg) and could develop chemistry alongside Edmonton's young superstar.
Smith, when healthy, would be joining a rebuilding defensive corps. As a pending free agent, Edmonton would have the opportunity to re-sign Smith after the season if he fits in with the Oilers. The conditional pick (Edmonton's third round pick) would transfer to Detroit if the Oilers indeed re-up the puck-moving defenseman.
As a Red Wing, Eberle would join Zetterberg and Anthony Mantha on the top line, replacing Tomas Tatar, who would drop down to the third line with Dylan Larkin and a healthy Justin Abdelkader. With Eberle in the lineup, the Red Wings would have more balanced forward lines and a right-handed shot to add to the struggling power play.
Brandon Peleshok
Red Wings trade LW Thomas Vanek to St. Louis for 2017 2nd round pick and 2018 3rd round pick.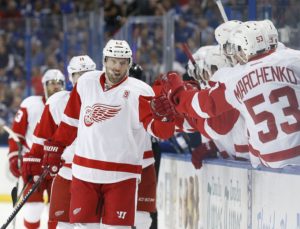 Considering the Red Wings' position in the standings, Holland could very well find himself selling off some assets at the trade deadline this season. While there are a few names he could put on the trading block, Thomas Vanek is probably the most attractive bargaining chip on the team. The Austrian winger has collected 25 points through 29 games (0.86 P/GP), and his $2.6 million cap hit is very manageable.
The proposed deal might appear a bit steep to Blues fans, but the return here is reasonable if you compare it to a couple of similar trades made two seasons ago. Lee Stempniak and Jiri Hudler were pending UFAs during the 2015-16 season, and both were moved for second and fourth round picks. Considering Vanek's offensive production, he should land the Wings just as much as, if not more than, the aforementioned players.
The proposed deal would give the Blues some extra scoring punch. Vladimir Tarasenko is in a league of his own, but Vanek would give the team an upgrade over David Perron, as well as some of their other top-six forwards. For the Red Wings, they get a chance to add a couple of draft picks, and potentially some promising prospects to a pool that is beginning to look a bit shallow. As great as Vanek has been for the Wings, the team needs to focus on rebuilding their core, and moving the soon-to-be 33-year-old forward would help in that process.
Tom Mitsos
Red Wings trade G Jimmy Howard to Philadelphia for G Steve Mason, 2017 1st round pick, and 2018 2nd round pick.
I've been singing the praises of Jimmy Howard all season, but if the Red Wings are near the bottom of the standings come the trade deadline — and all signs point to them being there — they will want to be sellers, and Howard is one of their best bargaining chips.
Howard has had a bounce-back season for the ages, but unfortunately for his trade stock, he sprained his MCL during a 4-1 loss to the Tampa Bay Lightning on Dec. 20. He is expected to miss four to six weeks, which would put his return around the beginning of February. The trade deadline is Feb. 28, which gives him a few weeks to show the league if he is worthy of a trade.
Prior to his injury, Howard had a five-on-five save percentage of .936, which is eighth best in the NHL of all goalies who have played at least 500 minutes. He also owns a 4.34 goals saved above average. He's easily been the Red Wings' best goalie this season and one of the best performers on the entire team.
The Philadelphia Flyers, who currently sit in the final wild-card spot with 48 points, have had shaky goaltending all season and could use a boost. As a team, the Flyers have a .909 five-on-five save percentage, which is 29th in the league, according to Corsica. Anthony Stolarz leads the team in five-on-five save percentage at .973, but he only has played in four games. Steve Mason, the starter, has a .909 five-on-five save percentage and a goals saved above average of -7.49.
The Red Wings need to start stockpiling draft picks, and Jimmy Howard will give them a good return. However, the Red Wings might need to eat part of Howard's salary to make the deal work.
Which Detroit Red Wings trade would you like to see the team make? Comment below with your pick.