The Detroit Red Wings are in the middle of another losing streak, as they lost their third in a row after Tuesday's 4-1 loss to Arizona and have lost four of their past six games.
Early in the season, the Red Wings heavily relied on their goaltending to help them steal games, and halfway through December, they still are heavily relying on their netminders.
Most notably, they can't score when Jimmy Howard is in net.
Lack of Goal Support
Howard has been spectacular for the Red Wings this season. After starting the season as the clear No. 2 goalie behind Petr Mrazek, Howard worked his way to the No. 1 spot before a groin injury sidelined him for a couple of weeks.
Howard has a five-on-five save percentage of .941, which is the sixth-best mark of all goalies who have played at least 500 minutes this season, according to Corsica. His save percentage slightly dips to .937 in all situations, which is fourth-best.
The Red Wings have scored just 18 goals in the 15 games Howard has played, including the one goal against Arizona, which is 1.2 goals per game. In contrast, the Red Wings have scored 46 goals in the 18 games Mrazek has played or a 2.56 goals-per-game mark.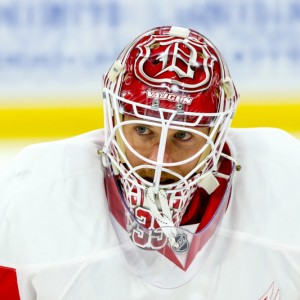 Of all goalies who have played at least 500 minutes this season, Howard is last in the NHL in goal support, with Winnipeg's Michael Hutchinson (1.38) just above Howard.
Detroit has scored at least three goals just three times in the 15 games Howard has played. If the Red Wings scored at a more consistent pace, Howard no doubt would have a record better than 5-6-1.
It's not as if Mrazek has faced easier competition; he's been in net for games against St. Louis, Philadelphia, Columbus, Montreal and Ottawa.
Part of that is due to lack of possession when Howard is in net, albeit small. According to Corsica, the Red Wings have a 47.22 score-adjusted Corsi for percentage at five-on-five when Howard is in net versus a 49.15 CF% when Mrazek is in net. Due to the higher possession numbers, opposing goalies face more shots when Mrazek is in net. Detroit has a 46.55 shots for percentage when Mrazek is in net compared to 49.37 when Howard is in net. In addition, the Red Wings' expected goals for percentage is 46.19 with Howard compared to 49.31 with Mrazek. Expected goals are goals that should be scored based on the quality of chances. In other words, the Red Wings are not generating as many quality chances with Howard in net.
The power play also has been more efficient when Mrazek is playing. The Red Wings have scored nine goals with Mrazek and just three for Howard, despite generating more shot attempts with Howard (92.77 CF/60) than with Mrazek (78.09 CF/60).
It's almost as if there is more urgency when Mrazek is in net, as the team knows he is 24 and still learning his way around the NHL in his second full season. Howard, on the other hand, is 32 and has been a full-time goalie since the 2009-10 season and has shown the ability to steal games.
Goal-Scoring Woes
The Red Wings' goal-scoring woes continued during Tuesday's loss. Detroit has just two goals in its past three games. Against Arizona, they peppered Mike Smith with 37 shots but could only get one past him.
In the below tweets, Henrik Zetterberg and Niklas Kronwall summed up their team's performance after Tuesday's loss:
Henrik Zetterberg: "The effort we had in the first period was embarassing." (on FSD)

— Brad Galli (@BradGalli) December 14, 2016
Niklas Kronwall on the Red Wings loss: "It's unacceptable, really, to come out with that effort."

— Brad Galli (@BradGalli) December 14, 2016
While they were talking about Tuesday's game, many fans probably would argue this is a good summary of the season as a whole. The Red Wings have been outworked on a number of occasions and haven't shown the urgency needed for a team that is struggling to score.
Despite not recording a shot through the first 14 minutes of Tuesday's game, coach Jeff Blashill said he didn't see a lack or urgency from his team, according to MLive.com's Ansar Khan:
I think there was a sense of urgency to start the game. I've had moments with teams, this team, where maybe you didn't show up and I had to come in here and really give it to them.

I didn't give it to them at all. For whatever reason, we were a little bit tight. For whatever reason, everything we did seemed to not work and we had to continue to work ourselves out of it.
It sure seemed like a lack of urgency against an Arizona team that allows the most shots this season and was beaten handily by Pittsburgh 7-0 on Monday.