"The stronger swordsman does not necessarily win… It is speed of hand. Speed of mind."
There is perhaps no better quote to define Sam Reinhart's journey than that of Richard Harris in his final role as Abbe Faria in Alexandre Dumas' classic "The Count of Monte Cristo.
Samson Reinhart, the Buffalo Sabres' first-round pick, second overall, in the 2014 NHL Draft in Philadelphia, isn't the strongest player. He isn't the fastest either. But what Reinhart does possess is speed of hand and mind, a pair of deft hands and a sixth sense to find open areas on the ice to match.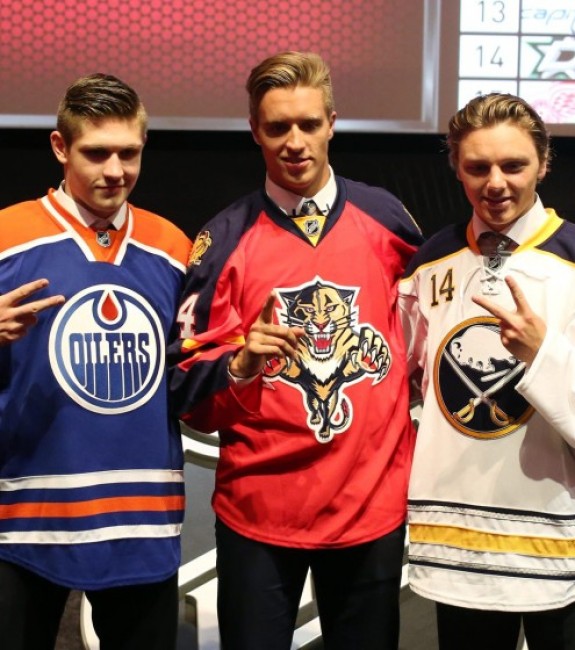 Blessed with an extraordinary Hockey IQ, Reinhart is a magician around the net. His vision and instincts allow him to anticipate where the puck will be before it gets there. The action seemingly slows down for him, allowing the play to unfold for him mentally before it develops giving him an edge. In limited action over the course of his brief, three-year career in the blue and gold, Reinhart continues to perfect the art of "right place, right time," finding holes in the defense or finding the open man when the opposition closes in.
Along with a standout junior career with Kootenay of the Western Hockey League, where his playmaking skills rose to the top with 120 goals and 199 assists for 319 points in 250 games (1.28 PPG) and a WHL championship in 2010-11, Reinhart has excelled on the international stage as well, winning Gold at the U-18 and U-20 World Junior Championships before helping Team Canada win Gold at the 2015-16 World Championships.
Winning is contagious and the Sabres are hopeful Reinhart brings that trait with him in the organization's crusade to capture its first Stanley Cup.
NHL Pedigree
To say hockey is in the family is an understatement.
Paul Reinhart, Sam's father, is a veteran of 11 NHL seasons with the Atlanta Flames, Calgary Flames and Vancouver Canucks. A defenseman with offensive instincts, Paul registered 133 goals and 427 assists for 560 points in his career, which included a breakout 23-goal season in 1984-85.
Exposed to the game since an early age growing up in suburban Vancouver, Paul and his wife Theresa produced three sons – all of whom also made it to the National Hockey League.
Maxwell, whom the Flames selected in the third round (63rd overall) in 2010, has enjoyed limited success in the NHL with a goal and five points. He is currently under contract with Kolner Haie of the Deutsche Eishockey Liga, while Griffin, whom the New York Islanders tabbed with their first-round pick (4th overall) in 2012, also continues to carve out a niche as a shutdown defensive defenseman. In June of 2015, Griffin was traded to the Edmonton Oilers in exchange for a pair of draft picks.
[irp]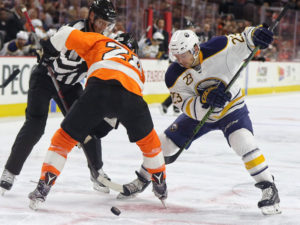 Following in the footsteps of Max and Griffin, Sam, the youngest of three, however, has enjoyed the most success to date.
After a nine-game stint as a rookie in 2014-15, Sam was returned to Kootenay for further seasoning in the WHL. The move proved to be a wise one by Sabres management as Reinhart came back stronger than ever with a breakout 23-goal, 42-point season in his sophomore campaign in 2015-16, finding instant chemistry while playing a majority of his time with Jack Eichel and Evander Kane on the team's top line.
Taking Nothing for Granted
Perhaps Reinhart's biggest attribute is his temperament.
"I'm thrilled with the way in turned out. I've been picturing myself in this uniform for quite some time," Reinhart said after the Sabres selected him second overall at the 2014 NHL Draft. "The biggest thing is I feel ready to play."
Even though Reinhart was confident he was NHL-ready on draft day, the Sabres didn't see it that way after his nine-game audition in 2014-15.
Unlike many bright-eyed high draft picks who feel they deserve or are owed a regular spot in the lineup from the start, Reinhart accepted the fact he wasn't ready for the NHL and went back to work on conditioning and fine-tuning his game with Kootenay in the WHL. While many a prospect might sulk and sink further into the well of obscurity, Reinhart took it to heart and excelled with 65 points in 47 games that season – a sign of wisdom that can perhaps be attributed to sound upbringing and support in a hockey family.
"I know it's not going to be given to me right away," Reinhart added. "I'm going to do everything I can to step in and make an impact and take advantage of every opportunity."
Time to Shine
For once he was Edmond Dantes, Sam Reinhart has returned as The Count of Monte Cristo and now, nearly two years later, the Sabres are reaping the benefits.
It hasn't been easy for the Buffalo Sabres in 2016-17. A plethora of injuries including a high-ankle sprain to linemate Jack Eichel has derailed a promising season for a young and upcoming team. The team continues to temper expectations and took it slow with additional injuries to Ryan O'Reilly, Tyler Ennis, Zach Bogosian and Dmitry Kulikov, among others, but one note of consistency through the team's first 27 games has been the play of Reinhart.
In the wake of the injury flood, the Buffalo Sabres have utilized 33 different players this season. Playing with different linemates on a nightly basis, the Sabres have weathered the injury storm due in large part to Reinhart, who has appeared in all 28 games for the team this season. While he has produced just six goals and nine assists for 15 points to the casual observer, a keener eye has seen much more from Reinhart than just what shows up on the scoresheet.
Since Eichel made his triumphant return to the lineup on Nov. 29, the 6'1″, 193-lb Reinhart has one goal and four points in five games while jostling between the team's top two lines, which have included Ryan O'Reilly and William Carrier of late.
The crusade of Sam Reinhart the Lionheart has been fun to watch. The Sabres organization has handled his maturity as well as can be expected. With a fully rejuvenated squad along for the march, now is his time to shine.