On Jan. 6, the New Jersey Devils honored the man who brought the franchise to the Garden State, the late Dr. John  McMullen, by naming him as the first member of the team's Ring of Honor. McMullen owned the Devils for two of their three Stanley Cup championships and the team's presence (and success) has led to the growth of hockey in New Jersey.
"He wanted us to be part of the family." Hear from @MartinBrodeur, @dowdjim, @jmaclean15 & @KenDaneykoMSG speak about meeting Dr. McMullen. https://t.co/WsFxVgGyXO

— New Jersey Devils (@NJDevils) January 7, 2017
There are more players from New Jersey in the NHL now than ever before – and prominent ones at that. Kyle Palmieri of the Devils, John Carlson of the Washington Capitals, James van Riemsdyk of the Toronto Maple Leafs, Trevor van Riemsdyk of the Chicago Blackhawks, Bobby Ryan of the Ottawa Senators and Johnny Gaudreau of the Calgary Flames.
It was probably not a coincidence that the Maple Leafs were in town on the night that the Devils honored Dr. McMullen as it was a nice touch to have longtime New Jersey general manager and current Toronto GM Lou Lamoriello on hand for the festivities; you can be sure that Mr. Lamoriello will be the second member of the Ring of Honor.
On the night we honor the man who brought the @NHL to NJ, what's better than a ceremonial puck drop with two Jersey guys? #RingofHonor pic.twitter.com/9GahfiUopg

— New Jersey Devils (@NJDevils) January 7, 2017
With the elder van Riemsdyk also in town, it added a nice touch – and a great photo op – to have JvR and Palmieri partake in the ceremonial face-off with Dr. McMullen's son dropping the puck. It was a moment that didn't catch van Riemsdyk by surprise, but was something he was still very honored to be a part of.
Jersey's Finest
"Yeah, they tipped me off a little bit earlier," van Riemsdyk told The Hockey Writers with a smirk after Toronto's 4-2 win in New Jersey. "I take a lot of pride coming from this area and being able to have a career in the NHL. If it wasn't for the Devils organization, who knows if any of that sort of stuff is possible; I think they've done a great job of really growing the game."
The Dr. John J. McMullen #RingOfHonor Ceremony is underway at @PruCenter! https://t.co/ab1ts23a6m

— New Jersey Devils (@NJDevils) January 7, 2017
"I think they mentioned there are more hockey rinks (in New Jersey) now, more kids playing hockey. They host a State Tournament here every year for high school. So stuff like that I think they really do a good job at helping to grow the game and I think it shows. More and more guys from New Jersey are coming through the ranks, playing Division I college hockey, playing professionally. It's cool to be a part of that."
It's always a special time when van Riemsdyk has come back to play games in this area, which was more frequently when he was with the Philadelphia Flyers. He can always count on many friends, family, and supporters to come out to the Rock — as well as kids that don't know him, but know of him, and aspire to one day be on the same ice as the kid from Middletown, New Jersey.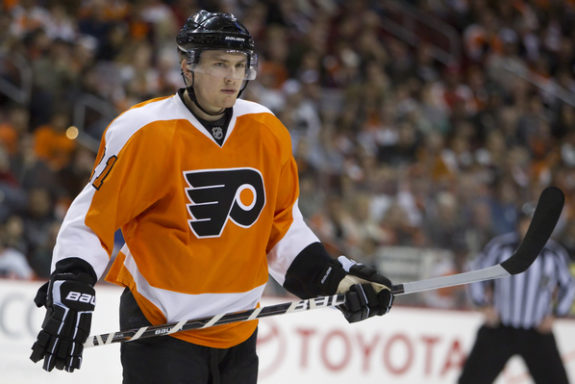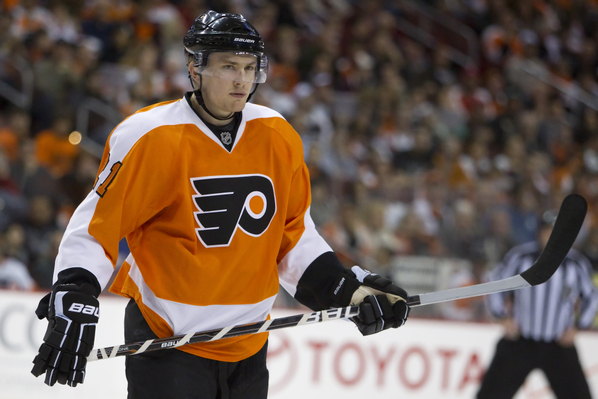 Making an Impact
"For me, it's always fun to play in these games in the Tri-State Area, particularly here (in New Jersey). There's always a lot of support I get from people in my community growing up, I had a bunch of buddies here today, the Brick hockey club where I grew up playing, a lot of kids that are playing there now are here – I think there was a couple of hundred; in addition to some family members," he said. "It's always going to be a special place for me (to come play), you get to catch up with some people. I take a lot of pride in being that guy that comes from this area. I don't take that lightly, representing these people."
The Devils not only have a state-of-the-art arena that is almost 10 years old, but they also have a practice rink attached to the building that (when the team is not practicing) is used for youth leagues, hockey clinics, high school hockey games and NWHL games; the New York Riveters currently play there and have three players on their roster from New Jersey: Gabie Figueroa, Cheeky Herr, and Rebecca Morse.
Come join us @NJDHockeyHouse tomorrow at 4:30pm for some good ol' #Riveters hockey and our Teddy Bear Toss 🐻 pic.twitter.com/VcKODbIVSs

— Rebecca Morse (@moose_X_ing) December 2, 2016
The 27-year-old van Riemsdyk has 150 NHL goals and 310 points in 485 career games and has inspired countless players throughout the state. And if Dr. McMullen never bought and moved the franchise from Colorado to New Jersey, who knows if any of this happens.