What a difference two weeks can make.
The Columbus Blue Jackets finished the preseason on a high note. Their first team played lights out in handing the Nashville Predators a convincing defeat. The night before,  a team  of mostly Blue Jackets minor leaguers went to Buffalo and defeated the Sabres, who were playing their projected opening night lineup.
Now here we are, four games into the regular season, and we are all left scratching our heads. The Blue Jackets haven't won a game yet, while getting outscored 20-9. Where is the team that dominated the end of the preseason? Where is the team that ended last season 15-1-1? To this point, they haven't shown up yet.
In reviewing the game tape of the first four games, I've actually come away surprisingly confident. Granted, there are a lot of concerning things happening. But there are also glimpses of what this team can become. In the end, the one major thing that is missing from this team is confidence.
#CBJ G Sergei Bobrovsky: "I have zero confidence right now. It's a tough time."

— Shawn Mitchell (@shecky218) October 15, 2015
If Bobrovsky's quote doesn't put the situation in Columbus in perspective, I'm not sure what will. This is a team that is looking for something, anything to hang their hat on.
Wednesday against Ottawa, the Blue Jackets played a good first period. They had a 2-1 lead after 20 minutes. There was a lot to like about that period. Brandon Saad continued to show why he was a great offseason addition by connecting on a power play goal, his third of the season. Boone Jenner then scored with about a minute left to put the Blue Jackets up 2-1.
Then, when it looked like Columbus was in control, the Blue Jackets took a too many men penalty. The Senators scored on the resulting power play. Plays like this have defined the early season for Columbus. Instead of building off of a 2-1 lead, the team has to kill a penalty, something they haven't done well at the start. They are unable to kill the penalty. This moment turned the momentum of the game.
One bright spot, Brandon Dubinsky, tied the game up almost three minutes later, by finishing a brilliant pass from Cam Atkinson. You still got the sense though that Ottawa had the momentum. They scored the game's last four goals.
Bobrovsky hasn't made the big save. The defense is making too many mistakes. Some of the forwards, most notably new captain Nick Foligno, haven't played near their potential. The result is a team that looks badly lost at times.
At this point, anything is on the table now in Columbus. This next quote puts that into perspective.
#CBJ coach Todd Richards says that after giving up 20 goals in 4 games, the team seems to be lacking trust in the systems and each other.

— Lori Schmidt (@LoriSchmidt) October 15, 2015
Lacking trust? Uh oh. This is a very telling quote from Coach Richards. Do we have a team on different pages? This quote suggests that it's not out of the realm of possibility.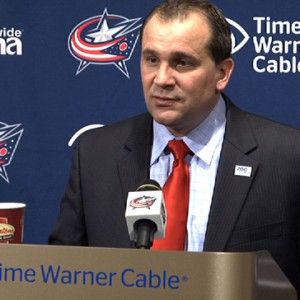 Is it fair to question the job security of Coach Richards? At this point, it sure is. Richards started with the Blue Jackets in January 2012. In this time with the team, the Blue Jackets have NEVER had a winning October or November. In fact, they are now 16-33-5 in the months of October and November under Richards. What makes this alarming this season is that the team knew that a slow start would not be tolerated. Yet, here we are again. There are a couple of injuries, but not to the point of last season.
Yet, the team has some positives. Their possession is over 50% to start the season. Their power play is over 30%. That's something to build upon. But unless the defense turns it around in a hurry, those numbers are not going to matter. If Bobrovsky can't turn his game around, those numbers aren't going to matter.
Make no mistake, Richards is a fine coach. His background demonstrates that he is a winner. As well, he is one of the NHL's nicest people. But, at the end of the day, results matter. The Blue Jackets are 0-4 and trending in the wrong direction.
The Blue Jackets have a game Friday night at home against Toronto. Teams don't usually have must win games after just four games. This is an exception. Lose Friday, and face the possibility of going 0-6 after Saturday night's visit to Chicago. If this happens, change is likely coming.
All that said, the season is not over after just four games. The team has talent. But there is legitimate concern. How the team plays Friday and Saturday could go a long way in determining how the rest of the season plays out for the Columbus Blue Jackets.