We have a consensus — the Kelowna Rockets will be crowned Western Hockey League champions this season.
In polling fellow WHL experts Andy Eide of Seattle and Ryan Pike of Calgary for their pre-season predictions, it came back a clean sweep with the three of us unanimously picking the Rockets to repeat as regular-season champions and to capture their first playoff title since 2009 when they defeated the Calgary Hitmen in the league final. That team, led by power forward Jamie Benn and towering defender Tyler Myers, both household names in the NHL these days, made it all the way to the Memorial Cup championship game before dropping a 4-1 decision to Taylor Hall's Windsor Spitfires.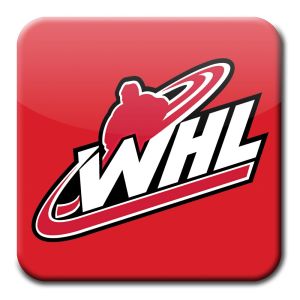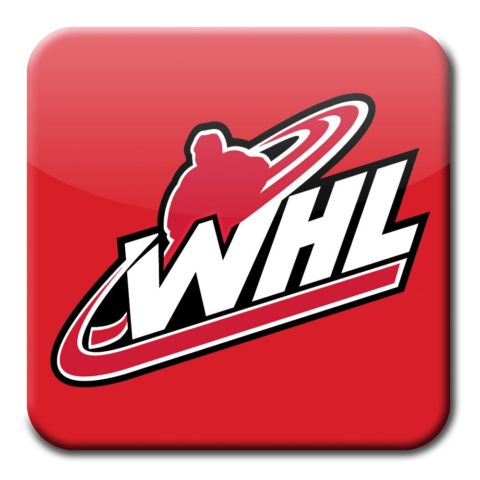 This year's Kelowna team is more about depth than star power. The Rockets are not without their question marks, having lost their head coach while graduating their three leading scorers and the Canadian Hockey League's goaltender of the year. They will also need to find an answer to their playoff nemesis, the Portland Winterhawks, who have eliminated Kelowna three times in the past four years, including a five-game rout this past spring in the Western Conference final. The Winterhawks went on to lose in seven games to the eventual Memorial Cup champion Edmonton Oil Kings before also bidding farewell to their coach and a few high-end talents in the off-season.
I was the first to cast my secret ballot, not knowing which way Andy and Ryan were leaning with their predictions, so I was risking the homer label by voting in favour of the Rockets — I live in Kelowna and attend at least 50 per cent of their home games. But despite all that, I didn't hesitate in picking them because I believe the core of this Kelowna team, which could return as many as 18 players from last season, learned some valuable lessons from its most recent playoff loss to Portland.
I was relieved, and perhaps a little surprised, when the outsiders, with insider-level knowledge, shared that sentiment by also putting their faith in the Rockets ahead of the 2014-15 season.
How's that for pressure, or rather expectation? Can Kelowna live up to the hype? We think so.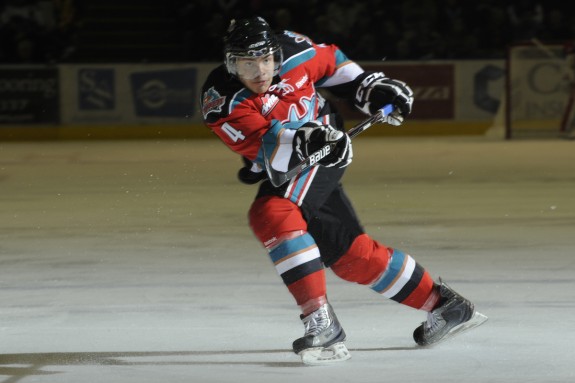 We also voted on everything from leading scorer to top rookie and, as it turned out, we were on the same page with a lot of stuff. Time will tell whether that's smart minds thinking alike or a case of dummies unite.
Without further a do, and with the puck set to drop on the 2014-15 WHL season this Friday, here are the 10 categories followed by our predictions for each:
1) League Champion (Playoffs)
2) Conference Champions (Regular Season)
3) Surprise Team
4) Bust Team
5) Top Scorer
6) Top Defenceman
7) Top Goaltender
8) Top Rookie
9) Top Import (New & Returning)
10) Top 3 NHL Draft Picks
League Champion (Playoffs)
LARRY FISHER: Kelowna Rockets — This team is primed to take a step forward despite those aforementioned losses in personnel. It should be a smooth transition from Ryan Huska to new head coach Dan Lambert, who was promoted after 5 seasons as an assistant on Huska's staff.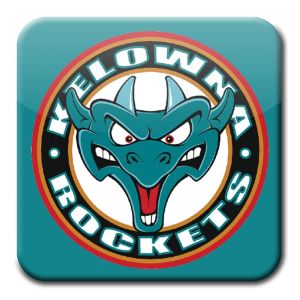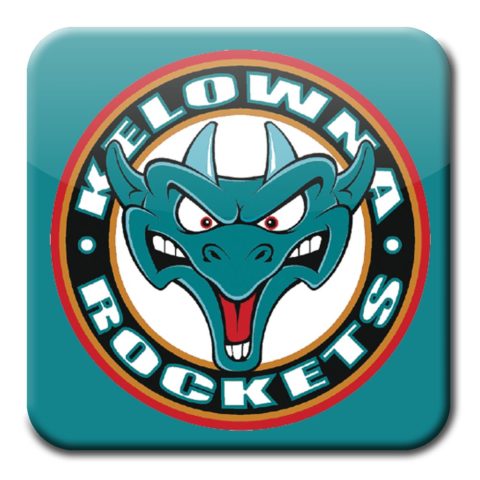 Kelowna's young forward trio of draft-eligible Nick Merkley, the reigning WHL rookie of the year and a potential first-round pick, Rourke Chartier (San Jose Sharks) and Justin Kirkland (Nashville Predators) will more than make up for Myles Bell and Ryan Olen, while captain Madison Bowey leads the league's deepest defence corps. Providing Jackson Whistle can pick up where Jordon Cooke left off in goal, the Rockets should be unstoppable this season. I'll take them to win it all, defeating the Brandon Wheat Kings in a hard-fought WHL final with Kelowna's past playoff experience proving to be the difference.
ANDY EIDE: Kelowna Rockets — For the second straight year, I am enamored with the Rockets and despite them letting me down last year, I'm picking them to win the WHL again this season. I have them beating Calgary in the final after dispatching Portland in the Western Conference final. The Rockets will be strong defensively again and Whistle is more than capable to step in for the graduated Cooke in net. They will again have balanced scoring and Merkley should have a big year for them in his draft year.
RYAN PIKE: Kelowna Rockets — I think the Rockets topple the emerging Oil Kings' dynasty after just one season. The leadership group in Edmonton won't be as seasoned as in years past, and I wonder if tasting success last year won't leave the remaining players quite as hungry as they were a year ago. On the other hand, the Rockets are absolutely starving for success, and I think that'll fuel them all season long.
Conference Champions (Regular Season)
ANDY EIDE: Kelowna Rockets (West) — I think it will again come down to Portland and Kelowna, although keep an eye on the Victoria Royals. Last year the U.S. Division was tougher from top to bottom, which may have cost Portland the regular-season title. This year, the gap between the U.S. and B.C. divisions is tighter which could make the run for the top spot go down to the wire. In the end, the Rockets have more going for them on the blue-line and in net which will help them nudge ahead of the Winterhawks for first in the West.
Calgary Hitmen (East) — It looks like it will be a to a two-horse race between the Hitmen and Brandon Wheat Kings. Calgary has the edge in experience, while the Wheat Kings are loaded with offensive talent. The Hitmen are stouter defensively and that will give them the edge in the conference race.
RYAN PIKE: Kelowna Rockets (West) — The Rockets have a brand new coach to go with their rapidly-improving core, and I think this is the year they finally oust the Portland Winterhawks (who will lose many key pieces) to be best in the West.
Edmonton Oil Kings (East) — Edmonton still has the league's best goaltender and a crop of underrated kids to replace their graduating players, so they're my pick to repeat as East champions.
LARRY FISHER: Kelowna Rockets (West) — Solid roster from top to bottom should lead to consistent winning again. Young forwards will take another step forward and Whistle should be solid behind that stacked defence.
Brandon Wheat Kings (East) — It's too bad Ryan Pulock won't be around for this team's breakout. Young core poised to dominate for years to come and will serve notice this season by dominating a weak East Division to come out on top in the conference.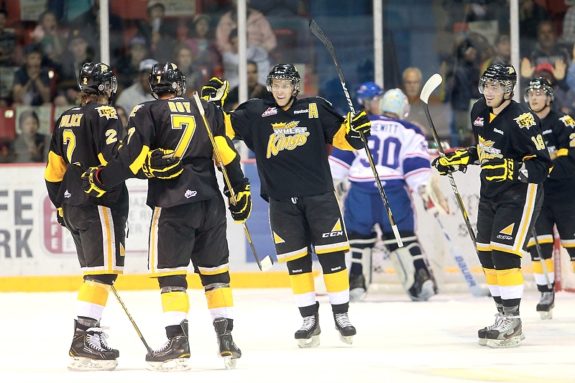 Surprise Team
RYAN PIKE: Brandon Wheat Kings — The Wheaties barely made the playoffs a year ago, but with a really strong group of young players just coming to the forefront this season, including defensive wunderkinds Kale Clague and Ryan Pilon, I think the Wheat Kings make some noise this season.
LARRY FISHER: Prince George Cougars — Things are looking up in Cariboo Country. Stuck in a tough B.C. Division but should get back into the playoffs and possibly make some noise. Wouldn't be shocked to see 35 wins.
Tri-City Americans (Honourable Mention) — Some underrated talent on this roster that could rank third in the U.S. Division behind Portland and the Seattle Thunderbirds. Eric Comrie is arguably the best goalie in the league and will backstop Tri-City to at least 35 victories.
ANDY EIDE: Prince George Cougars — With new ownership and hopefully some renewed enthusiasm, the Cougars could end up surprising folks this year. They could score last year and with draft-eligible Jansen Harkins lighting it up in the pre-season, it looks like they will again this year. If they can get good goaltending from Ty Edmonds, the Cougars could make some noise in the West.
Bust Team
LARRY FISHER: Edmonton Oil Kings — If Curtis Lazar makes the jump to the Ottawa Senators, which is sounding more and more likely, this team will start trending downward. They will finish behind Calgary and possibly Red Deer in the Central Division, then get ousted in the second or third round of playoffs.
ANDY EIDE: Prince Albert Raiders — Bust may be a strong word, but the Raiders may be in for a long year. They were supposed to do big things last season and barely made the playoffs. Their prospects this year don't look good as they could lose their top players. They most likely will not be getting leading scorer Leon Draisaitl back from the Edmonton Oilers, and there is also an outside chance that they won't see second-leading scorer Josh Morrissey return from the Winnipeg Jets. If that happens, they will be without their top-three scorers from last season. If just Morrissey returns, look for him to be on the trade block during the season.
RYAN PIKE: Swift Current Broncos — A lot of the Broncos' success last season was on the back of their top line of Graham Black, Colby Cave and Coda Gordon. Unless they can figure out how to replicate that chemistry and replace Black's offensive contributions, it could be a long year.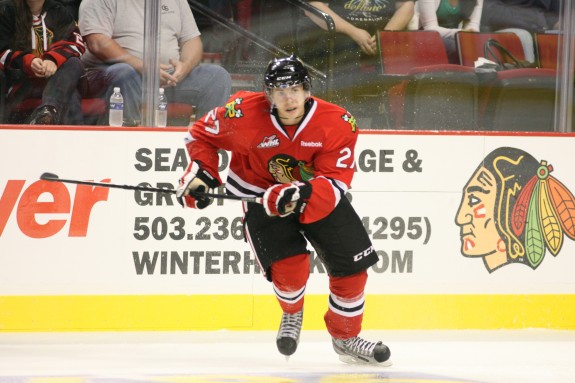 Top Scorer
ANDY EIDE: Oliver Bjorkstrand (F, Portland) — Looks like he is ready for an explosive season with the Winterhawks this year. Coming off a 50-goal campaign last season, the Columbus Blue Jackets prospect will be playing on Nic Petan's wing this season. That combination was deadly in the pre-season as Bjorkstrand racked up four goals and seven points in only three games. Can he score 60 this year?
RYAN PIKE: Jaedon Descheneau (F, Kootenay) — Call it a hunch. He's got a great deal of confidence after last season and a lot of talent. Even if Sam Reinhart doesn't return, Descheneau should be just fine.
LARRY FISHER: Nic Petan (F, Portland) — This is his award to lose, having already put up 120 (tied for 1st) and 113 points (2nd) the past two seasons. He'll miss between 5 and 10 games while playing for Canada at the world juniors but should be able to make up that ground. I don't see any Mitch Holmberg type over-agers stealing the scoring title this season.
Top Defenceman
RYAN PIKE: Shea Theodore (Seattle) — Just 19 years old, Theodore scored at just shy of a point-per-game pace for the Thunderbirds. I think he improves on that this season.
LARRY FISHER: Madison Bowey (Kelowna) — Him and Theodore are going to battle it out from start to finish, but I'll give the edge to Bowey. He'll also make Canada's roster for the world juniors over Theodore. Josh Morrissey might actually be the favourite, but I think he's sticking in Winnipeg and not coming back to Prince Albert.
ANDY EIDE: Shea Theodore (Seattle) — This will come down to either Morrissey or Theodore. Last year Theodore led WHL defencemen in scoring, finishing six points ahead of Morrissey who played in 11 fewer games. Theodore is somewhat underrated and the smooth-skating Anaheim Ducks prospect could improve on his numbers last year as he will be moving the puck to guys like Mathew Barzal and Ryan Gropp up front. The team around him will allow Theodore to edge out Morrissey this year.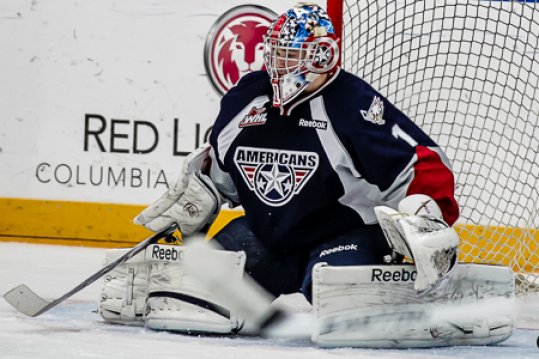 Top Goaltender
LARRY FISHER: Eric Comrie (Tri-City) — This team could be on the rise, as mentioned, and Comrie would be the biggest reason for that. If he can stay healthy, he'll steal more wins than any other netminder.
ANDY EIDE: Eric Comrie (Tri-City) — Comrie is one of those players who seems like he's been in the WHL forever. After getting extensive playing time at 16, the Tri-City Americans goalie continues to put up great numbers and be the league's top netminder. A student of the game, his anticipation and reflexes are among the best in all of junior hockey. He posted a .925 save percentage last season playing behind a team that had some deficiencies. This season the Americans will be improved and that will pay off big-time for Comrie as he will be the league's top goalie. A close runner-up to Comrie will be defending Memorial Cup champion Tristan Jarry from the Edmonton Oil Kings.
RYAN PIKE: Tristan Jarry (Edmonton) — He'll get a bit less help than in previous years, but I think Jarry steals more than a few games for the defending champs.
Top Rookie
ANDY EIDE: Tyler Benson (F, Vancouver) — The biggest hype surrounds Benson. Is he worth the hype? The Giants are hoping so and there doesn't seem to be any reason to think that he won't be the top non-import rookie in the WHL this year. He's got good size for a 16-year-old and looked good in the pre-season for Vancouver.
RYAN PIKE: Tyler Benson (F, Vancouver) — Talented in every aspect of the game, Benson will be looked upon to carry the Giants on some nights. He should be up for the challenge.
LARRY FISHER: Sam Steel (F, Regina) — The 2nd overall pick in the 2013 bantam draft led the entire league in pre-season scoring with 6 goals and 10 points in only 4 games. He'll be given every opportunity to maintain that momentum in the regular season. His biggest competition will likely come from 1st overall selection Benson along with the Brandon boys, forward Nolan Patrick and defenceman Kale Clague.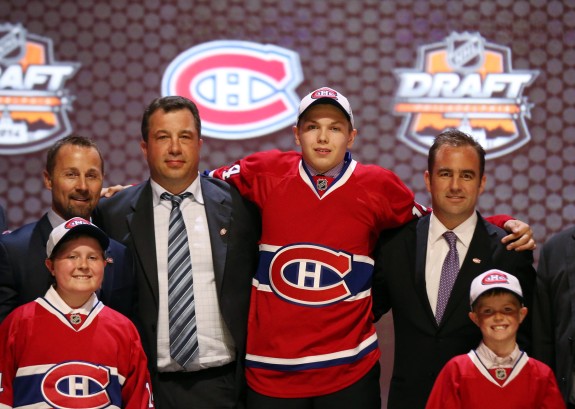 Top Import
RYAN PIKE: Nikita Scherbak (F, Saskatoon, returning) — Should he return from Montreal Canadiens training camp, Scherbak should build upon his strong North American debut.
Ivan Provorov (D, Brandon, new) — He joins a strong Wheaties lineup.
LARRY FISHER: Oliver Bjorkstrand (F, Portland, returning) — He'll be riding shotgun with Petan again this season after picking up where Sven Baertschi left off in enjoying a breakout for 109 points last season. He should come close to matching that total again.
Nikita Scherbak (F, Saskatoon, returning, Honourable Mention) — He was the bright spot on a bad Blades team last season, coming out of nowhere to net 78 points and become a first-round pick after being a relative unknown entering the campaign. There are expectations now and other teams will be game-planning against him, but he should still find success and at least match that point total. And yes, I'm also expecting Leon Draisaitl to make the Edmonton Oilers rather than return to Prince Albert.
Ivan Provorov (D, Brandon, new) — Here's a guy to look out for. He had 6 points (all assists) in 4 pre-season games and Craig Button has him ranked as a first-round pick for the 2015 NHL draft. He also has him ranked as the second-highest WHLer to be selected, ahead of a half-dozen others who already have plenty of hype heading into this season.
ANDY EIDE: Oliver Bjorkstrand (F, Portland, returning) — For the same reasons he could win the scoring title.
Jiri Smejkal (F, Moose Jaw, new) — Import players are often a crapshoot. For instance, who would have guessed that Nikita Scherbak would be so good last year? You just never know how their games will translate to smaller rinks and more physical play. There are many intriguing imports this year, one that should be interesting to watch is Moose Jaw's Jiri Smejkal. Listed at 6-foot-3 and 193 pounds, he has been referred to as a power forward, which is not something you see with import players too often. Will he be the best? Hard to say, but he could be.
Top 3 NHL Draft Picks
LARRY FISHER: Mathew Barzal (F, Seattle), Jansen Harkins (F, Prince George) and Paul Bittner (F Portland) — It's a strong year for WHL prospects in what projects to be a stacked and deep 2015 draft. This trio of forwards should all go top 15 by season's end and likely in that order, in my opinion. Barzal, the 1st overall pick in the 2012 bantam draft, is somewhat comparable to Ryan Nugent-Hopkins and should at least be a point-per-game player this season. Harkins, who went 2nd in 2012, isn't ranked as high but he was one of Canada's better forwards at the Ivan Hlinka tournament in August and was dominant throughout the WHL pre-season. Bittner is a big, strong, Ryan Johansen type with a powerful shot off the wing.
ANDY EIDE: Mathew Barzal (F, Seattle), Ryan Pilon (D, Brandon) and Paul Bittner (F Portland) — The 2015 NHL draft appears to be one of the deepest in recent memory and the WHL will be well represented. Seattle's playmaking centre Mathew Barzal should be the first player from the WHL selected. Following him will be defenceman Ryan Pilon from the Wheat Kings and Winterhawks big winger Paul Bittner.
RYAN PIKE: Matt Barzal (F, Seattle), Ryan Pilon (D, Brandon) and Ethan Bear (D, Seattle).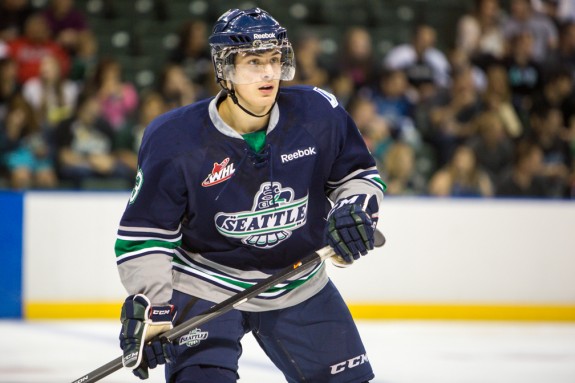 Breakout Players
Still haven't got your fill of pre-season predictions? I'll leave you with three candidates as breakout players:
Justin Kirkland (F, Kelowna) — This is a bit of a homer pick, but I'm going with what I know best. He will likely be getting first-line and top power-play opportunities with Myles Bell graduating. A third-round pick of the Nashville Predators, Kirkland only had 17 goals and 48 points last season, but I think he's a good bet for 35 goals and 70 points this season.
Joe Hicketts (D, Victoria) — He's going to make 30 NHL teams regret passing on him this past June. The Detroit Red Wings invited him to their prospects tournament and they know a steal when they see one. He's small but reminds me a lot of Tyson Barrie. He was hurt for most of last season, managing 24 points in only 36 games, but I think he'll be flirting with 50 or maybe even 60 points over 72 games.
Ryan Pilon (D, Brandon) — He needed to get out of Lethbridge and his career looks to be back on track in Brandon. He had 29 points in 49 games following that trade last season, so look for him to top 50 points in his draft year, especially with added ice time because of Pulock's absence.
Larry Fisher is a sports reporter for The Daily Courier in Kelowna, British Columbia, Canada. He has been covering the Rockets as a shared beat since 2008 and also provided this preview of the 10 New WHL Head Coaches for 2014-15. Follow him on Twitter: @LarryFisher_KDC.
Andy Eide covers the Seattle Thunderbirds for 710 ESPN Seattle. He contributed this compelling look at an upcoming WHL season full of questions as well as the must-follow WHL Social Media Guide. Follow him on Twitter: @andyeide.
Ryan Pike has covered the NHL's Calgary Flames extensively since 2010 as Managing Editor of FlamesNation.ca. He also covers the WHL's Calgary Hitmen. Follow him on Twitter: @RyanNPike.