The 2016-17 NHL season is nearly half way over. Most teams are getting ready to play their 41st game if they haven't played it already. The 2017 NHL All-Star Game is quickly approaching, with the trade deadline coming up shortly after that. Before we know it, the 2017 playoffs will be commencing.
The NHL Trade Deadline for the 2016-17 season is March 1. The trade deadline, an annual event in which playoff teams look to add that one extra piece to strengthen their line up and bottom dwellers trade their large contracts, sometimes lacks in entertainment, but never fails to be interesting. For the Buffalo Sabres, this year's trade deadline could say a lot about the team's direction for the future.
Per usual, the team sits near the bottom of the standings with half a season left to play. Buffalo has earned 39 points throughout the season, good for 14th in the Eastern Conference. The Sabres are currently tied for last in the Atlantic Division, and sit at 26th in the NHL.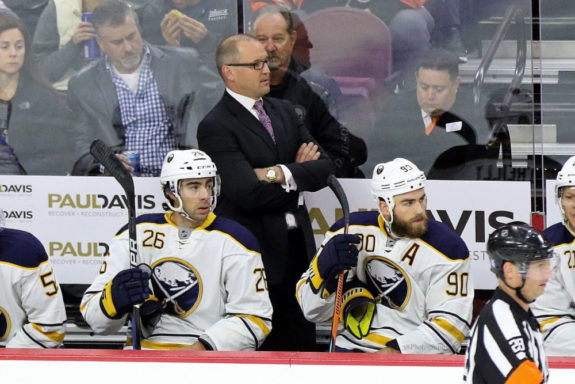 In what is a change of pace for Sabres' fans, the possibility of making the playoffs is still present. Although Buffalo is tied for last place in their division, they are just eight points out of a playoff spot. The team's performances thus far in 2017 suggest that the Sabres could be gearing up for a late season push.
This puts Buffalo in a difficult situation once March 1 rolls around. Should the team trade older players such as Brian Gionta and Josh Gorges for mid-round draft picks? Or, should Buffalo look to add talent that could help the team make a playoff push? Whatever the team decides to do, there are some players the Sabres just can't part ways with.
Not Going Anywhere
Buffalo has acquired a number of players throughout their rebuild that are not only key players for the team now, but will be crucial for their future success. Two players that fit this description are Jack Eichel and Ryan O'Reilly.
Eichel and O'Reilly, who were both acquired on June 26, 2015, have proven themselves as two of the Sabres' superstars. O'Reilly, who led the team in scoring last season with 60 points, has emerged as a fan favorite in Buffalo due to his consistent production and two-way play. Eichel is a game-changer for Buffalo. The 20-year-old is always one of the best players on the ice regardless of who the Sabres' opponent is. Barring an offer that somehow involves Connor McDavid, Sidney Crosby, and a 23-year-old Wayne Gretzky, Eichel and O'Reilly will likely be in Buffalo blue and gold for the better part of the next decade.
Kyle Okposo and Rasmus Ristolainen are also players that Buffalo likely wouldn't entertain offers for. Okposo and Ristolainen both signed huge contracts with the Sabres during the offseason, contracts the two players are currently earning with their production. Okposo, who will be paid $6 million annually for the next seven years, is leading the team in scoring thus far this season with 27 points.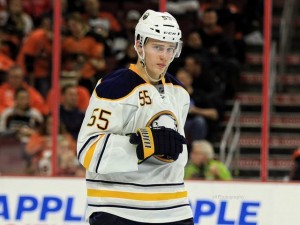 Right behind him is Rasmus Ristolainen, who is second on the team in scoring with 26 points. The 22-year-old, who signed a six-year extension with the Sabres in October, has emerged as one of the most talented young defencemen in the NHL. The Finn's outstanding offensive and defensive play combined with his unmeasurable potential makes him the Sabres' franchise defenseman moving forward.
Like Eichel and O'Reilly, Okposo and Ristolainen are players that are crucial to Buffalo's future success, making them untouchable.
Protected Prospects
Buffalo has selected a number of prospects throughout the past five years that they likely aren't willing to part with. Alex Nylander is one player who won't be on his way out anytime soon.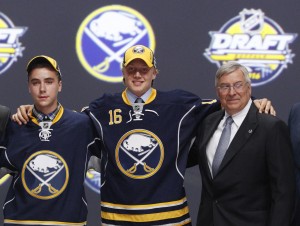 The Sabres chose the talented winger with the eighth pick in the 2016 NHL Entry Draft. Nylander recently participated in the 2017 IIHF World Junior Championship for his home country of Sweden. Although Sweden didn't leave the tournament with any medals, Nylander left as the star of the competition. The 18-year-old finished the tournament with 12 points, tied for the most in the contest. The Sabres' prospect has also played well for the Rochester Americans this season (17 points in 29 games). While Nylander isn't producing for Buffalo right now, his potential makes him an asset the Sabres likely won't move.
Justin Bailey and Nicholas Baptiste are also players the team likely won't trade away. Bailey and Baptiste are both power wingers who have been able to produce at every level they have played. However, they have yet to prove themselves as consistent producers at the NHL level. Although they have yet to become offensive threats for the Sabres, their past production and high potential make them protected players for the Sabres.
Another prospect Buffalo will likely protect is Brendan Guhle. The team's top defensive prospect actually saw some time with the Sabres this season before being returned to the Western Hockey League's Prince George Cougars. Although Guhle wasn't able to prove himself during his short stint with the NHL club, his young age and upside make him a player Buffalo likely won't move.
Exit Door Is Open
Evander Kane and Marcus Foligno are players that Buffalo could trade on or before March 1's trade deadline. Although both players have began to score as of late, Kane and Foligno could both be flipped for either picks or prospects, should the team give up on a potential playoff run. Both Canadians are young enough to be more than rentals for teams that desire them. That, combined with their production, make them attractive options for teams looking to add a power winger.
Kane has actually already had his name in trade talks this season. Many outlets reported last November that the Vancouver Canucks "walked away" from a trade that would have sent the Vancouver-native home. Although Kane has recently started to score, a trade that would send him away from Buffalo is still a possibility.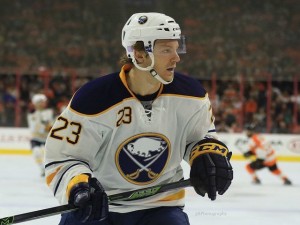 Perhaps one of the more surprising "touchable" names is Sam Reinhart. He was the second overall pick in the 2014 Draft and is a solid playmaker for the Sabres who has a ton of potential. While Buffalo likely isn't shopping the 21-year-old, he probably isn't untouchable, either.
Out of all of Buffalo's young superstars, Reinhart is the most expendable. If an offer came along that involved a superstar in his mid-20s with the asking price of Reinhart and a mid-round draft pick, there is a strong possibility that general manager Tim Murray would make that deal.
While the Sabres will likely make some moves at March 1's trade deadline, don't expect players like Eichel, O'Reilly, or Ristolainen to be moved. Also, don't be surprised if players such as Kane, Foligno, or even Reinhart aren't Sabres after that day. The Sabres are nearing the end of their rebuild, making them one of the more interesting teams going into this year's trade deadline.