Ristolainen Re-Signs With Sabres
The Buffalo Sabres re-signed restricted free agent defenseman Rasmus Ristolainen to a six-year, $32.4 million contract on Tuesday.
IT'S OFFICIAL: Rasmus Ristolainen has been extended, 6-year deal. #RR55 pic.twitter.com/R1v4Nj9dEF

— Buffalo Sabres (@BuffaloSabres) October 11, 2016
The announcement came with under two hours to go before the NHL's deadline for teams to submit their cap-compliant 23-man rosters by Tuesday at 5 pm ET.
Ristolainen, 21, was reportedly seeking somewhere between $6 million to $6.5 million per year, according to TSN's Bob McKenzie. The 6'4, 207-pound blueliner set career highs in many offensive categories in 2015-16, including goals (9), assists (32), and points (41) in 81 contests. Despite his offensive productivity, he finished with a minus-21 rating.
Earlier this offseason, Sabres head coach Dan Bylsma attributed the rating to being a product of playing "too much" and experiencing fatigue, and said the Finnish native would be playing less in 2016-17. Last season, Ristolainen lead the Sabres in ice time by averaging 25:16 per game, but Bylsma feels the optimum playing time for him is closer to 24 minutes per contest and he would be a more producive player because of it.
With the signing of Ristolainen, the Anaheim Ducks' Hampus Lindholm and the Winnipeg Jets' Jacob Trouba are the only two remaining RFA defensemen remaining.
Versteeg Declines Oilers' Offer, Signs with Flames
In a surprising turn of events, Kris Versteeg signed a one-year, $950,000 contract with the Calgary Flames on Tuesday.
Versteeg, 30, had been skating at traning camp with the Edmonton Oilers on a professional tryout and reportedly received a one-year, $1 million contact from the team before opting to sign with the Flames instead.
https://twitter.com/NHLbyMatty/status/785914158906613760
Versteeg split the 2015-16 season between the Carolina Hurricanes and Los Angeles Kings, tallying 38 points in 77 games. Early this offseason, he signed a contract with SC Bern of Switzerland's National League A and appeared to be set to play in Europe in 2016-17.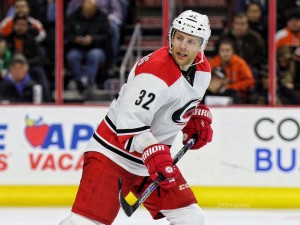 However, he returned before ever playing a game in Switzerland over a reported dispute over insurance coverage. A report out of Switzerland blamed a failed "medical tests" conducted by SC Bern doctors as what caused SC Bern to terminate his contract.
In 550 career regular season games, Versteeg has tallied 131 goals and 313 points. He brings a veteran presence to a young Flames team lead by forwards Sean Monahan and Johnny Gaudreau.
Versteeg's decision to forego playing in Edmonton to sign with Calgary has Oilers fans discussing whether 2016 fourth overall pick, Jesse Puljujarvi, now has an opportunity to play with the team.
Crosby Skates with Penguins
Sidney Crosby took to the ice with the Pittsburgh Penguins on Tuesday morning, just a day after the team announced he suffered a mild concussion. Crosby suffered the injury during a team practice on Friday.
Here's your photo proof that Sidney Crosby is back on the ice. pic.twitter.com/CDRbEWkfzo

— Pittsburgh Penguins (@penguins) October 11, 2016
Crosby's concussion raised concerns about the star player's long-term health as this is the third one of his career. From 2010 to 2012, Crosby was limited to 63 games due to concussion-related issues, but has returned and is often the concensus pick as the best hockey player in the world
After a slow start in 2015-16, Crosby bounced back in the second half of the season to play some of his best hockey of his career and finished with 36 goals and 49 assists in 80 games. In the 2016 playoffs, he helped lead the Penguins to the fourth Stanley Cup and the second of his career. He was awarded the Conn Smythe Trophy after scoring 19 points in 24 postseason contests.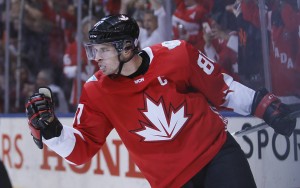 In his 11-year NHL career, Crosby has skated in 707 regular season games and tallied 338 goals and 938 points.
Crosby spoke with reporters after the team's practice on Tuesday.
"I woke up Saturday morning and didn't feel great," said Crosby, according to Sam Kasan. "I got tangled up in practice on Friday and didn't really think anything of it, and Saturday I didn't feel great. Having been down this road before I talked to the trainers, and they felt that it was best to keep me out and just go through the protocol."
Despite the concern over Crosby's concussion, the Penguins captain is confident with he and the team's approach.
"I think there's a really good structure in place for how to get back and that kind of thing," Crosby said. "I think that I feel confident and comfortable with everything so I just take it day by day."
Odds and Ends
— Dallas Stars head coach thinks injured forward Tyler Seguin will be ready to go for the team's home opener on Thursday, according to a report from the Dallas News' Mike Heika. Seguin suffered a hairline fracture of his heel on Sept. 9 during the 2016 World Cup of Hockey.
— Columbus Blue Jackets captain Nick Foligno and his wife, Janelle, donated $1 million to congenital heart research and to aid two different hospitals. The donation will be split between the Boston Children's Hospital and Nationwide Children's Hospital in Columbus — the two hospitals that helped saved the life of their daughter, Milana, who turns 3-years-old this week.
— Two-time Stanley Cup champion Ruslan Fedotenko announced his retirement from the NHL through a statement by the NHL Players' Association on Tuesday. As a member of the Tampa Bay Lightning in the 2004 Stanley Cup Final, Fedotenko scored both goals to in Game 7 to defeat the Calgary Flames 2-1 and capture the franchise's only Stanley Cup. Fedotenko last played in the NHL during the 2011-12 season.
Ruslan Fedotenko calls it a career: Played in nearly 900 games, won a pair of… https://t.co/76WMTx6Vbh via @ProHockeyTalk #TBLightning

— TB Lightning Feed (@TBLightningFeed) October 11, 2016
— The Lightning announced the team's 23-man roster, which includes forward Nikita Kucherov, who signed a three-year contract extension Tuesday afternoon. Brayden Point, 20, will start the season on the Lightning after an impressive training camp where he lead the team with four points in four preseason games.
— Devin Setoguchi has earned his way back onto an NHL roster after signing a one-year, two-way contract with the Los Angeles Kings on Tuesday. The deal reportedly pays him $575,000 at the NHL level. Setoguchi entered training camp on a PTO with the Kings and recently opened up about the alcoholism and depression that derailed his life and hockey career in the past.
— The Sabres announced the team's 23-man roster to start the regular season and two noteworthy prospects, forward Alexander Nylander and defenseman Brandon Guhle, were not included. Nylander has been assigned to the American Hockey League's Rochester Americans and Guhle returns to the Prince Albert Raiders in the Western Hockey League.
— The Oilers signed defenseman Eric Gryba to a one-year, two-way deal that pays $950,000 in the NHL or $250,000 in the AHL, but is guaranteed to pay $450,000, according to the Edmonton Journal's Jim Matheson.
— The Flames have signed Nicklas Grossman to a one-year, one-way contract worth $575,000, according to TSN's Bob McKenzie. The Swedish defenseman attend training camp on a PTO.
— The Vancouver Canucks released forward Tuomu Ruutu from his PTO and will make a decision on forward Jack Skille, also in camp on a PTO, by Thursday, according to McKenzie.
— The Pittsburgh Penguins held a ceremony to award members of the 2016 Stanley Cup championship team their Stanley Cup rings on Monday. The rings feature over 300 diamonds and total almost nine carats. (Yes, you read that right.)
We put a ring on it.

Read more: https://t.co/LjRFLG8xvJ pic.twitter.com/L3Ma9E4Z5W

— Pittsburgh Penguins (@penguins) October 11, 2016
— The preseason is a chance for NHL teams to get a good look at its prospects and make important decisions about the future of the franchise. It also takes on a more lighthearted atmosphere at times when compared to the regular season. Anaheim Ducks defenseman Kevin Bieksa was out of the lineup for a recent preseason game against the Arizona Coyotes and went undercover as a "Shovelboy," a member of the Ducks' Ice Crew and it's hilarious!
With his team playing in a recent preseason game, @kbieksa3 went undercover with the ice crew.

Here's what happened next. pic.twitter.com/KZHtPNSy6G

— Anaheim Ducks (@AnaheimDucks) October 11, 2016
— The Florida Panthers traded forward Connor Brickley to the Carolina Hurricanes for forward Brody Sutter on Tuesday.
Steven is a lawyer and writer with a passion for the game of hockey. He's the Lead Writer covering the Tampa Bay Lightning with THW. He's also been press credentialed through the Lightning since 2016. His work has been published at The Fourth Period, LightningInsider.com, Bolt Prospects, The Sports Daily Network, U.S. College Hockey Online and College Hockey News. He's had radio appearances on TSN 690 in Montreal, Lightning Power Play Live and multiple podcasts to give insight and analysis on the team. He can be reached on Twitter @StevenDiOssi and by email at sdiossi@gmail.com.