Kyle Quincey Inks One-Year Contract With Devils
The New Jersey Devils have signed free agent defenseman Kyle Quincey to a one-year, $1.25 million contract, the team announced on Wednesday.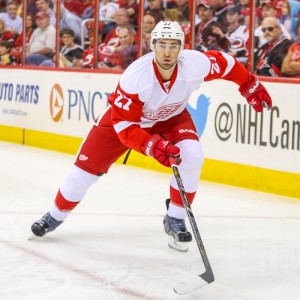 Quincey, 31, joins a New Jersey blueline that lost veteran Adam Larsson as part of the trade for forward Taylor Hall earlier this summer. Quincey is a 6'2″, 215-pound veteran who will enter his ninth full NHL season in 2016-17. He has previously played for the Detroit Red Wings, Los Angeles King and Colorado Avalanche during his career.
The native of Kitchener, Ontario has skated in 495 career regular-season games and registered 140 points and 469 penalty minutes. He has also added eight points in 54 career playoff games. Quincey completed his second stint with the Red Wings in 2015-16 after originally being drafted by the team 132nd overall in the 2003 NHL Entry Draft.
In 2015-16, Quincey skated in 47 regular-season games with the Red Wings and tallied 11 points and 36 penalty minutes. He also appeared in four playoff games and registered one point before the Red Wings were eliminated by the Tampa Bay Lightning in the first round of the 2016 Stanley Cup playoffs.
Dennis Seidenberg Signs One-Year Deal With Islanders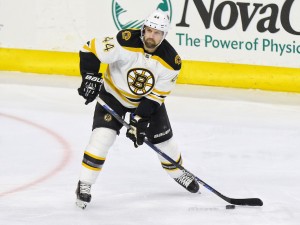 Dennis Seidenberg has signed a one-year, $1 million contract with the New York Islanders, according to a report by TSN's Darren Dreger on Wednesday. As many as seven teams were reportedly interested in Seidenberg, including the Ottawa Senators.
Seidenberg, 35, became an unrestricted free agent in June after he was bought out by the Boston Bruins. In 2015-16, the German defenseman skated in 61 games and registered 12 points. After being traded to the Bruins from the Florida Panthers during the 2009-10 season, Seidenberg helped the Bruins to the 2011 Stanley Cup.
Seidenberg joins an Islanders team that is looking to build upon its success in 2015-16, when the team advanced to the second round of the playoffs for the first time since 1993. Seidenberg also is an affordable asset to an Islanders blueline currently dealing with an injury to Johnny Boychuk.
Seidenberg is currently playing for Team Europe against Team Canada in the best-of-three game finals at the 2016 World Cup of Hockey.
Bob McKenzie Discusses Restricted Free Agent Scenarios
TSN's Bob McKenzie discussed multiple restricted free agent situations through a series of tweets on his Twitter account on Wednesday.
McKenzie said that he had hoped to write a detailed review about current RFAs but decided to take to Twitter to provide insight into the current scenarios taking place around the NHL, including the following:
Tobias Rieder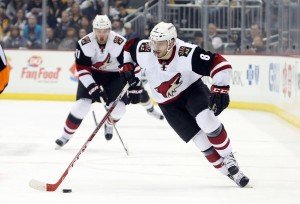 Arizona Coyotes forward Tobias Rieder is currently seeking a two-year bridge deal at $2.5 million per year from the club, but McKenzie believes the Coyotes have stuck to an offer somewhere in the low $2's, around $2.2 million per year, or have suggested he take a one-year qualifying offer. Rieder's options include signing with the Coyotes, requesting a trade, signing with a Kontinental Hockey League club or withholding service. McKenzie said that Rieder currently has offers from KHL teams but he did not go into detail further.
Rasmus Ristolainen, Hampus Lindholm and Jacob Trouba
Buffalo Sabres defenseman Rasmus Ristolainen and Anaheim Ducks defenseman Hampus Lindholm are each reportedly stuck in a gap between the player and their respective team. McKenzie said the Sabres and Ducks are using comparable contracts like those signed by Morgan Reilly (six years, $30 million) and Seth Jones (six-year, $32.4 million), while Ristolainen and Lindholm are basing their salary requests off of the contract signed by Aaron Ekblad (eight-year, $60 million), but likely shooting for somewhere in the range of $6 million to $6.5 million per year. McKenzie believes Winnipeg Jets defenseman Jacob Trouba, who recently requested a trade, is also seeking that sort of salary, but McKenzie expects a suitor for Trouba may be willing to pay a premium.
Nikita Kucherov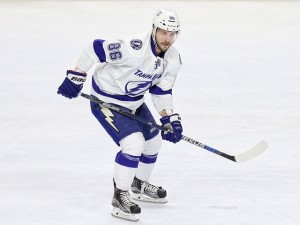 The situation with Nikita Kucherov is unique because of the salary cap crunch with the Tampa Bay Lightning. McKenzie said that while it is typically standard for "high-end" forwards to receive six-year deals at $6 million per year (as evidenced by players like Ryan Nugent-Hopkins, Jordan Eberle and Taylor Hall), Calgary Flames forward Sean Monahan just signed a seven-year deal worth $6.375 million per year.
Given Kucherov's playoff production, amongst other things, McKenzie believes that Kucherov may be worth potentially far more than $6 million per year on a six-year deal. Another option McKenzie discussed was Kucherov being signed to a bridge deal by the Lightning, who may be in no other position than to offer him that. However, McKenzie said it is hard to peg a value in that situation.
Johnny Gaudreau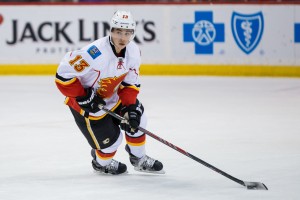 Johnny Gaudreau is technically not a restricted free agent under the terms of the Collective Bargaining Agreement, according to McKenzie. Under 10.2(c) of the CBA, "a player with less than three years of pro experience has zero rights and cannot get an offer sheet." McKenzie believes that Calgary would like to tie Gaudreau's deal to Monohan's but the difference between the two players is that Monahan has had three productive years at the NHL level versus Gaudreau's two.
Gaudreau is reportedly seeking more than $8 million per year, but McKenzie is guessing that the Flames do not want to go any higher than the $6.75 million per year they are currently paying defenseman Mark Giordano. According to McKenzie, as of Tuesday there had been no recent discussions between Gaudreau's agent and the Flames.
How is that for a bit of free agent information via Twitter from one of hockey's greatest insiders?
McKenzie also added that if a restricted free agent is not signed by Dec. 1, they cannot play the remaining balance of the 2016-17 season.
Canadiens' Prospect Will Bitten Traded to OHL's Hamilton Bulldogs
The Hamilton Bulldogs have completed a trade with the Flint Firebirds to acquire Montreal Canadiens prospect Will Bitten, Bulldogs President and General Manager Steve Staios announced on Wednesday.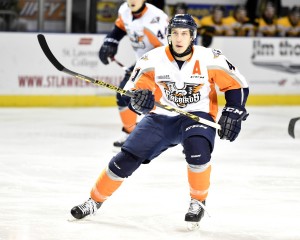 The Bulldogs received Bitten and the Firebirds' 12th round pick in 2017 in exchange for defenseman Fedor Gordeev, goaltender Connor Hicks and a second round pick in 2019 and 2020.
Bitten, 18, was drafted by the Canadiens 70th overall in the 2016 NHL Entry Draft and will begin his third season in the Ontario Hockey League when he joins the team on Friday against the Guelph Storm. Bitten started his OHL career with the Plymouth Whalers in 2014-15 and posted 31 points in 63 games before the team relocated to Flint and became the Firebirds.
In 2015-16, Bitten had a breakout year tallying 30 goals and 35 assists in 67 games despite the team's ownership issues and distractions off of the ice.
In February, Bitten's father, Michael, reportedly said that Bitten would not return to the club in 2016-17 if Firebirds' owner Rolf Nilsen remained in control of the team. In August, Bitten's agent said the star forward would not be reporting to training camp with the Firebirds and that playing elsewhere would be best for his development.
The move to Hamilton may be the change of scenery that Bitten needs after his time in Flint. After the trade was completed, Staios spoke highly about the newest member of the Bulldogs on Wednesday.
"We are excited to welcome William to the Bulldogs family" said Staios, according to a Bulldogs press release. "William is the type of player that the Hamilton Bulldogs covet. He will provide us with speed, skill and work ethic. He will be an integral piece of our hockey club moving forward."
Panthers' Aaron Ekblad Medically Cleared to Play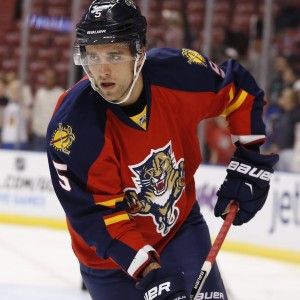 Florida Panthers defenseman Aaron Ekblad has been medically cleared by doctors with the team, according to a report by TSN's Darren Dreger on Wednesday.
Ekblad, 20, suffered a concussion while playing for Team North America at the World Cup and was unable to finish the tournament. Earlier this summer, the Panthers signed Ekblad to an eight-year, $60 million contract extension along with signing other key pieces of the team's future.
The Panthers will open the 2016-17 regular season against the New Jersey Devils on Oct. 13.
Odds and Ends
— The Tampa Bay Lightning cut 22 players from training camp which brings the team's roster to 53 players.
— Montreal Canadiens forward Andrew Shaw will have a hearing on Thursday with the NHL Department of Player Safety for his hit on Washington Capitals prospect Connor Hobbs during a preseason game between the clubs on Tuesday.
— The grievance hearing between the Toronto Maple Leafs and forward Jared Cowan has been set for Oct. 19. The hearing will be in front of an independent arbitrator and Cowan is grieving his contract buyout by the team.
— Wednesday marks the 44th anniversary of Paul Henderson's historic game-winning goal for Team Canada to defeat the Soviet Union and win the 1972 Summit Series.
— The Nashville Predators signed defenseman Samuel Girard to a three-year, entry-level contract, the team announced on Wednesday. Girard, 18, was selected by the Predators 47th overall in the 2016 NHL Entry Draft.