The Pittsburgh Penguins are the reigning Stanley Cup Champions. What could be more impressive than that? The road that they took to get there, and the way in which they traversed it is what is truly extraordinary.
During the first three months of the season, the Penguins played to a record of 18-15-4, a number that is fairly deceiving. Pittsburgh could have easily found themselves out of playoff contention early on were it not for the stellar play of goaltender Marc-Andre Fleury. At one point in December, the team found themselves in 12th place in the Eastern Conference.
They were old, slow, and played mostly lethargic and disinterested hockey. Sidney Crosby was nearly invisible, which prompted many fans to call for his captaincy to be stripped. Many lamented the trade that brought Phil Kessel to the team, as he was underperforming, and brought a big salary with him. Poor play, injuries, and the retirement of beloved Pascal Dupuis had the Penguins at one of the lowest points of the Crosby, Evgeni Malkin era.
Then, general manager Jim Rutherford made a move that changed the course of history.
Awakening a Sleeping Giant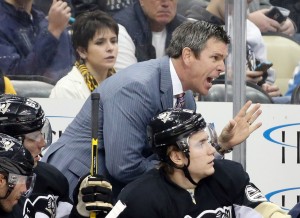 On Dec. 12, the team announced that Mike Johnston was relieved of his duties and was being replaced by Mike Sullivan as head coach. Sullivan completely changed the culture surrounding the Penguins. They became disciplined, shedding old habits gained under Johnston and Dan Bylsma. New acquisitions Trevor Daley, Carl Hagelin, and Justin Schultz, along with rookies from Wilkes-Barre in Bryan Rust, Conor Sheary, Scott Wilson, and others completely transformed the club.
The Penguins were suddenly younger, faster, and played smarter hockey. They ditched their "globetrotter" style for a speedy, possession-driven game. The "HBK" line of Hagelin, Nick Bonino, and Kessel became one of the best in hockey. But maybe most importantly, Sidney Crosby started playing like Sidney Crosby.
Over the final four months of the season, Pittsburgh's record improved to 30-11-4 as they stormed into the playoffs. Under Sullivan, the Penguins' signature playoff collapse didn't happen despite the opportunities during four pressure-filled series while starting a rookie goalie in Matt Murray. The "flightless birds" defeated the Rangers, Capitals, Lightning, and Sharks en route to the franchise's fourth championship, and second since 2009.
Pittsburgh Penguins' 2015-16 Record: 48-26-8 (2nd in the Metropolitan Division)
Offseason Moves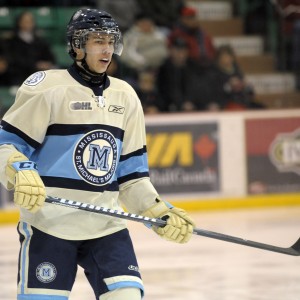 Key Roster Additions:
Stuart Percy  – D
David Warsofsky  – D
Thomas Di Pauli  -F
Key Roster Losses:
Ben Lovejoy  – D
Beau Bennett -F
Jeff Zatkoff -G
Key Organization Changes:
On the day that NHL free agency started, the Penguins' biggest signing was a three-year contract extension for general manager Jim Rutherford. Fresh off a Stanley Cup victory, Rutherford is now extended through the 2018-19 season.
The move was viewed as curious by many due to the fact that Rutherford stated when he was hired in 2014 that he would hold his position for "two or three years". The extension led to speculation that the heir apparent, assistant general manager Jason Botterill would be leaving for the new Las Vegas expansion franchise. This rumor was quickly over when the new organization hired George McPhee to the position. It appears that this leaves Pittsburgh with one of the best front offices in the league, at least for the time being.
On the same day that Rutherford was extended, assistant coach Jacques Martin was signed to a two-year extension. Retained from the Johnston coaching staff, Martin was a valuable asset working with Coach Sullivan to implement one of the most effective systems in recent memory.
Forwards:
Projected Lines:
| | | |
| --- | --- | --- |
|                              LW |                               C |                              RW |
|                      Conor Sheary |                    Sidney Crosby |                     Patric Hornqvist |
|                       Chris Kunitz |                    Evgeni Malkin |                        Bryan Rust |
|                       Carl Hagelin |                      Nick Bonino |                         Phil Kessel |
|                    Tom Kuhnhackl |                      Matt Cullen |                          Eric Fehr |
Other Potential Impact Players: Oskar Sundqvist, C; Scott Wilson, LW; Jake Guentzel, C
The Penguins' forward lines are stable, with a bit of a "wait and see" tag attached. Despite their success, Conor Sheary and Bryan Rust have to continue to prove that they belong in the roles that they filled last season alongside Crosby and Malkin. Scott Wilson is back from injury, and the young forward will be looking to displace someone.
Had the Penguins not brought back Matt Cullen, the job of the fourth-line center would likely have belonged to Oskar Sundqvist. Look for the young center to be among the first injury call-ups. Jake Guentzel was a stand-out player in Wilkes-Barre late last year and in the playoffs. He has made a lot of noise during the offseason development events. He deserves a look with the big club at some point. It's always fun to look for the young players as they rise through the ranks, but there are some key players already on the roster that need to have an impact in 2016-17.
Chris Kunitz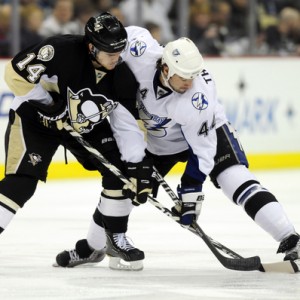 Even at 37 Kunitz continues to be an impactful player and a possession monster. The long-time Crosby winger has always played an extremely physical game, so it remains to be seen if years of wear and tear will finally catch up to him. Given his importance to the team, and his large cap hit, the Penguins badly need Kunitz to continue to be effective.
Sidney Crosby
Even with Connor McDavid on the scene, Crosby continues to be the face of hockey. Last season's Conn Smythe winner would have challenged for the scoring title if the first half of his season was even close to as good as the second half. "Sid the Kid" isn't a kid anymore, and his game, and leadership skills have evolved to reflect that. Having a fresh group of young players on the team was good for Crosby as it appeared to inspire the best in him on and off the ice. After the performance that he has been putting on during the World Cup of Hockey, it isn't hard to imagine him being an MVP, and Art Ross trophy favorite.
Nick Bonino
The post-Malkin-injury play of Nick Bonino played a big part in allowing the Penguins to throw endless waves of offense at opposing teams. Three lines capable of scoring at any given moment kept head coaches constantly trying to counter the onslaught. But as possession statistics show, they weren't often successful. Without Bonino leading the "HBK" line, the Pittsburgh lineup looked a whole lot less dangerous. In order to keep doing what made them so dominant, the Penguins will need Bonino to continue his strong play, and going into a contract year, he has plenty of incentive.
Defense:
Projected Pairings: 
| | |
| --- | --- |
|                             LD |                             RD |
|                      Olli Maatta |                      Kris Letang |
|                   Brian Dumoulin |                     Trevor Daley |
|                        Ian Cole |                    Justin Schultz |
Other Potential Impact Players: Derrick Pouliot, Stuart Percy, David Warsofsky, Steve Oleksy
The Penguins' biggest offseason loss was defenseman Ben Lovejoy, but the way that things appear to be shaping up, he will be easily replaced. A healthy corps of talented defenders being complimented by some healthy competition from young players can only lead to a good situation. We know what we are going to get from Kris Letang, and Trevor Daley, but there are other key players that will help decide just how good this group can be.
Derrick Pouliot
Few players on the Penguins' roster need to stand out in training camp like Derrick Pouliot. The young defender was once considered to be the best prospect in the organization, but he watched as Olli Maatta and Brian Dumoulin jumped over him on the depth chart. Early in the offseason, it was a pretty safe bet that Pouliot was going to be penciled into the sixth defenseman role. But after the Penguins made a surprise move by bringing back Justin Schultz, Pouliot's future is not as clear. Pittsburgh appears to have trust issues with the young, talented defender. He has the tools, but it remains to be seen if he can put it all together.
Olli Maatta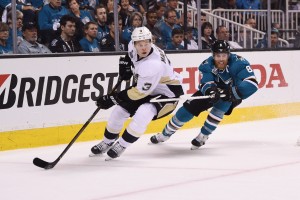 We all know what an asset Maatta can be. But after multiple shoulder surgeries, the removal of a cancerous tumor on his thyroid, and other health issues, the twenty-two-year-old defenseman has struggled. During the playoffs, we saw flashes of the "old" Maatta, but you could sense the frustration over his performance. While playing in the World Cup of Hockey, his game was a reflection of just what we have been seeing. The hockey sense and skill are there, but his speed and mobility have taken a hit. Everyone following the Penguins has their fingers crossed that Maatta can find his game again, and play at an elite level.
Justin Schultz
Justin Schultz has long been viewed as a player with great offensive potential, and a defensive liability. Schultz played well during the playoffs but was given very sheltered minutes by coach Sullivan. One would think that the former Oiler would thrive in the Penguins' aggressive system that is built around fast, puck-moving defensemen, but only time will tell. He definitely will be receiving some heavy competition from Pouliot.
Goaltending:
Marc-Andre Fleury vs. Matt Murray. This has been debated in hockey circles more times than could be counted. Fleury is the veteran who has led the Penguins in net since before their championship in 2009. Murray is the wunderkind who is coveted by nearly every hockey team. The argument has been going in some fashion since Murray started playing well in Wilkes-Barre last year, but now at 22 he is a Stanley Cup winning goalie. The controversy is on hold for a bit as Murray will be out for 3-6 weeks with a broken hand sustained in the World Cup. But because the Penguins would be required to protect Fleury in the expansion draft next year, they will have to either trade Fleury or risk losing Murray. Under normal circumstances having two starting goalies would be a great problem to have, but not with the Las Vegas franchise waiting to pounce.
Breakout Player: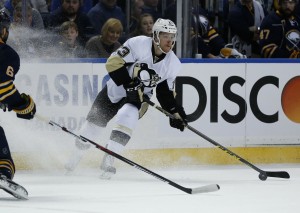 Scott Wilson's season ended in March after surgery on his foot/ankle. He had to watch while other young players like Sheary and Rust had success, and eventually won a Stanley Cup. The scary thing is that Wilson may end up being the best of the Penguins young players. He plays a fast, aggressive game reminiscent of Chris Kunitz. The Pittsburgh roster could be status quo to start the year, but Wilson has the biggest opportunity to shake things up and displace another forward in the lineup.
Player with Most to Prove:
We have already discussed how important the next few weeks will be to Derrick Pouliot, but another player with a lot to prove is Eric Fehr. The former Capitals forward started the season injured, and the Penguins knew this when they signed him, but his play after returning was not up to expectations. His game rose a bit in the playoffs but was still mostly disappointing. A strong push from a younger player could see Fehr in the press box, or even traded.
First Players in the 'Call-Up' Line: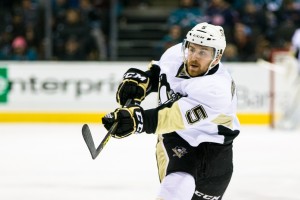 There are definitely some interesting storylines coming from the Wilkes-Barre/Scranton Penguins. Center Jake Guentzel has impressed at every turn since his strong play in the latter half of last season. He had a strong showing in both the Penguins' development camp and the prospect tournament. He deserves a look with the big club this season. Stuart Percy was once a first-round pick by Toronto and could turn out to be more than a depth signing for Pittsburgh. David Warsofsky and Steven Oleksy could prove to be valuable depth players.
Until Matt Cullen decided to play another season in Pittsburgh, Oskar Sundqvist was the most likely player to graduate from the AHL. In all likelihood, if a center goes down to injury, we will see Sundqvist shortly after.
Season Outlook:
As the Penguins proved last season, anything can happen. Jim Rutherford transformed the organization in a few months in a way that would have taken other general managers years to accomplish. But there is no reason to believe that any major changes will be necessary for 2016-17.
Coach Sullivan's system, along with the combination of youth, and veterans should continue their success and help them contend for a repeat championship. As with any Stanley Cup winner, the Penguins may be a victim of their own success. They are the focus of the hockey world, and other teams will be figuring out new, and improved ways to stop them. Not to mention the fact that other teams will try to copy the foundation of what made Pittsburgh successful. What will continue to separate the Penguins from the pretenders is that they have Mike Sullivan, Sidney Crosby, Evgeni Malkin, Phil Kessel, Kris Letang, and a host of players that compliment each other, and the Penguins' revolutionary approach to the game.
Don't start planning the next parade quite yet, but keep the plans from last year handy, just in case.
Pittsburgh Penguins 2016-17 Record Prediction: 57-20-5 (1st in the Metropolitan Division)