Speedy winger Matt Nieto was selected by the Sharks in the second round of the 2011 NHL Entry Draft  (47th overall), with many hoping that he would one day become a top-six scoring winger. Three years into his NHL career and the 23-year-old Nieto had what some could define as an up and down season in 2015-16. In October, Coach Pete DeBoer called out Nieto as his best forward and promoted him to the top line, while in December he was playing on the fourth line. He finished the 2016 season with the lowest point total in his three-year career with the Sharks. However, in July he inked a one-year contract extension for $735,000 (per generalfanager.com it's slightly less than his expiring contract).
Matt Nieto signed a one year contract at $735 000 with the San Jose #sharks (one way) #tvasports

— Renaud Lavoie (@renlavoietva) July 16, 2016
What's next for the Long Beach, CA native? Let's take a closer look at what could have caused a lower point total for him this season and look at some of the underlying statistics.
Injury Issues?
In late November Nieto was scratched with an undisclosed injury. After missing two games, Nieto returned on Nov. 25th and was a minus-2 in a loss to Chicago. He returned briefly, then was injured again (lower body injury) in early December. After missing two games, Nieto returned and played on the fourth line. On Mar. 17 he left a game against Arizona early after blocking a shot (he played only 6:15). It would turn out that he had a broken knuckle in his right hand and he would miss the final 12 regular-season games.
The winger returned for the first round of the playoffs and scored a goal in the series clinching game. Nieto had scored a goal and three points in the first 11 playoff games, yet he injured his leg during game six against Nashville. Or perhaps it was his upper body?
@SanJoseSharks Nieto has medical clearance and may take warm up for game 1. Still not expected to play.

— Nick Kypreos (@RealKyper) May 30, 2016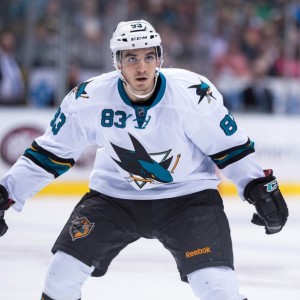 Nieto returned for game two of the matchup against the Penguins, scoring no points in the Sharks final five games of the playoffs.
Here's my final count of his reported injuries this past season:
 November (undisclosed injury)
 December (lower body injury)
 March (broken knuckle)
 May (leg and/or upper body injury)
So yes, this was a season where Nieto had to deal with multiple injuries. The frequency of these injuries could have prevented him from getting into any real rhythm.
Looking at Data
Following a rookie season where he scored 24 points in 66 games (0.36 points per game), he continued to progress offensively in his sophomore season scoring 27 points in 72 games (0.375 points per game). In the 2015-16 season, he scored 17 points in 67 games (0.25 points per game). His points per 60 was a consistent 1.5 for the first two seasons but dropped to 1.2 last season (data courtesy of Corsica.hockey).  But what caused this decline, and is it something to be concerned about?
Was Nieto just unlucky? His PDO (shooting percentage plus save percentage) in the 2015-16 season was 973, which would be considered unlucky. In fact, only two Sharks regulars were more unlucky (Chris Tierney and Tommy Wingels). However, it might be a mistake to blame bad luck for a decrease in Nieto's scoring, as his luck was similar to the two previous seasons (985, 963), yet he posted better point totals. Nieto also remained a decent possession player with 50.53 Corsi For Percentage (CF%), the 7th best amongst Sharks forwards (data courtesy of Corsica.hockey).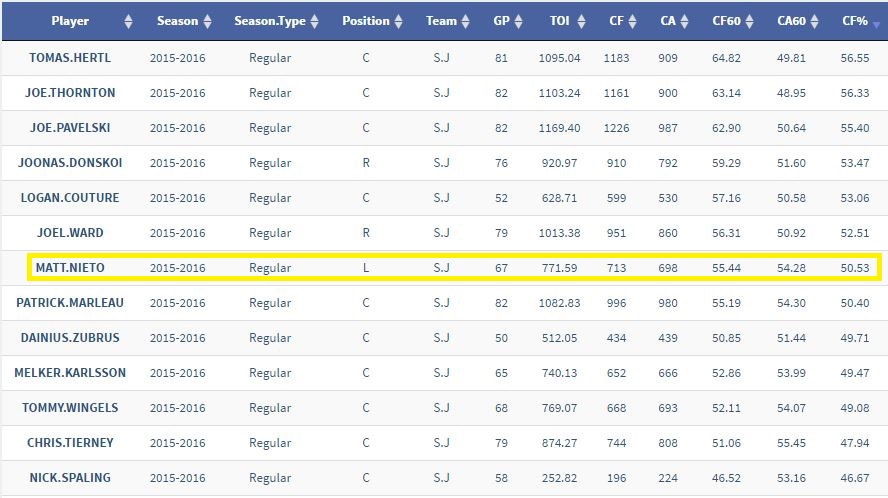 Since goal probability increases as shots are taken closer to the goal, I wondered if Nieto had changed where he was shooting from? He had, but in a positive manner, as his average shot distance decreased to 25.39 feet in 2015-16. It was 27.77 feet in 2014-15, and 27.76 feet in 2013-14 (data courtesy of Corsica.hockey).
It wasn't Nieto's shooting percentage that dropped either, as he actually posted his highest shooting percentage (8.9%) over his three-year NHL career. Since it was his highest shooting percentage and he had his lowest goal totals, that means that he was shooting less. Nieto's 1.36 shots per game were indeed lower than the two prior seasons, in which he fired off 1.87 shots per game (data courtesy of NHL.com). Why is this? Two things really jumped out at me:
1) Nieto started significantly less time in the offensive zone (41.3%) than he had in prior seasons (thus less time in the offensive zone). Eleven other Sharks forwards started in the offensive zone more frequently than Matt Nieto. In fact, of forwards playing more than 20 games, only Nick Spaling started less in the offensive zone. To Nieto's credit, this likely came about from earning more of the coaching staff's trust, but it does factor into a reduction in offense (data courtesy of BehindTheNet.ca).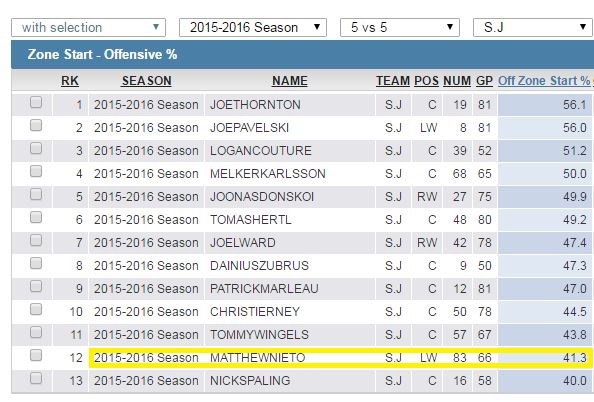 2) Nieto's Time On Ice (TOI) dropped by nearly two full minutes from the season prior. Moving further into a defensive role, Nieto's powerplay time TOI also dropped significantly. In the 2014 season, he played 0:50 per game on the powerplay, in 2015 it increased to 0:57 seconds per game. In 2016 he was only out for 0:04 per game of the Sharks powerplay time. His Short Handed TOI per Game (SH/G) changed as well, in 2014 it 0:50 SH/G, in 2015 1:00 SH/G, and in 2016 1:12 SH/G (data courtesy of foxsports.com). Again, Nieto has become used more in a defensive role.
Conclusions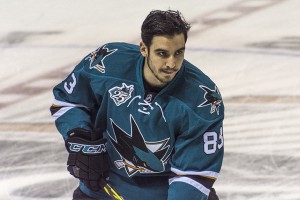 Looking at the history from this past season, it seems likely that injuries could have caused Nieto difficulty in keeping rolling. Nieto has also adjusted his game to better meet the needs of his team, and the coaches appear to have put more trust in him defensively. Another thing to consider is that the Sharks have been improving, and players like Joonas Donskoi and the newly acquired Mikkel Boedker are above him on their depth chart. The Sharks also have a lot of great talent that will be chomping at some of the Sharks heels.
Matt Nieto is a very versatile player, that can slip into the top six and provide difficult to handle speed, or he can play a responsible defensive game. Having a player like Nieto in the Sharks bottom six is a great sign of the organization's strength.
With a one-year contract, it will be another contract season for Nieto (who will still be a Restricted Free Agent), so this will likely be a season that he will be hoping to earn a new longer-term contract.
With speed and hands like this Nieto will continue to prove himself valuable in the NHL: