It has been a confusing couple of days for the Detroit Red Wings' fanbase. General manager Ken Holland decided to place a handful of players on waivers this past Saturday, which included Martin Frk. By now, you know that the Carolina Hurricanes claimed the 23-year-old winger on Sunday. The Wings' general manager followed that up by waiving Teemu Pulkkinen yesterday, and in turn, the Minnesota Wild claimed the Finnish sniper earlier today.
The move only served to exacerbate an already tense situation, as it appears the team just lost two assets while receiving nothing in return. While there is an argument that both players were "fringe NHLers," the moves have fans questioning the team's ability to manage their assets. Although it is difficult to see past the perplexing roster moves now, perhaps there is a method to Holland's madness.
Red Wings Related – Analyzing the Red Wings Forward Lines
Carrying Eight Defensemen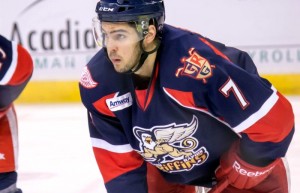 Without a doubt, the Red Wings' most glaring weakness is their blue line. Whether you worry about the health of the veteran players, or the younger players' ability to take their game to the next level, the team's defense offers more questions than it does answers. Holland tried to address the situation this past summer when he inquired about Jacob Trouba and has reportedly been on the hunt for defensive help for the past few years.
With the Red Wings' general manager striking out on the trade market, it is possible that his backup plan involves the team carrying eight defensemen this season. In addition to Frk and Pulkkinen needing to pass through waivers, both Xavier Ouellet and Ryan Sproul are waiver eligible, too. Perhaps Holland felt that it was better to have more options in an area of need – the team's blue line – rather than keeping another forward.
In the Wings' current situation, they could have kept one of the aforementioned forwards, as opposed to exposing both of them. With Tomas Jurco sidelined until sometime in November, the team could have held onto one of Frk or Pulkkinen as their 13th forward. Instead, the Wings announced that Andreas Athanasiou will stay in Detroit to start the 2016-17 season. Unlike Frk or Pulkkinen, Athanasiou can safely bounce back and forth between Detroit and Grand Rapids, which may have played into Holland's decision.
Jurco > Pulkkinen, Frk?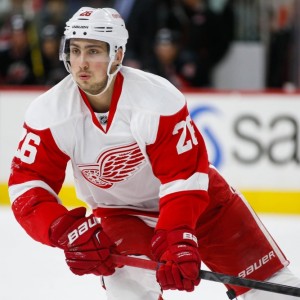 There is still some confusion as to why Holland would choose to waive Pulkkinen and keep Athanasiou in Detroit. After all, they could have sent the speedy 22-year-old down to Grand Rapids without risking yet another asset on the waiver wire. Not to mention, if Athanasiou is nothing more than a spare forward on the Wings' roster, why not give him more ice time in the AHL?
It is purely speculation, but perhaps the Wings' general manager envisions his team carrying eight defensemen, and simply values Jurco over Pulkkinen and Frk. Assuming the group of forwards in Detroit can stay healthy until November (knock on wood), it would mean the Slovakian-born winger would likely push someone out upon his return. It is possible that Holland felt he had a better chance of slipping players down to Grand Rapids now, instead of in November, when teams are more likely to face injuries or players performing below expectation.
Sure, the entire scenario is a bit of a reach, but it is an alternative answer to the questions posed in the current situation. Understandably, a number of Red Wings fans perceive the moves as examples of poor roster management. Right now, only Holland knows why he made those decisions. It could simply be a case of the Wings' management not valuing Pulkkinen or Frk nearly as much as the fans do, or that Holland played chicken on the waiver wire and lost – twice.