The Buffalo Sabres have not sniffed the NHL post-season since 2010-11.
Are the Stanley Cup Playoffs in the cards for the team in 2016-17? It is the number one question on the minds of Western New Yorkers right now, but before we can answer that there are five underlying questions that need to be answered first.
Is Robin Lehner the Answer in Between the Pipes?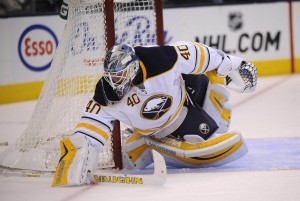 General Manager Tim Murray thinks so. The Sabres GM made a draft day splash in Florida when he acquired the physically imposing 6-5, 240-lb Swedish-born goaltender, along with David Legwand, from the Ottawa Senators in exchange for one of its three first-round draft picks on Jun. 25, 2015.
Lehner has never really put it together for a full season in the National Hockey League, though. He is 35-45-18 with a 2.80 goals-against average but respectable .916 save percentage in a career that began in 2010. His best season to date came in 2012-13 when he went 12-15-16 with a .913 save percentage in 36 games played — his highest single-season total for appearances — but the Sabres are looking for more. Murray is obviously looking beyond the numbers and sees the potential.
Truth be told, Lehner has not been completely healthy. He suffered an ankle injury in his Sabres debut back on Oct. 8, 2015 and missed over three months of action, derailing a promising season even before it started. Though a roster spot with Team Sweden at the World Cup of Hockey was there for the taking, Lehner elected to pass on the tournament to focus on getting off to a better start in 2016-17. A 28-save, 2-0 shutout of the Carolina Hurricanes in a pre-season bout last week is a promising sign.
Can the Defense Improve and Solidify Its Own End of the Ice?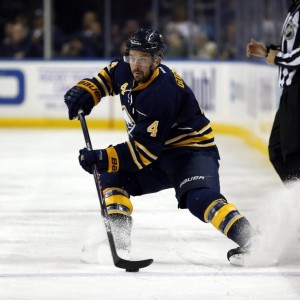 Gone are the lead-footed Andre Benoit, Andrej Meszaros, Alexander Sulzer, and Mike Weber. Gone is the hyped, but never-really-lived-up-to-the-potential Tyler Myers, the NHL Rookie of the Year way back in 2009-10. Sabres fans probably won't miss Nikita Zadorov, Jamie McBain or Carlo Colaiacovo. They might miss Mark Pysyk. Tyson Strachan was invited to camp on a professional tryout but didn't make the final cut.
The current state of the Buffalo defensive corps has left Sabres fans wishing for the return of Phil Housley, Mike Ramsey, Bill Hajt and Jim Schoenfeld, but there is room optimism in 2016-17.
When healthy, Zach Bogosian is among the best shutdown defensemen in the league. A return to full strength for the stout defender coupled with the addition of Dmitry Kulikov should shore up the team, defensively, in front of Lehner but the question on everyone's mind is Rasmus Ristolainen. The Finnish blueliner, who ranked 10th overall in the entire National Hockey League in total ice time last winter (25:16) is still unsigned and the season starts tomorrow. He is simply a necessity and remains the key to success this season.
Related: Rasmus Ristolainen at Sabres Camp With No Contract
Josh Gorges is an exceptional shot-blocking defenseman. Cody Franson is an adequate defender as well but his $3.3 million dollar cap hit leaves a lot to be desired. The future lies in the development of Jake McCabe, Casey Nelson, Brendan Guhle, Brady Austin and Brycen Martin, but locking up Rasmus Ristolainen long-term will define this group in 2016-17.
Will Jack Eichel Survive the Dreaded Sophomore Slump?
While Eichel took his lumps for Team North America in the World Cup of Hockey, the 2015 Hobey Baker Award winner, given to the top National Collegiate Athletic Association men's ice hockey player, will be a better player because of it.
Another year on a line with Sam Reinhart on his right and Evander Kane/Tyler Ennis/Matt Moulson on his left should only bolster the team chemistry between them. Just the second freshman to ever take home the Hobey Baker joining Paul Kariya in 1993, Eichel struck for 24 goals and 32 assists as a rookie in 81 games for the Sabres last season. He is projected to eclipse the 30-goal mark in 2016-17 with 75 points.
Quite frankly, Eichel is the real deal lifting Sabres fans from their seats for the first time since Pat LaFontaine and Alexander Mogilny in the 1990's. The only thing holding him back is experience, which will come in time.
Can Evander Kane Right the Ship?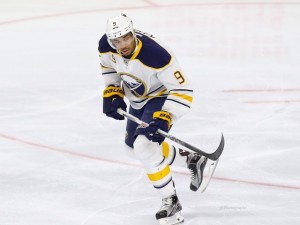 It has been another off-season to forget for the much maligned, but highly-talented power forward. When he is on, he is a force to reckon with, a grinder in the corners who isn't afraid to crash the net and stick his nose in the crease digging for dirty goals. He can also go toe-to-toe with the best fighters in the league, but it is his off-ice antics that has General Manager Tim Murray second-guessing the blockbuster trade that brought him aboard 20 months ago.
Murray acquired Evander Kane, Zach Bogosian and the rights to Jason Kasdorf from the Winnipeg Jets in exchange for Tyler Myers, Drew Stafford, Joel Armia, Brendan Lemieux and a conditional first-round pick in the 2015 NHL Entry Draft (Jack Roslovic) on Feb. 11, 2015, but Kane has been involved in numerous legal issues since being acquired by the Sabres. So much so his trade value has become almost nil.
On Apr. 3, 2014, Kane was accused of assault after an incident in Vancouver while with the Jets and was sued for financial damages. Turmoil in Winnipeg continued as he found himself a "healthy scratch" following several in-house incidents with teammates. In Buffalo, trouble followed with an alleged incident in a Buffalo parking garage with a female, before more charges emerged with Kane pleading not guilty to charges alleging he grabbed three women during an altercation at a downtown Buffalo bar this summer in June.
Murray is stuck with him now, but that might not be so bad. Kane has 129 goals and 128 assists for 257-career NHL points, including 20 goals and 15 assists in 65 games for the Sabres in 2015-16. The Vancouver native should be highly-motivated to let his play on the ice speak for him this season. Expect him to be on his best behaviour, an uptick upon those numbers this season and an anxious Kane looking to prove his past is truly in the past.
Is Dan Bylsma the Right Man for the Job?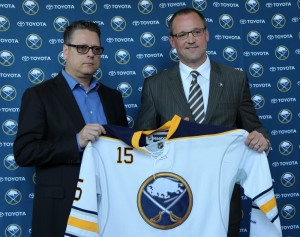 The players like him. So do the fans. He has an impressive track record to be sure with a Stanley Cup ring on his finger after leading the Pittsburgh Penguins to glory in 2008-09 and a Jack Adams Award as the league's most outstanding coach in 2010-11 after guiding the Penguins to the Eastern Conference quarterfinals despite its top two players in Sidney Crosby and Evgeni Malkin on the sidelines. But is he the right fit for this young, rebuilding team?
In his first season with the Buffalo Sabres, Dan Bylsma led the club to a respectable 35-36-11 season, good enough for 81 points but not good enough to make the playoffs as the team finished 7th in the NHL's Atlantic Division.
It was a vast improvement from its 23-51-8, 54-point effort in 2014-15 and forgettable 21-51-10, 52-point disappointment in 2013-14, but his place behind the bench is still up for debate. He was surrounded by a lot of talent in Pittsburgh, a luxury he does not have here in Buffalo. Bylsma, who appeared in two games for the Rochester Americans as a player in 1992-93, probably has a longer leash than most of the question marks on this team but Buffalo also expects results.
Related: Buffalo Sabres Bold Predictions
Question on Everyone's Mind: Playoffs in the Cards for the Sabres in 2016-17?
It will sure be fun to watch them try. The Tampa Bay Lighting, Washington Capitals, Pittsburgh Penguins and New York Rangers should all be there leaving just four spots up for grabs between the Florida Panthers, Montreal Canadiens, Boston Bruins, Detroit Red Wings, New York Islanders and Philadelphia Flyers. Ottawa, Toronto, Columbus, Carolina and New Jersey will also vie for a playoff spot making it a race to watch this season.