He's here. He doesn't have to be, but there he is — because he wants to be.
Fresh off yet another impressive showing in international play, Rasmus Ristolainen is back skating with the Buffalo Sabres at training camp even though he has no contract in place.
Ristolainen, who shined defensively for Team Finland at the World Cup of Hockey last month, remains unsigned after fulfilling his three-year, entry-level rookie contract. While Ristolainen's appearance at camp might be looked upon as a positive sign a deal is imminent, the show of good faith has had seemingly no impact other than placing himself, and his agent, in closer proximity to General Manager Tim Murray.
"He's got to skate somewhere and he wants to skate and this is the easiest place for him to skate," Murray told Buffalo's WGR 550 last week. "It doesn't disrupt what we're trying to do."
Sabres, Rasmus Ristolainen still not close on a new deal, but he's in Buffalo as a "good will" gesture to work out. https://t.co/g5MBWlswbF

— John Vogl (@BuffaloVogl) September 29, 2016
Still, the 6-4, 207-lb defenseman is hard to overlook. Taking a big leap forward his third season in the National Hockey League with nine goals and 41 points in 2015-16, Ristolainen ate up minutes and absorbed a tremendous amount of ice time for a struggling but improving Sabres team, finishing 10th overall in the entire league at an astounding 25:16 minutes-per-game.
One might figure he is akin to the Sabres long-term plans. It sure looks like he wants to be here — since he is already in Buffalo — so what is the delay in getting the "Risto Rocket" locked up?
Lock Him up, Tim
Passive-aggressive GM Tim Murray wants to see Rasmus Ristolainen in a Sabres uniform for the foreseeable future. Unlike past seasons, though, where he has been free to wheel his resources during "the rebuild," he's had to get creative to get the entire team under the cap in 2016-17. To his credit, Zemgus Girgensons agreed to terms on a new deal, the team traded for Dmitry Kulikov and they signed highly coveted free-agent Kyle Okposo.
"You can't just give him what he wants, but you try to be fair," Murray continued. "I want to be fair within our structure. It's not like we trying to low-ball this kid. They have an argument and we have an argument but there are looming deadlines.
"No timeline as long as the talks are ongoing, something good can happen," Murray added.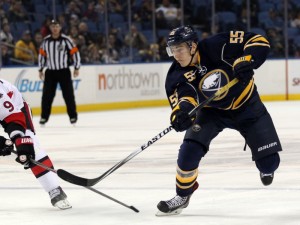 Murray says both sides are looking to get a long-term contract signed, but the stalemate is an all-too-familiar reminder that sports, after all, is business first, play-time second.
Johnny Be Good
The Ristolainen situation is not that far from the struggles in Calgary to get Johnny Gaudreau to agree to terms with the Flames. Both #55 and #13 are restricted free agents.
Gaudreau, too, sparkled at The World Cup of Hockey for Team North America, which, if anything, only increased his stock. The kid is lightning on ice, the last time fans in Calgary saw a similar player was with Theo Fleury. Negotiations are sticky with Gaudreau stuck between a rock and a hard place, though, as he's under team control for the next five years.
"We're not going to negotiate this publicly," Flames General Manager Brad Treliving recently told Sportsnet's Elliotte Friedman. "We've said several times that we are optimistic this is going to get done."
Sound familiar? Flames Camp Opens with Little Progress on Gaudreau's Contract
Nothing against Gaudreau, but he's not in Calgary practicing with the team. Take note, Mr. Murray.
Rated 'R' for Restricted
Ristolainen and Gaudreau highlight a handful of restricted free agents who remain on the outside looking in. Tampa Bay's Nikita Kucherov, who likewise improved his status after a sensational showing with Team Russia in the World Cup, as well as Winnipeg's Jacob Trouba join the reluctant fraternity.
Financially, the Sabres projected cap hit is $65,387,024 with a remaining cap space of $7,612,976. Ristolainen is seeking an annual contract in the vicinity of 6-6.5 million but there needs to be a reserve. It does not leave much room for negotiations.
Make Haste?
Zach Bogosian suffered a groin strain, which will keep him out an indeterminable amount of time. Additionally, Dmitry Kulikov, already a little weary from his time on the Russian defensive corps in the World Cup, is a little banged up after a collision with the Maple Leafs' Collin Greening this past weekend.
Scary moment as an unlocked bench door leads to what might be a lower back injury for Dmitry Kulikov pic.twitter.com/10U3xwDJeG

— Jeff Veillette (@JeffVeillette) October 1, 2016
Advantage: Ristolainen https://t.co/STY509BvYg pic.twitter.com/cAQv5lTuBA

— SabresBuzz (@SabresBuzz) October 1, 2016
Since his early beginnings in Turku with TPS of the Finnish SM-Iiiga league, Ristolainen has been on a lot of losing teams in his career. He is a career minus-68 in 194 games with the Sabres but has shown improvement every step of the way. Still, he seems committed to the team that drafted him eighth overall in the 2013 NHL Draft.
Down two men already, and the season a mere nine days away, the time is now to lock up the next great Finnish defenseman.
New Jersey Devils One Jersey Grass Roots Writer; 13 years writer/reporter for The Star-Ledger and NJ.com; 1st-year with The Hockey Writers; Previously covered the Boston Bruins, Boston Red Sox and New England Patriots for The Casco Bay Weekly; Portland Pirates (AHL) 2002-'03; Director of Media Relations The Eastern League (AA) 2000-'02; Great Skate 1997-2000; Buffalo Sabres 1994-'97; Buffalo boy, Maine grad; International hockey player and coach; #Buffalove #OneBuffalo