The Blackhawks have built their modern-day dynasty on the strength of their young players. Jonathan Toews and Patrick Kane carried Chicago to their first Stanley Cup win in 2010 on a combined salary cap hit of just $1.725 million.
Forced to re-stock their cupboard after handing out big extensions to their top players, the Blackhawks saw Corey Crawford and Brandon Saad make major contributions on bargain contracts in 2013 and 2015, respectively.
Artemi Panarin was a rookie revelation for the Blackhawks last year, as the undrafted rookie free agent racked up 30 goals and 77 points on his way to the Calder Memorial Trophy. The 24-year-old winger provided arguably the biggest value contract in the league to Chicago, coming in at a cap hit of just $812,500. However, due to contract bonuses negotiated by the Russian forward prior to last season, his outstanding inaugural season in the NHL triggered performance bonuses of $2.575 million, a big jump in salary that forced general manager Stan Bowman into another offseason of creative cap maneuvering.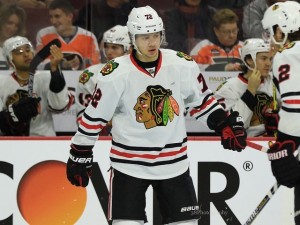 Bowman dealt promising young winger Teuvo Teravainen to the Carolina Hurricanes in June, a move that was necessary for the 'Canes to absorb the damaging cap hit of former playoff hero Bryan Bickell. Andrew Ladd, Dale Weise and Christian Ehrhoff, all of whom were added in preparation for another playoff run last season, were all allowed to walk in free agency due to Chicago's restrictive salary cap situation.
Bowman's moves weren't without detractors, but Panarin's looming restricted free agency in the 2017 offseason forced his hand. Heading into the 2016-17 season, the Blackhawks sit a little more than $2 million under the salary cap (per General Fanager), but are just beginning to enter negotiations on a new contract with their breakout star.
To Stay or Not to Stay
Panarin's eye-opening success was more than even the most diehard Blackhawks fan could have imagined heading into the 2015-16 season. Panarin had produced a monstrous season in the KHL the year prior, and there were reportedly up to 10 teams vying for his services. The chance to play alongside the big names, such as Patrick Kane and Jonathan Toews, proved the deciding factor in Panarin's decision.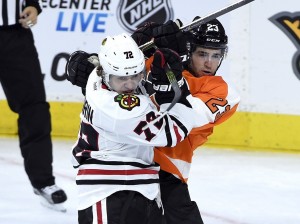 Related: What Will Artemi Panarin Do For an Encore?
Panarin, whose 77 points made him the first Blackhawks rookie to crack the 70-point barrier since Kane himself, gives the Blackhawks yet another dangerous offensive weapon after the necessitated departures of Brandon Saad and Patrick Sharp last offseason. The Blackhawks have found a way to remain one of the top Cup contenders in the NHL, despite being pressed up against the salary-cap ceiling for the past few seasons, thanks in no small part to bargain-bin contracts such as Panarin's. Bowman was again busy this summer, inking Brian Campbell, Richard Panik and Michal Kempny to cheap contracts to presumably play important depth roles for Chicago.
Talk of a possible contract extension for Panarin is already underway, despite the Russian star partaking in the World Cup of Hockey this month. While he's been adamant that success and his own play mean more to him than an expensive contract extension, Panarin's instant success guarantees Bowman won't be able to convince him to take a below-market contract to help the cash-strapped Blackhawks out.
Report: Panarin seeks 6-year, $36M+ deal: https://t.co/BLLY6D2zTUpic.twitter.com/pB0IrdK1Av

— TSN (@TSN_Sports) September 28, 2016
Comparables
Panarin's breakout rookie season cemented him as one of the league's top young stars, and he's already producing at elite levels in the league with a top-10 finish in points last season. While current RFAs Nikita Kucherov and Johnny Gaudreau remain unsigned with the regular season looming, the market for proven young scoring wingers hovers near Panarin's reported contract demands. A cap hit of $6 million for a player with 80 games of NHL experience may seem steep, but Panarin's price could skyrocket if he can repeat the elite performance he turned in last year.
Filip Forsberg, Jaden Schwartz and Jonathan Huberdeau, all wingers similar in age and production to Panarin, were all inked to new contracts this summer that will keep them with their respective franchises for at least five more years. Panarin, who tallied more points than every single player in that group, looks like he could be worth even more than Forsberg's cap hit of $6 million.
As it stands, Panarin is just three years away from becoming an unrestricted free agent. Coming off a stunning top-10 finish in NHL scoring, Panarin's emergence has given the Blackhawks stable secondary scoring and a wingman for Kane for the first time since their 2010 Stanley Cup playoff run. It's hard to argue that Panarin doesn't deserve a long-term extension, especially given his immediate fit with the team and willingness to leave money on the table in order to remain with the Blackhawks. With only 10 skaters signed beyond this upcoming season, the Blackhawks have just over $15 million in projected cap space next year, leaving little wiggle room for negotiations with Panarin.
Stan Bowman will have to make widescale changes again next season if he wants to keep Panarin in the fold. Marcus Kruger, who went goalless in 41 games last year and has a cap hit of just over $3 million, could be the first domino to fall. Longtime blue-line stalwart Brent Seabrook could also see his name thrown around in trade rumours, although Chicago's lack of depth on defense limits their options with the former Canadian Olympian. If Panarin can again post 70-plus points and serve as an important piece for Chicago's scoring group, $6 million could very well look like a bargain.