The NHL's Department of Player Safety announced Monday that they have suspended Chicago Blackhawks defenseman Niklas Hjalmarsson for the remainder of the preseason and the first game of the regular season.
The suspension is the result of a charging infraction against St. Louis Blues forward Ty Rattie during a preseason match. General Fanager reports that Hjalmarsson will forfeit $22,777.78 of salary for the one regular season game he'll miss.
Dan Boyle Will Retire
In addition to today's announcement that both Barret Jackman and Mike Santorelli will retire, it appears that former San Jose Sharks defenseman Dan Boyle will announce his retirement this week.
The Sharks announced a press conference to be held Wednesday at which Boyle will discuss "the future of his hockey career."
The 40-year-old defenseman entered the NHL as an undrafted free agent out of Miami University. He wound up playing 17 seasons in the league, lacing up for the Florida Panthers, Tampa Bay Lightning, San Jose Sharks and New York Rangers. During the course of the last two seasons, he surpassed the 1,000 game threshold, finishing out his career with 1,093 games. In that time he scored 163 goals and 605 points.
Boyle was twice named a Second Team All-Star, won the Stanley Cup with the Tampa Bay Lightning in 2004, won Olympic gold in 2010 with Team Canada and grabbed silver with Team Canada at the 2005 World Championship.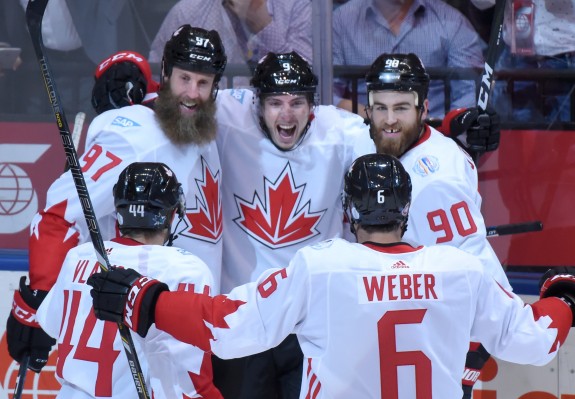 Duchene Injured During World Cup
Colorado Avalanche star Matt Duchene revealed Monday that he played through a separated shoulder during the 2016 World Cup of Hockey.
Duchene told the Denver Post that he sustained a Grade 1 separation of the AC joint on Sept. 13, four days prior to the opening of the round-robin stage of the tournament.
"It's one of those things, it doesn't get worse when you play with it," Duchene said. "It's just painful. It's going to linger for a bit, but it's feeling good. I just got bumped in practice. It was weird, it was a bad-luck injury. That was it.
"It didn't affect me all tournament. Obviously, the first time you go out, you're a little tentative on it, but after that, it's just fine. I feel good."
Duchene has been practicing with the team and incoming head coach Jared Bednar has Duchene lining up with Nathan MacKinnon and Gabriel Bourque currently.
Victor Bartley Tears Tricep
Minnesota Wild defenseman Victor Bartley sustained an injury and left Sunday's preseason tilt against the Carolina Hurricanes. Monday, Michael Russo of the Star Tribune reported that Bartley will be "out months" with a tear to his tricep that will require surgery.
While Bartley wasn't expected to make the NHL roster out of training camp, it does shake things up on the blue line with their third pairing still a bit of a question mark. Mike Reilly is expected to be on the roster, but the team will be taking a bigger risk if they send down Christian Folin and/or Nate Prosser. Both require waivers to be sent to the AHL.
As Russo notes, that could put the team in a position where they start the season with eight defensemen on the roster.
In other roster moves, the team has waived forward Patrick Cannone and Jordan Schroeder. That may mean prospects Alex Tuch and Joel Eriksson Ek are a tiny bit closer to starting the season in the NHL.
The team also cleared Gustav Olofsson and Zack Mitchell from injuries and sent them to the AHL along with Kurtis Gabriel.
Tanner Pearson to Have Hearing
As touched on this morning, Tanner Pearson was ejected from Sunday's preseason match against the Edmonton Oilers for a high hit on defenseman Brandon Davidson. The Department of Player Safety announced Monday that Pearson will have a hearing for the hit.
A date has not yet been set for his hearing.
More Players on PTO Released
So far, training camp has not resulted in much success for players on tryout deals. Monday the St. Louis Blues released Eric Nystrom and Chris Porter from camp and the Ducks have released both David Booth and David Jones from their tryouts.
Odds and Ends
– Toronto Maple Leafs prospect Nikita Soshnikov has been removed from training camp, according to Sportsnet's Chris Johnson. He suffered a hamstring injury at camp and will start the season in the AHL.
– Arizona Coyotes associate coach Jim Playfair announced that there's a good chance that 2016 first-round draft pick Jakob Chychrun starts the season in the NHL. He made it sound as though Chychrun wouldn't stay up the whole season, but that he'll get a cup of coffee to open the year.