Former St. Louis Blues defenseman Barret Jackman will be retiring. It's been talked about a few times over the summer, but the Blues helped Jackman make it official Monday morning.
The team has announced that they'll hold a press conference Tuesday to formally make the announcement.
The 35-year-old was bought out over the summer by the Nashville Predators. This would be the final year of a two-year deal carrying a cap hit of $2 million if he hadn't been bought out. Instead, he gets $666,666 over the next two seasons from Nashville.
Jackman will finish out his career a veteran of 14 NHL seasons, 13 of which were spent in St. Louis, where he'll retire. Through 876 career games since being drafted 17th overall by the Blues in 1999, he has scored 29 goals and 186 points.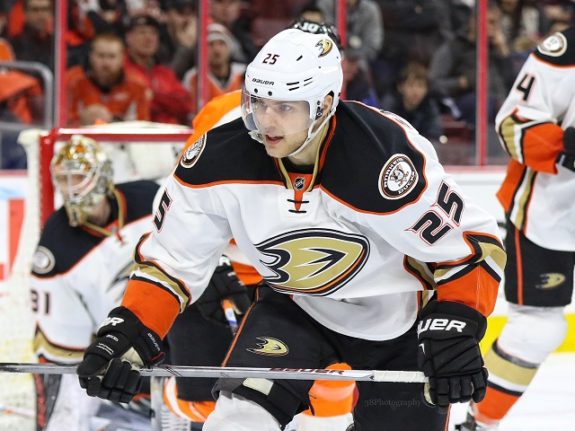 Mike Santorelli Hang Them Up Too
In a surprise announcement, Mike Santorelli has also decided to retire from professional hockey. The journeyman signed a contract Genève-Servette HC in the Swiss NLA this summer. In fact, he played six games for the Lions before deciding not to fulfill his two-year deal. The team has agreed to release him from his contract.
"I had two very exciting months in Geneva," said Santorelli. "But, due to the worsening of my injury and the uncertainty regarding a total recovery of my abilities, I decided to be honest with everyone and make a difficult but realistic decision."
The first part of that statement, according to Swiss Hockey News, was in reference to rumors that he would leave the Lions because he was bored.
The 30-year-old center spent time with the Nashville Predators (two separate stints), Florida Panthers, Winnipeg Jets, Vancouver Canucks, Toronto Maple Leafs and Anaheim Ducks, posting 64 goals and 138 points in 406 career games.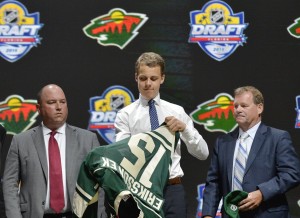 Wild Flu
The Minnesota Wild beat the Carolina Hurricanes in a preseason game Sunday behind an impressive performance from the newly formed Zach Parise-Eric Staal-Charlie Coyle line. Sunday's lineup saw some unexpected opportunities as the Wild are currently dealing with a flu bug running through the locker room. Goaltender Darcy Kuemper, Ryan Carter and prospects Christoph Bertschy and Alex Tuch all missed the game with the flu.
Meanwhile, 2015 first-round draft pick Joel Eriksson Ek saw his first big opportunity of the preseason, centering Jason Pominville and Jason Zucker. Eriksson Ek finished the game with an assist after setting up a Zucker goal with a strong defensive play.
After the game, coach Bruce Boudreau said that Eriksson Ek has earned a spot in the lineup for the team's final two preseason games. It says a lot about his play so far during camp, as coaches generally play roster decisions with prospects a little closer to the vest.
Pakarinen and Davidson Injured
Forward Iiro Pakarinen had his sights set on earning a spot on the Oilers opening-night roster, but that is going to be put on hold. In Sunday's game against the Kings, he suffered a lower-body injury after falling awkwardly onto his leg during a tussle in the corner.
After the game, coach Todd McLellan said that Pakarinen will be out for at least a month.
Additionally, McLellan said that defenseman Brandon Davidson is day-to-day after he took a hit to the head from Kings forward Tanner Pearson, who was ejected from the game.
https://twitter.com/myregularface/status/782772492746235904
Highlights
A few highlights from Sunday night's play.
Edmonton Oilers prospect Jesse Puljujarvi went bar down in Sunday's game against the Los Angeles Kings.
Bar-down beauty from @Jpuljujarvi! 😍 #KraftHockeyville pic.twitter.com/FtKU05OBAh

— Edmonton Oilers (@EdmontonOilers) October 3, 2016
Maple Leafs winger James van Riemsdyk did some ice dancing in overtime against the Canadiens to put Toronto over the top.
Odds and Ends
– The Montreal Canadiens made more roster cuts Monday morning. That includes putting Stefan Matteau and Chris Terry on waivers. More interestingly, Mikhail Sergachev, Artturi Lehkonen and Mike McCarron are all still with the Habs at training camp. All three have made it with the team awfully close to the start of the season.
– The University of Michigan has named Minnesota Wild prospect Nolan De Jong and senior winger Alex Kile (un-drafted) as captains for the 2016-17 season. Senior defenseman Kevin Lohan (un-drafted), who played just two games last year, will serve as an alternate.