After all the excitement and unabashed optimism following the 2014-15 season (and their first playoff appearance in years), the Calgary Flames would much rather forget 2015-16. Beginning with a preseason injury to defender T.J. Brodie and rippling through the entire year, the Flames had bad goaltending, bad defense and inconsistent scoring for just about all 82 games. A year after the "Find A Way Flames" managed to win every close game, often in improbable fashion, the Flames found a way to lose every close game in 2015-16.
The silver lining was a few strong individual performances: Johnny Gaudreau's sophomore season saw him finish sixth in NHL scoring and linemate Sean Monahan continued his consistent play (and finished in the top 30 in league scoring). Captain Mark Giordano stayed healthy for the first time in a few seasons and managed to put together a season that put him just a smidge outside of the Norris Trophy conversation, while two-way center Mikael Backlund avoided injury and posted his first 20-goal season.
If only they'd had solid goaltending: Calgary's netminders combined for the worst statistical season of any NHL club – and second place was not close.
Team 2015-16 Record: 35-40-7 (5th in the Pacific Division)
Offseason Moves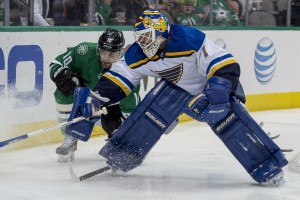 Key Roster Additions:
G Brian Elliott
RW Troy Brouwer
LW Matthew Tkachuk
G Chad Johnson
Key Roster Losses:
RW Joe Colborne
G Jonas Hiller
G Karri Ramo
RW Josh Jooris
Key Organization Changes:
The Flames cut ties with head coach Bob Hartley and associate coach Jacques Cloutier. They hired former Dallas Stars bench boss Glen Gulutzan as head coach, as well as adding assistants Dave Cameron and Paul Jerrard. Assistant coach Martin Gelinas was retained, but moved to an "eye in the sky" position. The goal was presumably to make the Flames more of an active puck possession, forechecking team, a departure from Hartley's passive, "counter-punch" style.
Forwards:
Projected Lines:
Johnny Gaudreau – Sean Monahan – Alex Chiasson
Matthew Tkachuk – Sam Bennett – Troy Brouwer
Micheal Ferland – Mikael Backlund – Michael Frolik
Lance Bouma – Matt Stajan – Linden Vey
Johnny Gaudreau
A fourth-round selection in the 2011 NHL Draft, Gaudreau has been one of the smallest players in every single league he's ever played. He's also been one of the speediest and most talented with the puck, which explains how he's thriving in what was once a big man's NHL. One of the absolute best puck handlers in the league, Gaudreau was Calgary's top offensive weapon last season and their most entertaining player. Considering that his offensive production has increased every year since he was a teenager (when you control for league differences), his game should continue to evolve.
Sam Bennett
Calgary's first round pick in 2014, the club hopes Bennett evolves into this generation's Doug Gilmour. So far, he's on track. A smart 200-foot player with a physical edge to his game, he spent last season primarily on the left side of Michael Frolik and Backlund which allowed him to pay attention to the offensive side of the game.
This season, he'll likely transition to a full-time center which will place the onus on him to drive play with a pair of established veterans rather than be along for the ride. He's got great offensive instincts, showcased by a four-goal outburst last season against Florida, but needs to work on his consistency a bit.
Mikael Backlund

Backlund has earned a place in the hearts of Flames fans over the years, if only because he was the first first round pick in years to actually crack the NHL roster and cement a long-term place for himself on the team. The talented Swede has been the team's most consistent puck possession player but didn't become an offensive threat until last season. When healthy, he's often the team's best player.
Defense:
Projected Pairings:
Mark Giordano – T.J. Brodie
Jyrki Jokipakka – Dougie Hamilton
Dennis Wideman – Deryk Engelland
T.J. Brodie

Brodie might be the best-kept secret in the NHL, which is weird because he might already be the team's best defenseman. A fourth round pick in 2008, Brodie has progressed quietly from being a competent 20-year-old AHL call-up through the ranks until he became a top-pairing blueliner alongside Mark Giordano a few seasons ago. A great skater with strong vision of the entire ice surface, Brodie is a versatile player (he can play both sides of the ice) and makes his teammates better. The burning question is whether he'll surpass Giordano in scoring this season.
A fourth-round pick in 2008, Brodie has progressed quietly from a competent 20-year-old AHL call-up to a top-pairing blueliner alongside Mark Giordano. A great skater with good vision of the ice, Brodie is a versatile player (he can play both ends of the ice) and makes his teammates better. The burning question is whether he'll surpass Giordano in scoring this season.
Mark Giordano

One of the better stories in the league, Calgary's captain was an undrafted free agent originally signed by the Flames in the summer of 2004 to fill out a roster spot on their shared AHL affiliate. A decade later, he's the team's leader and regularly in the Norris Trophy conversation. Giordano's one of those players that isn't bad at anything and has the benefit of really strong situational awareness and a really effective slap shot.
Dougie Hamilton

Hamilton wasn't everything the Flames hoped for last season, but he improved quite a bit during his first season in Calgary. Acquired from Boston at the 2015 draft, he's a smooth-skating, right-shot defenseman who's good in every area of the ice and, given his age, still has the potential to be great in some of them. Along with Brodie, he's probably going to be a first-pairing blueliner if/when the Flames become a contender.
Goaltending:
Last season, the Flames used Karri Ramo, Jonas Hiller, Joni Ortio and Niklas Backstrom as their goalies. None of them have NHL jobs anymore, and the Flames brought in Brian Elliott and Chad Johnson over the summer to take over in net. Elliott finally gets a shot at being an undisputed top goaltender on an NHL team, while Johnson is arguably the league's most statistically consistent back-up and should be able to push Elliott a bit. Calgary's goaltending will definitely be better than it was in 2015-16, not like it could get much worse.
Breakout Player:
Micheal Ferland is in a unique position on the Flames roster. He can play either wing and, as a bigger body who plays a much more physical style than most of the other players in Calgary's top nine, he's been frequently put in a position to act as a puck retriever/bodyguard for the top three lines. If he can continue to grow and get to the front of the net with more frequency, the points should easily pile up.
Player with Most to Prove:

Dennis Wideman had a rough 2015-16. He battled injuries. He battled consistency. He was suspended for a quarter of the season after a collision with linesman Don Henderson; the ramifications – legal and otherwise – of which are still being worked out. Even more than the reputational damage to Wideman, his on-ice stock has dramatically fallen and he's basically a really expensive third-pairing defender with a great shot from the point. Now in the last season of his contract, he'll need to have a big year if he's hoping to be employed in the NHL next season.
First Players in the 'Call-Up' Line:
The Flames have a handful of players that are getting close to NHL duty. Emile Poirier, a first round pick from 2013, is arguably the top forward option on the farm. He's speedy and really good with the puck, particularly in the offensive zone, and his two-way play is coming along gradually.
Beyond him, 2012 first-rounder Mark Jankowski could be ready by Christmas if he keeps improving. On the blueline, a quartet of left-shot defenders all bring something similar to the table: Brett Kulak, Ryan Culkin, Tyler Wotherspoon and Oliver Kylington are all reliable 200-foot defenders, with Kulak and Kylington arguably having the most offensive upside of the group. In goal, 2012 pick Jon Gillies has fully recovered from hip surgery that ended his season prematurely last year and he is expected to carry the bulk of the workload in Stockton.
Season Outlook:
Last season, the Flames were a promising team utterly undone by wildly erratic goaltending. Management upgraded their goaltending over the summer so they should be competitive in just about every game. Their defensive group should be slightly better with the maturation of Hamilton and Brodie, and perhaps get a boost from some of the team's defensive farmhands gunning for NHL jobs. Their forward group should be at least as good as last season; Brouwer and the other additions are more than capable replacements for the Colbornes and Joorises of the world, and the young group of Gaudreau, Monahan, Bennett and potentially Tkachuk should continue to get better as they grow into their roles.
The big X-factor for the Flames are the special teams systems they'll deploy under Gulutzan. Cameron and Jerrard have had varying degrees of success at various levels of hockey, and if the power play and penalty kill can eke out a few goals here and there in Calgary's favour, it may be enough for them to squeeze into a playoff spot in the super-competitive Pacific Division. At the very least, their improved goaltending and defensive zone play should get them into the hunt for a wildcard playoff spot.
Team 2016-17 Record Prediction: 42-35-5 (4th in the Pacific Division)
Agree? Disagree? Check us out on Twitter or Facebook and give us your take on how the Flames look heading into this season.